Hawaii has long been home to the popular shave ice phenomenon, finds Jordan Virtue.
People rush back and forth behind the window, calling out orders as they move in seemingly synchronised motion. Flavours are poured, and ice-filled cups change hands. Customers stretch in a line from the bright turquoise food truck, braving the heat as they wait for their chilly treats.
The familiar whir of machinery and splash of colourful syrups could cause a casual observer to leap to conclusions. But don't be fooled - these are no snow cones.
"Shave ice" (shave, not shaved) is a coveted Hawaiian dessert. Beloved by locals and tourists alike, the icy delicacy is renowned for its exotic flavours and tropical feel. So what makes a perfect shave ice?
Sub-par shave ice is often crunchy, and overly sweet syrup can create a cough-syrupy taste. The quality is often based on the fineness of the ice, which should resemble snow more than actual crushed ice. Any successful shave ice incorporates tropical flavours as well. Mouthwatering ones such as coconut, mango, lilikoi (passionfruit) and lychee are among the most popular. Li hing mui powder, a sweet-and-sour combination originally from China, as well as sweetened condensed milk, traditionally garnish a well-crafted shave ice.
In the islands, this optimum degree of deliciousness is known as "broke da mouth" - a taste so exceptional, it figuratively breaks your mouth. One shave ice truck, however, is the talk of the islands.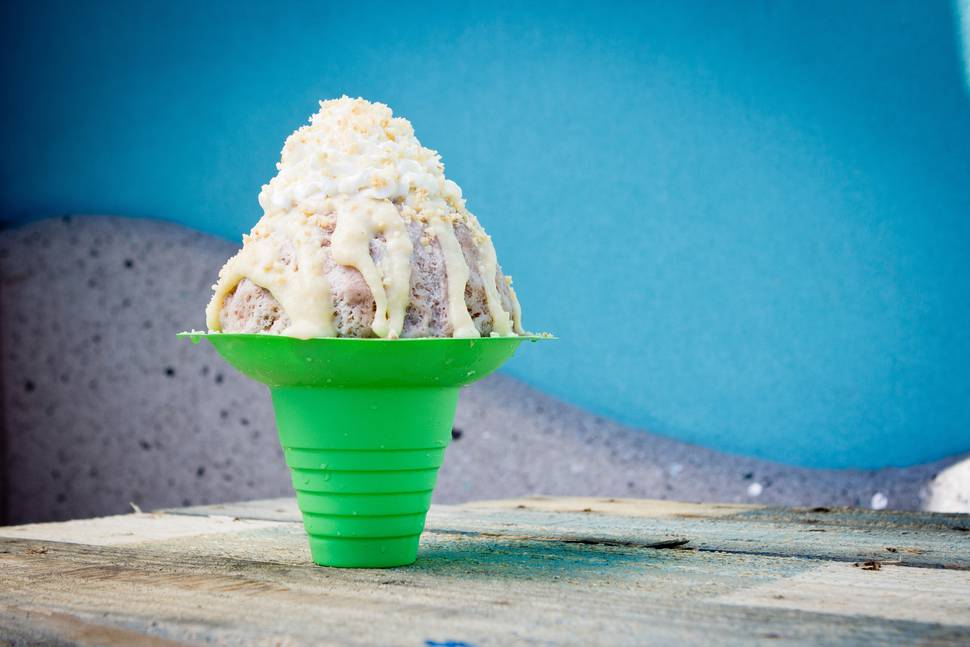 Original Big Island Shave Ice Co, run by Reggie and Kim Ignacio, is a new Kawaihae business that is steeped in local tradition. Reggie Ignacio has 40 years of shave ice experience, dating to his childhood. His mother, Lorraine Berdon Kaono, started the family business in 1957, using a mobile shave ice shop to travel to the plantation camps from North Hilo to Kohala. After 15 years, she shifted her business to Spencer and Kahaluu beach parks, located on the west side of the island. After her retirement in 1997, no one in the family wanted to take over. "Actually, all of her techniques and recipes kind of went on the shelf," explains Ignacio, who restarted the family business in 2014.
Because of this, an entire generation had never tasted what the Ignacio family has to offer. "We knew what we had in our family, but no one else was really doing it as a business," he says.
Ignacio demonstrates the creation of the perfect shave ice. "It starts with the ice itself. Then, the machine." His is calibrated to produce ice with an incredibly fine texture.
Ignacio places a block of ice inside the machine, which has adjustable gears that simultaneously spin and put pressure on the ice to create the ideal shave. He watches closely as snowy ice falls into an iconic flower-shaped shave ice cup, where he compresses and sculpts it by hand.
"Because it's handcrafted, we cannot produce it really fast like some other places... That's what separates us. They can probably put it out faster than us, but we're more about quality."
Ignacio rotates the cup as he systematically pats down the ice, creating the ideal spherical shape and degree of compression. He then aerates it by poking small holes in it with a metal rod, which later allows the syrup to filter through.
Next he adds naturally flavoured syrups to the frozen concoction, the amount adjusted to account for the outdoor temperature. Each syrup is homemade, with natural fruit and less sugar than most. "I can make my syrup just as sweet with a quarter of a cup of sugar as other places make with a full cup of sugar," Ignacio says. This combination allows for brighter flavours that are also healthier, he says. "There's really a science behind it. Traditional flavouring is just the ones that you can find anywhere else. The natural flavour line is a whole different ball game."
Science might create the ultimate shave ice, but it's the artistic components that truly elevate it. The Halo Halo flavour is a prime example, with layers of surprises. Initially developed for the Philippine community, the gourmet shave ice is gaining popularity with tourists as well.
Halo Halo translates to "mix mix," and this shave ice iteration starts with adzuki beans, which form a nutty, earthy foundation below a special milk-based blend of shave ice topped with purple sweet potato icecream, mochi, boba and lychee gels and fresh cantaloupe shavings. The boba and lychee gels burst open when you bite into them, creating a fusion of flavours. "It's a kicked-up shave ice," Ignacio says. "Even locals get blown away."
Original Big Island Shave Ice Co does not shy away from a challenge and routinely turns to customer suggestions to drive experimentation.
Other popular flavours include a cooling green tea, an energising coffee, and a root beer float shave ice. A Chantilly cake version of shave ice, composed of chocolate and a rich, creamy frosting, is incredibly popular with locals.
A willingness to test the boundaries of shave ice separates Original Big Island Shave Ice Co. from its competitors, and aits customers are prepared to wait in long lines in the baking sun for the chance to cool off with their favorite flavours.
So, what truly makes a "broke da mouth" shave ice? For Ignacio, it all comes back to family.
"The techniques," he says with conviction. "It's recipes and techniques, passed down to me from my mom."
Checklist
GETTING THERE
The Original Big Island Shave Ice Co. truck parks at Blue Dragon Restaurant and Spa, 61-3616 Kawaihae Rd from 11.30am-5.30pm Tuesday-Saturday and 1.30pm-5.30pm Sundays. An average shave ice costs between US$4 and US$5. Special flavours such as the Halo Halo, Kona Coffee and Trini-Chantilly cost between US$5 and US$6. obisic.com