Provocative, gloriously unpredictable — and, as judges, fans and fellow dancers will attest, possessed of a passionate fury when wronged.
As anyone who's ever watched Strictly Come Dancing will tell you, professional dancer Brendan Cole has run the gamut of emotions during his 15 explosive years on the show. But until this week, few have ever seen him close to tears.
Following his emotional appearance on ITV's Lorraine show on Tuesday, he is trying his best to be philosophical about the "editorial decision" [executive producer Louise Rainbow's words] not to renew his contract on the hit BBC show that made him a star, reports Daily Mail.
"I've got to be," he tells me. "Otherwise I'd beat myself up wondering why.
"I've had pretty much every range of emotions over the last week from sadness to excitement. I love . . ." He corrects himself, "I loved being a pro on Strictly. I loved the fact I was there from the beginning. One of the saddest bits is that it will go on and I won't be a part of it. It's like not being invited to the party. You know they're having a good time and you want to be a part of it."
There is genuine sorrow as he speaks. "The interview I did on Lorraine was one of the hardest things I've ever done," he says.
"Bear in mind, I hadn't told anybody except my wife. But I wanted to have control of the situation because I am a control freak. I wanted to be the one to tell the people who like watching me dance. I didn't want them to hear it through a tweet.
"The BBC would have been happy if I'd said I'd wanted to leave the show and have my pride intact. But that's not me. I don't lie. I'm definitely upset. This is not something I wanted. I thought I had a few more years in me. I wasn't ready to hang up the old dancing shoes."
Nor were his many fans and colleagues ready to see him go.
The outcry following the news of his departure this week has been overwhelming. Everyone from the runners to the show's most gifted choreographers have been in touch to express their incredulity.
Cole's fellow dancer Anton Du Beke, the only surviving member of the original professional line-up, was one of the first to contact him.
"Oh love," he texted. "This is bad news. Already this year's show will be less for you not being there. I'm going to miss you, my old love. I can't quite believe it."
Presenter Tess Daly was also one of the first to pick up the phone. "She told me: "I can't believe I've heard this news". She was really gutted. Tess and I go way back. We've been close for years.
"There have been hundreds and hundreds of texts. As soon as I came off air, the phone was going all day. That's the bit that's made me feel as good as I do.
"I should still feel sad but the support has been overwhelming. Arlene [former judge Arlene Phillips] and Len [former head judge Len Goodman] were two of the first people to text. Len said: 'I hope you're okay. Don't worry. Bigger and better things will come to you'. That means a lot."
But many fans are left wondering why the BBC would want to get rid of one of the show's most colourful characters?
Needless to say, speculation has been rife, fuelled by BBC insiders who have made Brendan's life close to a living hell during the past six months.
This included a malicious whispering campaign about everything from his close friendship with professional dancer Nadiya Bychkova (more of which later) to claims that he is an egotistical nightmare backstage.
Earlier this week, an industry insider claimed that the decision not to renew Cole's contract was made following an ultimatum from the judges for him to go after he 'disrespected' head judge Shirley Ballas when she criticised the tango he had performed with breakfast TV presenter Charlotte Hawkins in week three of the show.
"I don't know if that was handled the right way on air. If you disagree with somebody, which I did that particular day about the way she felt we danced the tango, you have the right to say what I did.
"I didn't get aggressive. I said: 'Well, I disagree'. Anybody can watch that footage back and make up their own mind. Then Bruno stepped in and said his piece, that I should be more respectful, which I still don't get. But what I certainly regret is saying: 'I will, my dear.'
"The phrase 'my dear' is patronising and I certainly didn't mean to be. I'm not a patronising person. But you're on a live TV show and you're frustrated with the situation.
"Your adrenalin's going. You're at a heightened point of your emotions. Twenty minutes later you'd handle things very differently. But I'd just done a dance live on air with Charlotte, who I really care about. You want the best for her. You want to stay in the show and you know you're vulnerable because you're certainly not one of the best couples.
"So, yes, if I could take that back I would. But the last six months have been pretty horrendous. If I could work it out, I would. All I know is you can't put a foot wrong. You can't even dip a toe on the other side within that world because it will be taken, it will be run with, and before long you're in a s***storm."
Although baffled and bruised, Cole, 41, shows no signs of bitterness. In truth, he has been inundated with numerous offers since he announced his departure and, such is his nature, is genuinely excited about the future. He was, though, deeply shaken when he first learnt he would be leaving the show, which paid him a reported £50,000 (NZD $96, 692) per series.
Cole was in Buxton, Derbyshire with his touring dance show All Night Long nine days ago when the call came.
"The normal situation with Strictly, when they ask us to return or not, is we get a phone call around now.
"There's always that little bit of you that thinks, I wonder if they'll want me back. You just don't know. So it was 15 series of waiting for this day to come. Every year, particularly as the show has got bigger and bigger, you think: I really want to be there. I hope I haven't blown it. I hope I'm still exciting people.
"I was in a hotel room when my agent called me first. There was a massive feeling of: 'The day I've dreaded has come'. Then I had a call from the executive producer of the show [Louise Rainbow] and the director of BBC Studios [Mark Linsey].
"It was a very frank conversation. There's not a lot you can say when they give you news like that. I'm really passionate on air. Everyone knows what my character's like, but it is a character to a certain extent. Without the lights, camera, action, you have a normal conversation.
"They said: 'Listen Brendan, we'd like to thank you for your time on the show but we've taken an editorial decision that we won't be renewing your contract next year'. I said: 'Okay, thank you. I'm disappointed but I love the show'."
Aware that what he says next will surprise fans who know only his combustible side, he gives a wry smile. "I actually congratulated Louise Rainbow on what she'd done with the show.
"Then I called my wife. She was disappointed for me because she knew how much it meant to me. I suppose for her it was hard because we weren't together. When you have a big moment like that in your life you want the people around you whom you love and trust.
"Within a few hours, though, I had to be on stage in my show. I felt raw. Ridiculously raw. The show is centred very much around Strictly.
"I remember doing the rumba; it's really intimate, really slow. I was quite emotional when I was out there dancing thinking, S***, this is it. I'm not going to be doing Strictly any more.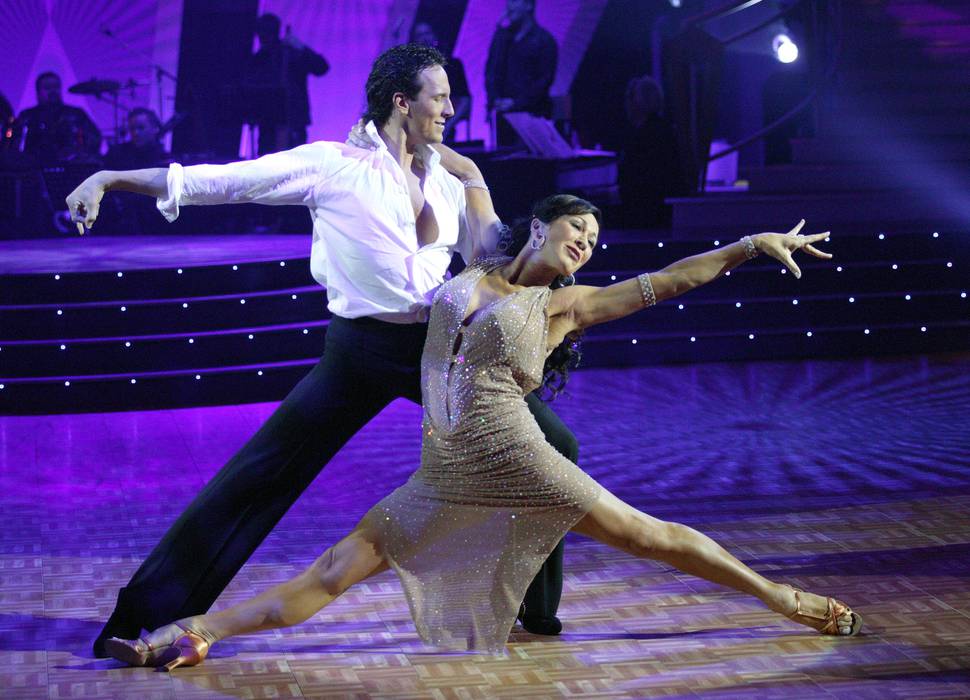 "I felt exposed. You're having to talk about Strictly on stage but it's the one thing you don't really want to talk about."
He shrugs. "By the second half I'd pulled myself together. The thing is, none of this has turned out to be as dreadful as I thought it would be. In a way, I feel liberated."
We meet in Torquay, the next stop of his dance show. When he takes the microphone on stage the foot-stamping and cheering from the 1,000-strong audience goes on for a good five minutes. Cole is visibly touched.
For all the talk about his impossible ego, Cole comes across as a decent man with a warmth of personality not often found in celebrities. He also has a finely-tuned sense of right and wrong. Although Cole won't say it, he knows he's been treated badly.
He has tried his best to patch up his relationship with head judge Shirley Ballas — which first came under strain after Cole made an off-the-cuff comment on the Strictly follow-up show, It Takes Two.
"They'd asked if we were going to try to impress Shirley and I said, she'd have to try to impress us because we'd been here for 15 series.
"I apologised to her for that but I never received a response. The several times I've had to speak to her I have always been polite but on those occasions I didn't get that back — I didn't get anything back actually."
Has he heard from the current set of judges?
"No," he says. "The thing, is they're part of the show. Everything is heavily scrutinised. I don't know what they're intending to do when the dust has settled.
"I consider myself very close to Craig [Revel Horwood] and Darcey [Bussell]. I love Craig. We don't always see eye-to-eye on air but we've never had a cross word backstage.
"Once the adrenalin goes, you laugh about it and say: 'I can't believe you said that, you bastard'. I have great respect for him. I love Darcey, too. She's got a great elegance about her and, if she doesn't like what you've done, she'll put it in a lovely way.
"I don't really know Bruno that well. I don't have that much to do with him. I never have. I barely speak to him, although I'll always say hello when we pass in the corridor.
And Ballas? "Len was irreplaceable," he says. "You can't come in and be another Len. You have to make it your own. She's certainly made it her own.
"I'll make no bones about the fact I would have loved that role myself. I didn't get it. I wasn't bitter about not getting it. I had a screen test. I walked out thinking I couldn't have done it better than that, whatever happens, happens. I was disappointed but it was expected because I'm a dancer on the show. That was my job."
For many of us, though, Brendan is more than a dancer. He's been an integral part of the show from the very beginning when, as a "green 26-year-old", he burst on to the nation's consciousness as his eight-year relationship with fellow dancer Camilla Dallerup spectacularly fell to pieces once he began to partner Natasha Kaplinsky. The Strictly Curse was born.
"Camilla and I were dance partners at the time we made the decision to go on the show," he says. 'In the beginning nobody knew what the show was or how emotions would be affected. It was very new and a learning experience for everyone.
"I learnt a lot through that because I saw my relationship break down. I saw Camilla leave — it was her decision.
"I've never talked about what relationship Natasha and I had on the show. What I did learn is that Strictly is not reality. It's a television show where emotions are very much heightened.
"It's a unique situation and a fantastic show to be part of, but when you take it away, life just goes back to normal."
Did he get carried away in the Strictly bubble during that first series?
"It's a personal part of my life but there were certainly a lot of feelings and emotions. It was a hell of a time. I'd never been through a rollercoaster like that.
"I didn't cross any lines with Natasha. I was single. Camilla had ended the relationship very early on in the series so what happened happened after that.
"It was a harrowing time — winning the show as much as my friendship with Natasha. On the other hand it was like, Holy Moses. It can ruin a marriage so easily."
Now married for eight years to former model Zoe Hobbs, with whom he has a five-year-old daughter Aurelia and a second baby on the way, Brendan is not at ease discussing past friendships — not least recent groundless reports that he had been overly close to newcomer Russian siren Nadiya Bychkova at the Strictly wrap party.
"Zoe trusts me but does she like it? No. Does anybody like to see anything gossipy being put out there about their husband even though they understand the industry? No.
"The fact that she's pregnant and her hormones are all over the shop and having to deal with this nonsense isn't the nicest thing. All you can do is be there for your partner, give an honest account and deal with it as best as you can.
"Everyone's very aware of the so-called 'Strictly Curse'. Jealousy for any relationship is tough but it's very much heightened on Strictly because of the relationship you form with your partner.
"I'd hate to be on the other side — I'd hate to be a celebrity's partner on the show watching it unfold, seeing their partners change and develop, be it their body shape, mentally or emotionally. Unless you've done the show you can't fathom what it does to you.
"I'm a happily married man and I love being a dad. I used to think marriage was just a piece of paper but it's more than that. It's like home. It's saying: 'This is the person I'm proud to be with'.
"The Strictly fantasy bubble is amazing but when your dancing shoes go into the bag at night and you go home to a cuddle from your daughter, that's what life is about. That's part of the excitement of the future.
"Strictly is all encompassing for five months of the year, which hasn't always been easy for Zoe. 'But the show will go on and the show will still be fantastic. Ultimately it's about two people creating magic on the dance floor. That was my passion and what I loved doing.
"The producers who have made these decisions — whether it's getting rid of me or taking on Shirley as head judge — they make decisions that become part of the show's legacy. But they don't own the show. The show is owned by the nation.
"I've been overwhelmed by the number of people who have shown me that in the past week. I wasn't expecting such supportive comments. I thought 50 per cent of people would say: 'Good bloody riddance, can't stand that guy.' But the reaction has made me think, wow, the future's bright."