Chinese telco giant Huawei is gunning for everything at the moment, including being the Android smartphone top dog vendor, chasing competitors Samsung and others with handsets like it's recently-launched P10.
The P10 is better named than its predecessor, the P9 which came out late last year and which giggles among some of my less mature friends.
As the P9 is still fairly recent, and not a bad handset with a similar Leica co-developed dual lens and camera system, Huawei could've perhaps kept its powder dry and waited a while before releasing the P10 but here it is, retailing for around the $1000 mark outright.
My review sample had a blue-hued case with a diamond-cut textured surface that cuts down on greasy fingerprint marks, yet looks glossy like a premium handset should do.
Like competitor devices, the P10 is well put together, although it's just splash resistant so if you're prone to dunking your phone in water, this one isn't for you.
There's a snappy fingerprint sensor at the front - where I prefer it to be, along with having one on the side power button a la Sony, and the P10 is a compact 145 by 69 millimetres, and just 7mm thick; it's light at 145 gram weight too.
A little too compact for my liking perhaps. The P10 has a 5.1-inch screen, with 1920 by 1080 pixel resolution and Corning Gorilla Glass 5; the bigger P10 Plus ups that to 5.5-inch screen, and 2560 by 1440 pixels.
For a smartphone that focuses (sorry) on photography and videography, paying around $200 more for the P10 Plus to get a bigger screen that makes editing pictures and movies easier makes sense.
Plus (sorry x 2) the bigger model gets 6 gigabytes RAM, up from 4GB, and a slightly better camera with an f/1.8 Leica lens, as opposed to an f/2.2 one.
Other than that, both phones use Huawei's homebrewed HiSilicon Kirin 960 system on a chip, with eight cores, four at 2.4GHz and four at 1.8GHz.
The Kirin 960 scored 1845 in the Geekbench 4 single-core test, and 6047 in the multi-core one. That's a little bit behind Samsung's new Galaxy S8 and a long way behind Apple's A10 chipset which seems a few generations ahead of everything else in the market.
You can get the P10 with up to 64GB of storage, expandable to 256GB via a combination SIM/SD memory card slot. The P10 Plus can have double the internal storage, another point in its favour over the smaller phone.
More importantly, the P10 Plus has a bigger bigger, 3750mAh battery compared to the 3200mAh one in the P10 which I found didn't last a whole day. My usage is of course not typical as I fiddle with the phone trying out things, but the P10's endurance didn't impress.
The USB-C fast charger does though: it replenishes the P10 very quickly, in just over an hour with the bundled Huawei charger. Non-Huawei USB-C chargers take a bit longer, and via a computer, just under three hours.
What's the camera like?
The "business end" of the Huawei P10, with the dual-lens camera system, co-developed with Leica.
Given the physical limitations of the small sensors in the P10 camera, the images are excellent in most situations.
Huawei went with the one camera takes colour images, the other black and white for more detail and contrast, for it's dual-lens system, and it works well overall.
Since the P10 is aimed at photo and video enthusiasts, you get the ability to save images as direct sensor readout files that aren't compressed and processed like JPEGs. This is to ensure the maximum amount of detail and flexibility when you digitally develop images, which is great.
However, using RAW as the sensor readout format is called slows down shooting as they're big, and the JPEGs out of the camera aren't too bad; I'd probably stick to JPEGs only.
Images out of the P10 in good light were great, sharp, colourful and with good contrast. The camera worked better in darker light situations than in New Zealand's harsh and bright sun in which it would often blow out highlights that other smartphones managed to keep the detail of.
While the P10 can produce 20 megapixel photos, using the default 12Mpixel resolution gives you a decent zoom. This is more useful in most situations than huge resolution.
The zoom works within reason though. I was a bit disappointed to see that the crab picture, taken some distance away because the animals hid deep in a rock cave at the beach looked very "digital zoom" like, set to 175mm focal length.
The camera has phase detection and laser auto-focus and generally, it worked well. On a few occasions the autofocus would hesitate though, with dark objects on a white and bright background.
Video likewise is mostly good - it's probably better to save the 2160p 4K video for the moments you need the extra detail, and leave the P10 on 1080p with 60 frames per second, and image stabilisation, for general shooting.
The "selfiecam" or front mounted camera has a few tricks up its sleeve, like autofocus and the ability to automatically widen the angle to fit more people, as per below.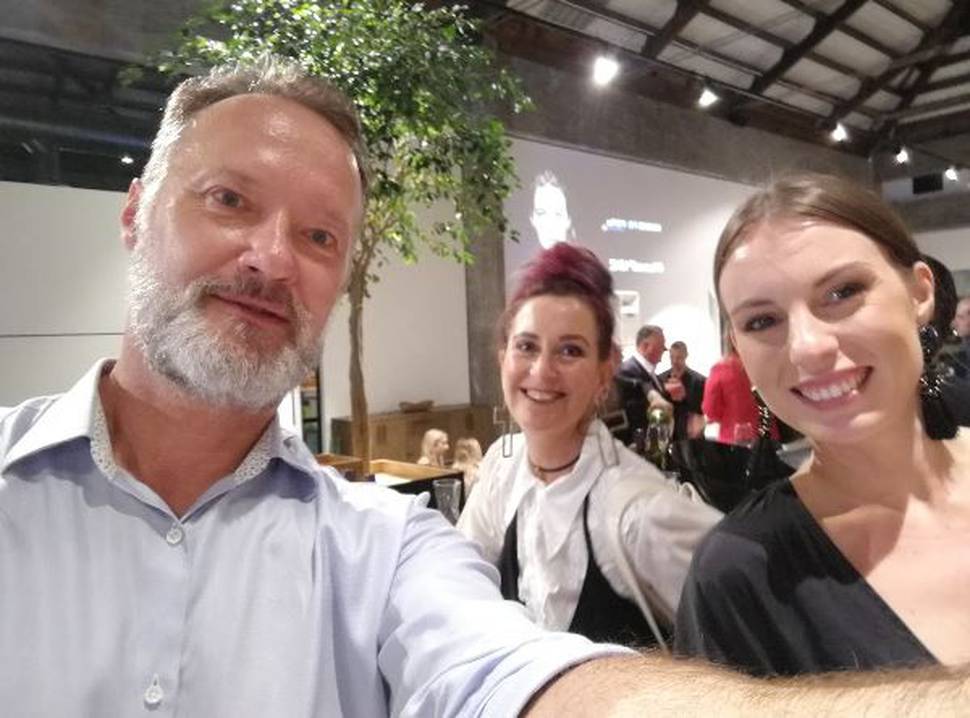 At this stage, I realise that I haven't mentioned that the phone runs the latest Android "Nougat" 7.0 version, with Huawei EMUI 5.1 customisations. That's a good thing, as it means I was able to use the phone without the interface getting in the way and being annoying.
The EMUI 5.1 look is understated, and navigable with swipeable screens that hold folders and apps and settings.
Android with vendor interface customisations used to be a nightmare, but it looks like Google's cracked the whip and few newer devices are as bewildering to use as older ones - the P10 included.
Huawei's P10 joins the rank of premium smartphones in New Zealand, a crowded market with plenty of good devices. The dual-camera system is the main attraction of the P10, but if it was me, I'd stump up a bit more cash for the P10 Plus.