The heir apparent to South Korea's Samsung Group will be indicted on charges including bribery, special prosecutors said Tuesday, triggering the announcement of a wide-ranging shake-up at the gigantic conglomerate.
Lee Jae-yong, the 48-year-old de facto leader of Samsung, and four other executives who will also be indicted are the latest victims of the sensational corruption scandal centered around South Korea's president. The scandal is now reaching its climax, with the special prosecutors' investigation wrapping up on Tuesday and the Constitutional Court expected to decide by mid-March whether to impeach President Park Geun-hye.
It all centers around Choi Soon-sil, a secret confidante of Park, who is accused of extracting money from major South Korean businesses in return for using her connections with the government to win favorable treatment for the companies.
Samsung is accused of paying, on Lee's orders, about US$36 million in bribes to Choi in exchange for the government's support for a merger of two Samsung affiliates in 2015. The deal - which went through, despite the objections of international investors - was considered crucial for the Lee family to maintain its grip on the group, which it controls through a complex web of shareholdings.
Special prosecutors arrested Lee, who has been effectively running the huge conglomerate since his father was hospitalized almost three years ago, on February 17 for questioning on charges including bribery, embezzlement, perjury and violating the law on transferring assets overseas.
The heir to a multi-billion fortune has been held in a 70-square-foot solitary cell with a foldable mattress, receiving a metal tray of food three times a day, which he must wash himself.
While his father, the second-generation leader of Samsung, had once been convicted of charges including embezzlement and tax evasion, this is the first time someone from the Lee family that runs Samsung has been detained - a development that many in South Korea attribute to the widespread outrage about the scandal.
At a parliamentary hearing in December, Lee denied being involved in any bribery scheme but admitted that Samsung had given a $900,000 horse to Choi's daughter, an Olympic equestrian hopeful.
Samsung declined to comment on Tuesday's indictment. Company spokeswoman Rhee So-eui instead referred to previous statements that Samsung "has not paid bribes nor made improper requests to the president seeking favors" and that it will "do our best to ensure that the truth is revealed in future court proceedings."
Almost immediately after the indictment was announced, Samsung unveiled wholescale changes at the conglomerate.
The group said it would close its Corporate Strategy Office, a powerful unit sometimes referred as the group's "control tower," and that the vice chairman, president and all team managers would resign. Samsung said that Park Sang-jin, a president at the flagship Samsung Electronics, had also stood down.
Samsung furthermore said it would disband its government relations division in response to allegations that the conglomerate had been lobbying at various levels of government.
The indictment and shake-up is another blow to Samsung, already reeling from the embarrassing recall of its exploding Galaxy Note 7 smartphone last year and stuck in a kind of limbo while Lee Kun-hee remains unconscious in hospital.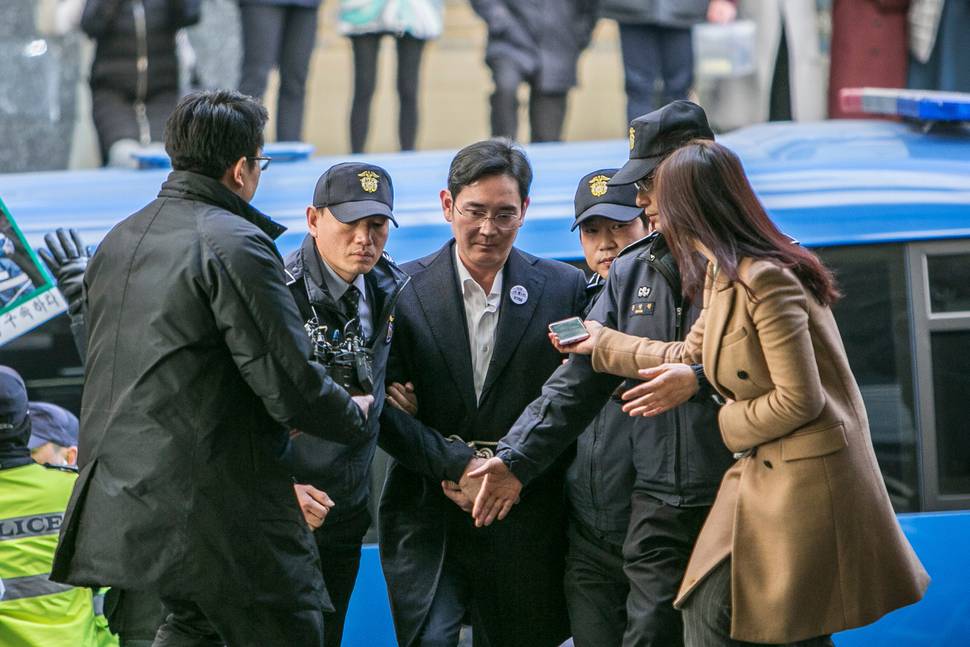 Samsung is so ubiquitous in South Korea - with everything from shipbuilding and construction to a life insurance and a baseball team - that the country is derided by people who bristle at its influence as the "Republic of Samsung," with Lee Kun-hee as the "Emperor."
While the four-month-long special prosecutors' investigation into the scandal finished on Tuesday, the Constitutional Court heard final arguments Monday in the case of the president's impeachment. The National Assembly voted overwhelmingly in December to impeach Park and the court is now deciding whether to uphold the motion.
The court is already down to eight judges following the scheduled retirement of the chief justice in January, so is expected to issue its verdict before another judge, acting Chief Justice Lee Jung-mi, finishes her term on March 13.
Park, who refused to be questioned by prosecutors investigating the case, decided against appearing before the court. Instead, her lawyers submitted a statement to the judges Monday, in which she again denied any wrongdoing.
"I did not go after private gain," Park said in the statement. "I apologise for hurting the people's hearts with my carelessness in supervising my associates."
The special prosecutors had asked for another month to carry out their investigation but the prime minister, Hwang Kyo-ahn, who was appointed by Park and is doing her duties while she is suspended, declined the extension Monday.
"After a long deliberation, I decided to reject it," Hwang said, citing the need to put an end to the political vacuum.