Elim Christian College' />
, a Christian college in Howick, Auckland that takes students from Year One to Thirteen, may not strike you as a likely hotbed of technological innovation, but school has been trialling both 'bring your own device' and Apple's iPad before going ahead with recommending iPads exclusively to some cohorts - others are still using their own (and sometimes non-Apple) devices.
Head of Elim's Junior Campus, Shaun Brooker, has been instrumental in the exploration of how technology can assist and improve learning. As with other successful trials of devices in schools, Elim began with teacher training. Full buy-in by staff was crucial, and had to tie into the college's educational philosophy. Shaun Brooker says "We're all headed in the same direction in what we believe about learning. We're just making the right tools fit at the right place. We have a hybrid of platforms depending on what we are doing. But the focus in the Junior Campus is [now] around iPads ... for a lot of reasons. In our first blended class that we ran in Year 7 we ran netbooks, and over that year there were things that became quite frustrating. They took a long time to boot up, log in, authenticate, log in to Mathletics and get started, so we found we were spending four minutes each maths lesson waiting to get started, and you add that up over a week and you've got 20 minutes lost that you just can't ever get back, with kids. And logging in to Google Drive later in the afternoon, that's another 4 minutes so that's 40 minutes lost over the week that's disappeared into nowhere.
"Whereas with the iPad, you open the device, press a button and it's all signed in for you and you're there - it's so seamless, really. So that's been one of the driving forces.
"With the netbooks, we also found that the hardware just didn't survive this environment. One of the biggest problem we had was with hinges, which didn't survive bag life. Screens weren't awesome either, but we've broken some iPad screens too, so we can't say iPads are invincible yet.
The battery life with the netbook - we'd get halfway through the year and they had no battery life at all, so by morning teatime we were having to plug things in all over the place, which we found to be a hazard and an inconvenience as well. With Apple, we found the approach with apps and the hardware that an iPad brings has been far superior for us."
Elim Christian College Principal, Murray Burton, says that after such positive experiences with iPads the Junior Campus is now moving more students to Apple. "The interesting thing is, we're a Decile 8 community but I don't think we're a rich community. People have to pay attendance dues to come here, we have five buses coming predominantly from South Auckland, Maori and Pacifika kids has gone up, and yet Shaun's door was beaten down. As soon as we said 'you need an iPad to be in a blended classroom', there were no questions. We just needed to work out how they could do it. Everyone just couldn't wait to get in on it."
The school held a parent's evening to go over the pros and cons. The new educational possibilities with an iPad, versus an actual paper notepad, and the apps on the iPad were explained, along with the advantages of everyone using the same device. For example, if some students only have paper and others iPads, the students with iPads are limited in that they have to also use their devices simply as paper pads - the whole class is held back.
It was decided it would be best if parents bought the iPads, and the school also recommended families made them family-, rather than student-, possessions that the students would use at school, and the family at home. Murray says the degree of ownership has helped the devices be cared for, and spares the time taken to take out school-owned devices, distribute them and then collect them again at the end. An iPad is a personal, portable device: "The idea of iPads locked up in a case is just wrong, somehow."
Shaun says that with iPads, everyone's getting content reinforcement, content consumption and content creation, and then there's curation and communication, plus gaming and entertainment. But "When you say to a parent 'we want you to bring iPads', their first thing they think about is that it's just a gaming and entertainment tool. When you start to unpack the many ways iPads can be used including concept reinforcement, content creation and content consumption, which we really focussed on in the early days, and now we talk more about the communication and curation side of it ... these are the types of ways we made progress.
"When you use a device for what it's designed for, rather than the way we've been teaching, it creates a whole new world of opportunities for students."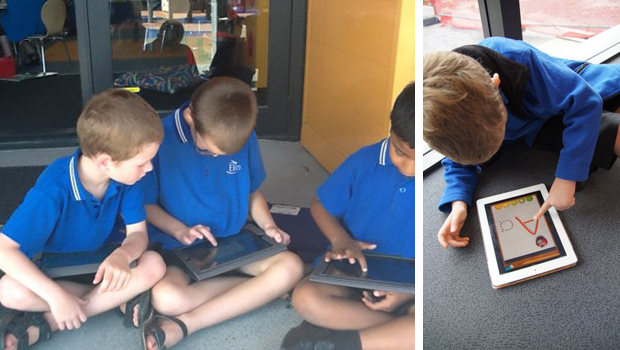 Students at Elim Christian College on their iPads.
iPads suit multiple learning experiences rather than just one, teacher-enforced experience.
Meanwhile the Ministry of Education doesn't even have a deal to provided iPads to teachers. Yet teachers are key - examples have shown that just landing devices on students almost never works, so the college first arranged to supply discounted iPads to teachers, and the return to the school was that the teachers were then required to do professional reading and blog on them, to 'get them into the cyber-world'. Shaun: "We knew if the teachers understood it, they would get the students into it." Regular sessions were set up where teachers would show others various things they'd come up with - the camera for a learning assignment; planning tools they'd discovered etcetera. In this way, the teachers were both learning and teaching each other - and device literacy grew exponentially.
The students buy apps. The school produces a 'stationary list' of apps that goes out at the start of the year and when new topics are coming up. Some cost money, but the majority are free, and fit into the areas described above. "Google Drive is really big - we use that a lot - and things like ComicLife."
As for outcomes, homework has been an obvious change in student behaviour, compared to five years ago. They do a lot more homework now, generally, as it's so much more fun and engaging. The iPads have also smoothed out former differences in work presentation. With pen and paper, average work may have been graded highly if it was beautifully presented. Now presentation is no longer such an issue: iPads can make everything look better, and favours all the different approaches to submitting work. For example, a formerly messy black-paper-and-pen student turned in a work about volcanoes using stop-motion animation with clay and Lego, as that process was so much more engaging for them.
Shaun: "We found that homework was now taking a huge amount of time, which led to anxious queries from parents about how much homework was being set - but actually, it was the same amount as always!" Nothing had changed - except the iPads. In classes, students generally are much more engaged and happy to present their work.
Last year, when there were blended classes (one-to-one iPad classes) and the non-blended classes, Shaun took all the National Standards data and ranked it on a scale, and found that end-of-year average scores had accelerated 9 per cent in maths and writing and 7 per cent acceleration in reading ... in the iPad classes. They've also noticed absolutely no impact on the kinds of socialisations the students exhibit - another common fear about widespread device use amongst kids.
The improvement in results was despite some new teachers entering the blended classrooms with no prior experience and some wifi networking issues the school had been suffering. Infrastructure-wise, every class has a projector and Apple TVs are widely used as a presentation conduit, and to serve and display school notices and information. Some of the classes are what used to be two, now sharing one space, sharing several teachers and helpers to service groups of students at different learning speeds simultaneously.
Murray believes this is the first classroom technology over the last few decades that is truly transformative. He and the school sees the future as bright and exciting, with more iPads. Murray: "I know there's catch-up from the Android world, but iPad just seems so delightfully intuitive and hand-in-glove."