Someone have the engravers on stand by because the Hawke Cup is definitely - barring gargantuan odds - heading to Hawke's Bay tomorrow.
The Pay Excellence Hawke's Bay senior men's representative team have claimed first-innings victory against Nelson at Saxton Oval today.
The visitors declared just before lunch after amassing 524-6 in 124 overs, when play had resumed earlier on an overnight total of 396-5 after batting for 24 overs today.
The Dave Castle-coached Bay had skittled cup holders Nelson for 147 in just 54.2 overs although the batsmen had shown some defiance to remain on the park for 17.2 overs after tea.
Bay captain Jacob Smith had Nelson following on for 48 without losing a wicket at stumps but trailing by 329 runs in the face of the inevitable outright result and 96 overs to see through tomorrow.
However, the enormity of the task of trying to overhaul such an overwhelming target was always going to have an impact on the hosts, as their romance with the symbol of national minor association cricket supremacy will be over tomorrow in their first defence. They had wrenched the cup from Southland, following a first-innings victory, for the first time in 22 years a fortnight ago.
Bay batsman Matt Edmondson created history in becoming the first senior men's representative ever to carve up two double centuries.
Shy of eight runs overnight, the No 4 Innovative Electrical Napier Technical Old Boys batsman went on to score 242 runs from 339 deliveries, including 24 boundaries and two sixes, in his 445-minute occupation of the crease before Paddy Howes had him tickle one to wicketkeeper Nic Clark.
"He was very mature in his innings and was happy to take ones," Castle said of the 25-year-old Crowe and Howarth accountant. "He didn't force any shots and didn't chase any boundaries so he showed class all day, actually."
However, that should not detract from No 6 Angus Schaw who posted his maiden century for the senior men.
Schaw, who was unbeaten on 50 runs overnight, resumed with Edmondson for another lucrative and match-defining partnership.
The Ruahine Motors Central Hawke's Bay premier men's club allrounder was 114 not out from 153 balls, including 12 fours and three sixes, in 217 minutes out there.
"They out on a partnership of around 200 which was crucial for us to get our tails up this morning," Castle said. "Gus batted brilliantly and it was his first hundred for Hawke's Bay."
He said the pair were of mutual benefit to each other at the batting crease although Edmondson showed the way.
"Remaining a calm player is a crucial and, I think, that definitely assists your partner."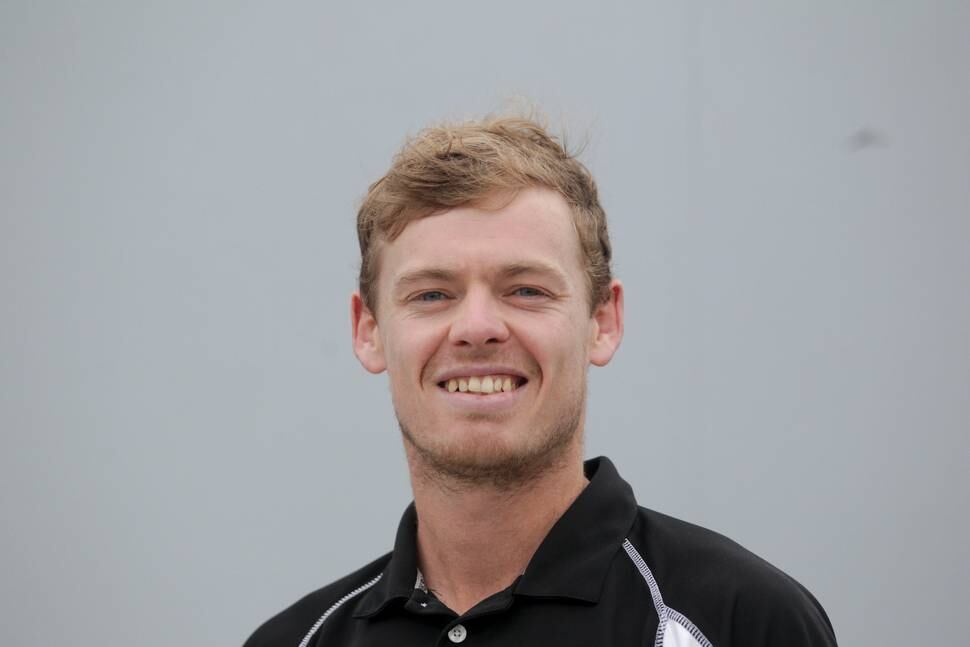 Schaw was delighted to have accomplished the milestone.
"It's been a long time coming and it's been a good year so everything's going right," said the 24-year-old right hander whose father Colin Schaw was at the helm of the team before Hawke's Bay Cricket took him out of the equation.
"It was always going to happen sooner rather than later, like it could have happened last year, really."
Angus Schaw said the wicket felt really good but Edmondson was outstanding in forging pivotal partnerships.
"Eno [Edmondson] was big for me and got me through the hard times so it was good to get through because it's the best I have batted by a long shot," said the stock agent whose best score before today was 61 runs against Whanganui early this year.
Schaw said the team had played outstandingly for the past three weeks and had never been better.
"We're just a group of mates playing for each other at the moment, which is all you can ask for, really."
Castle echoed similar sentiments, adding it wasn't surprising the players could perform with conviction and character after toiling so hard during the season.
Schaw said with the first-innings victory in the bag it was simply a matter of turning up at the oval to do the right things for other variables to fall into place.
"Unless something drastic happens we're pretty safe so we'll be celebrating hard tomorrow night," he said, adding the forecast was good.
No 7 batsman Clark was the highest scorer for Nelson on 28 runs, from 51 deliveries, before spinner Schaw had him mis-timing to Jayden Lennox.
Tech pair Lennox and Todd Watson were the pick of the bowlers with 3-53 (2.52 an over) and 3-21 (3.71), respectively. You Travel Taradale CC opening seamer Ben Stoyanoff took 2-29 and Schaw and Reynard Health Supplies Havelock North CC allrounder Bradley Schmulian claimed one each.
Nelson opening batsmen and brothers Thomas and David Zohrab will resume their second innings on 17 runs and 22, respectively, at 10.30am tomorrow.