There is no such thing as a bad Kangaroos side.
Or to phrase it another way, every Australian league side contains extremely dangerous players capable of tearing opponents apart.
The bloke who should be scaring Kiwis coach Michael Maguire is Damien Cook, who the title-winning Maguire was accused of under-valuing as his South Sydney coaching stint hit the skids.
New test players don't want for motivation, but if Cook needs any, it might be right there in the Kiwis camp.
Latrell Mitchell, James Tedesco, Valentine Holmes, Dane Gagai, the rip-snorting Tyson Frizell off the bench - that is an awful lot of pace, power and evasion to deal with.
But Cook is the first bloke the Kiwis must stop at Mt Smart Stadium on Saturday night, a difficult enough assignment for a well-honed NRL club side let alone a Kiwis team patched together now and then.
Cook was a junior surf club star who has shown amazing acceleration out of dummy half since finding a home in the No. 9 jersey.
If he runs riot, then it will be 'hang on for dear life' time. If the Kiwis can stop him from doing too much damage, they will be in with an outside chance.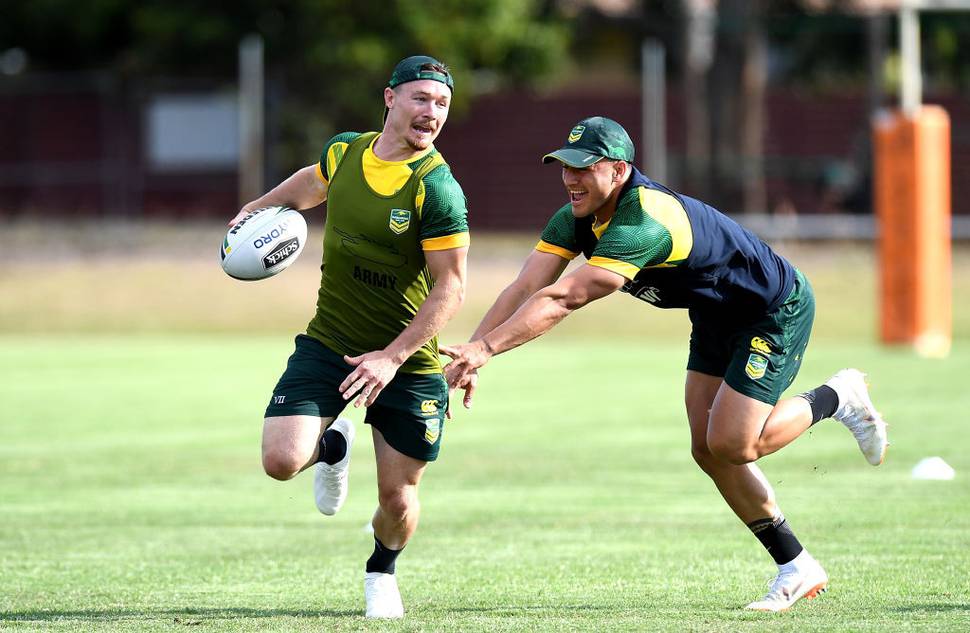 There's enough experience, energy and aggro in this Kiwi side to mix it with the Kangaroos, who have lost the entire legendary central control unit of Cameron Smith and co.
The Kiwis' dummy half situation is a worry, with NRL novice Brandon Smith - a utility - thrown into the role.
But the little Melbourne forward is a tough nut with a big heart. The Kiwis need to build a core of players with his sort of attitude.
Put it this way - the Kiwis have got more chance of making an impact than the people who run rugby league in this country, whoever they may be.
The way Australia was allowed to hijack next week's test match against Tonga is one of the saddest things I've witnessed in league. It was a capitulation by New Zealand, whose resistance wouldn't even meet the pea-shooter standards.
It's hard to find anyone who can make their voice heard on behalf of New Zealand league anymore.
The self-centred Australians sidelined the Kiwis from the game everyone wanted to see, and no one said a thing from in or outside the halls of little power.
New Zealand's league administration has a chequered past, but the odd leader fought for a properly run international game or was prepared to throw a bit of flak the Aussies' way. The legendary George Rainey and not-as-crazy-as-he-seemed Gerald Ryan spring to mind.
Nowadays we roll over and play dead, quite superbly.
New Zealand has turned into an NRL lap dog. It can barely raise a whimper, let alone bark.
Tonga, thanks to the Kiwi defector Jason Taumalolo and his Australian counterpart Andrew Fifita, deserve enormous credit for putting up a fight against the old order and giving the international league a fresh thrill.
But nothing has really changed. Any concession out of Australia is hard won, short-lived and of the token variety.
Australia showed its true colours by putting the Kangaroos up against both the Kiwis and Tonga in Auckland, after the Tongans surged into the limelight at last year's boisterous World Cup.
The Aussies do have a chance to turn over a new leaf, ensuring strong sides take part in the highly-anticipated New Zealand-Tonga test scheduled for June. Stand by for how the NRL clubs react when the reality of that match — one they will regard as a second-rate nuisance — strikes home.
As for Saturday night, the form book shows Maguire's Kiwis faded badly against England in Denver.
We can wish Dallin Watene-Zelezniak and his team all the best, and live in hope that the new young captain doesn't have to deal with one of those regular Kiwi disasters.
But the flying Cook helps makes Australia big 20-point favourites for my money.