Vaea Fifita has opened up about his All Black axing, claiming he has been left in the dark over the real reason for his omission from the Rugby Championship squad.
The rampant lock/loose forward has told Stuff he is confused and disappointed, but determined to play his way back into the All Blacks via the Wellington NPC side.
Fifita emphasised he had no gripes with All Blacks coach Steve Hansen and understands coaches have every right to pick who they want.
And his comments make it fairly clear he actually feels more let down by the Hurricanes, who have continued to use him as a lock even though blindside flanker is his real position and the one Hansen wants him to play.
But the situation has become confused, with the All Blacks retaining newcomer Jackson Hemopo, a Highlanders lock the All Blacks will use as a blindside flanker.
"He told me that (Fifita needed to be playing at blindside flanker)," Fifita told Stuff.
"But when I saw he got interviewed and he said he signed Hemopo to six, not lock, I kind of feel like he's not telling me the truth. But that's life."
Fifita has told the Hurricanes he wants to play as a flanker and, in line with Hansen's thinking, has no interest in playing at lock.
"I like six because I can use my athleticism to do what I can do on the outside, rather than just stay tight and do the hard work like running into a brick wall and getting your body tired. Then you can't do anything," Fifita told Stuff.
"They (Hurricanes) asked me and I told them I don't enjoy playing lock. I prefer six, but I know I can't play six because Brad (captain Brad Shields) is there."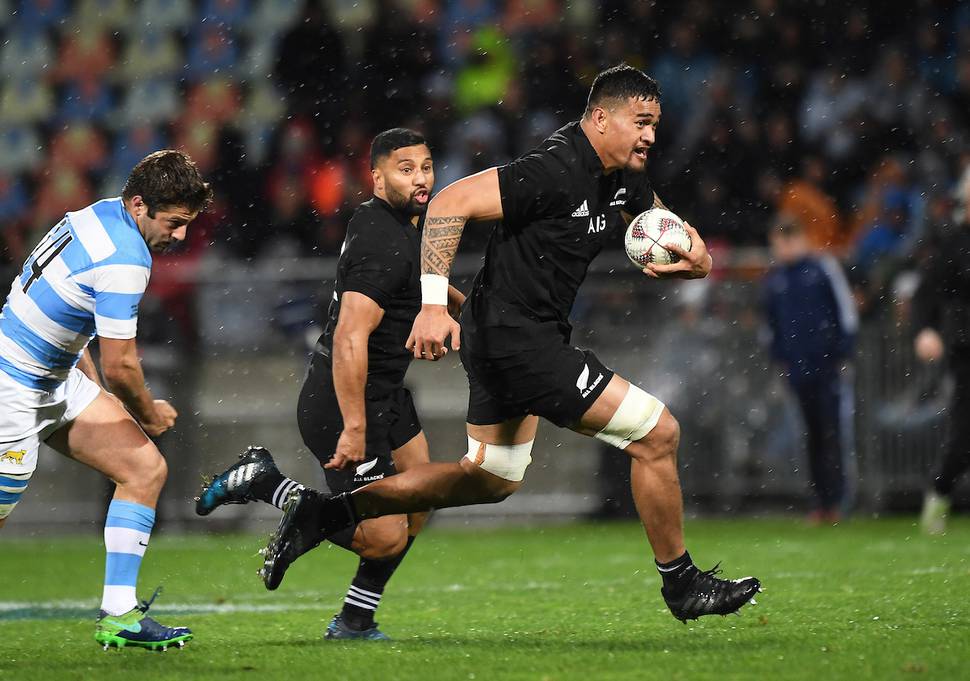 Fifita's prospects went backwards this year. He ended up on the bench behind starting Hurricanes locks Sam Lousi, the former Warriors league forward, and Michael Fatialofa. He also had injury and concussion issues.
Both Shields and Fatialofa are heading overseas, which could help or hinder Tonga-raised Fifita's desire to play as a blindside flanker.
Fifita made his test debut last year, when his brilliant 60-metre try against Argentina in New Plymouth confirmed his amazing athletic talent. He was used as a replacement in two tests against France this season, taking his tally to seven.
Comment: Gregor Paul - Dropped by the All Blacks, Vaea Fifita a victim of circumstance
Usually when a player makes a sensational entrance to test football only to quickly fade, there is a failure in their attitude or mind-set that prevents them from replicating the hard physical work and intense mental approach that enabled them to succeed at first.
If that has been a problem with Fifita, it hasn't been the main factor in his demise. He's been a victim of circumstance; collateral damage in a system that isn't as unified between club and country as the rest of the world makes out.
Long story short - the Hurricanes and All Blacks have disagreed on his best position since day one. The former saw him as a lock, the latter as a blindside and his lack of Super Rugby game time in the No 6 jersey has damaged his confidence and development.
He's faced the near impossible task this year of mostly playing at lock for the Hurricanes and then having to play at the higher level in a different position.
It hasn't been easy and with his confidence dented further by regular injuries and a nasty concussion, he's not come close this year to being anything like the dynamic force he was in New Plymouth.
And no one can be particularly surprised that Fifita has dropped off the pace.
In Super Rugby he's having to absorb a heavier scrummaging load in his legs, play tighter to the ruck and look to be more of a cleaner in the contact areas rather than a ball carrier.
Three months fulfilling that brief and then it was into the June series where the All Blacks wanted him to play wider, get his hands on the ball more and dominate ball carriers with his explosive power off the side of the scrum.
Not many players could make that sort of transition and the fact he has been left out of the Rugby Championship squad and instead been asked to head back to Wellington and play as a No 6 only in the Mitre 10 Cup, suggests he's on project recalibrate rather than being ditched.
Fifita needs to kill the theory he's a lock who can play blindside or a blindside who can play lock and establish that he's a specialist blindside.
That process will start with Wellington and if he can rebuild his confidence, become more of a ball carrier and destructive defender, then he may well be recalled for the All Blacks end of year tour.
They haven't by any means given up on him or decided he's a failed experiment.
They know what they want him to be and still believe he can deliver on that enormous potential if he's given the chance.
Fifita may well be recalled for the end of year tour, but if he's not, he'll still hope he's done enough to persuade new Hurricanes coach John Plumtree to stop playing him at lock in Super Rugby next year and that, at least, will be a victory of sorts.