Portia Woodman has declared the Black Ferns sevens are back on track off the field, as they set their sights on winning the 2020 Olympic gold medal in Tokyo.
The Black Ferns head to the World Cup in San Francisco in two weeks on the back of scintillating form.
They won the last three of the five World Series tournaments, although that was not enough to overhaul Australia for the 2017-18 title.
There have been hints that all was not well at the 2016 Olympics in Rio, where impressive top seeds Australia won the inaugural final over New Zealand.
And Woodman confirmed to the Weekend Herald there was internal team strife during an interview in which she talked about the influences in her life, the rise of women's rugby and her hopes for the game's future.
Woodman, once a rising netball star, was reminded of the Rio situation while watching the Silver Ferns struggle at this year's Commonwealth Games. She said the Black Ferns had been split over then-coach Sean Horan's management.
"I feel sorry for netball - I don't know anything about it but from the outside, it looks as though something similar is going on," Woodman says.
"Leading into Rio, we had some dramas, like every team does. And it can be hard to fix things on the field if you are going through hard times off it. There was some conflict between our coach and players.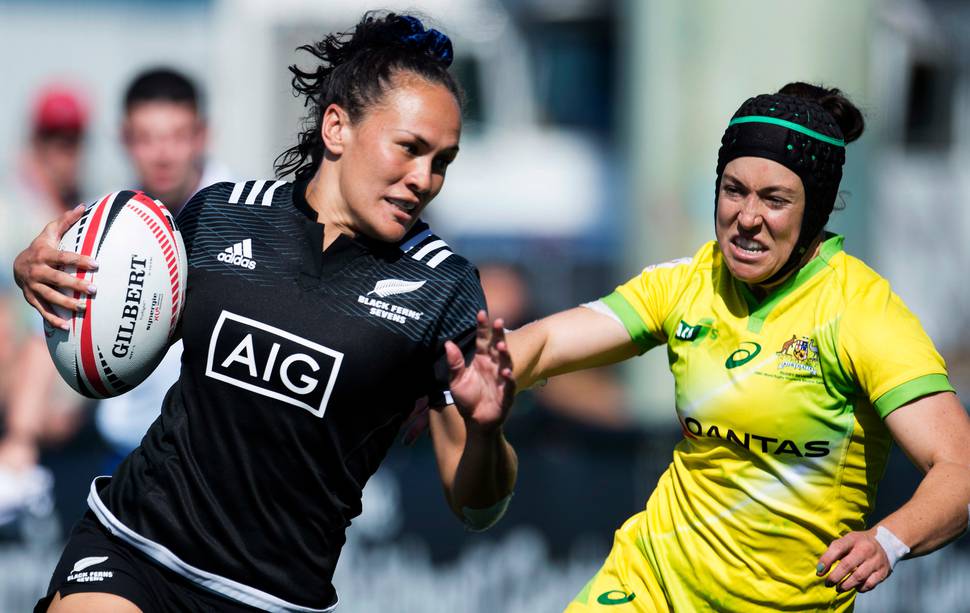 "I think the coach's expectation of players didn't match to reality - he had this stock-standard image of what each player should be. It did cause a lot of conflict ... [the feeling] that he's not really caring about us. It caused a big split in our team."
Horan was happy with Woodman, which was part of the problem.
Woodman claims: "He used the words [to other players] 'I want you to be like Portia Woodman' ... to be like me, to play like me. I didn't know what he was saying until later on.
"No one blamed me for it but it put pressure on me. There were a lot of discussions but it was hard to nut out how we were going to fix things.
"We were divided between the players on the different problems and solutions."
Under new coach Allan Bunting, Horan's assistant, there have been re-evaluations.
"A few of our coaching staff were in that environment for Rio and understand culture is such a big part of performing well," Woodman said.
"They encourage the girls to meet together, to make sure we are gelling right. They are on track and very supportive when we are fatigued, about things like getting quality time with our families."
Our interview takes place at the national sevens headquarters next to Blake Park in Mt Maunganui.
Fourteen of the 20 full-time sevens players already live nearby and the rest will arrive by October. The 28 15-a-side Black Ferns - who include Woodman's partner Renee Wickliffe - are semi-professional on new contracts worth up to $20,000 a year.
Women's rugby has come a long way in a short time and Woodman, who made her Black Ferns debut in 2013, has been at the forefront from the momentous day she signed an initial $20,000 sevens contract at her parents' North Shore home.
The Woodman name is part of rugby royalty for Northlanders. Portia's father Kawhena and uncle Fred were dashing, try-scoring All Black wings reflecting the adventurous rugby spirit of the region.
But for a Kaikohe girl, or any girl, dreams of playing professional rugby were an outrageous fantasy until recently, whatever their pedigree.
She wasn't a Kaikohe girl for long.
Her teacher parents moved the family to Auckland when she was seven, much to her despair. It meant leaving behind an environment rich in whanau.
"I was distraught - I remember packing the moving van late at night and I was bawling my eyes out," says Portia, whose parents named her after the heroine from their favourite play, Shakespeare's The Merchant of Venice.
Woodman recalls her four-year-old self beating six-year-old girls in sprint races on family marae days and her exceptional speed was not lost in the Auckland move.
"I was playing rugby with the boys, running around them. I don't remember playing against other girls and I was the only girl at the Glenfield club.
"They were cool about it and the coach was my friend's dad. He said 'You're fast - you can play rugby'.
"It was fun on the field. Opponents would say 'I'll get her' and I'd run around them. I'd chase them down and they'd go 'What the heck?' I just had natural speed."
She revelled in the contest, the confrontations and extra attention from opponents in rugby and netball.Her mother Kathryn is a netball fanatic, whose dream of playing for the Silver Ferns would go no further after becoming pregnant at 16. Kathryn encouraged her daughter to pursue netball.
Meanwhile, Kawhena would run the roads with Portia, trained her in track and field, and encouraged any sporting endeavour.
"I guess when I started, I just loved training with my dad," says Woodman, who turns 27 next week.
Two events helped lead her to quit netball for rugby when Horan enthusiastically outlined his vision for the women's game: the sport's admission to the Olympics and the sight of All Blacks megastar Jonah Lomu running over England at the 1995 World Cup.
"I had said to dad 'I want to be the female version of Jonah Lomu'," she says, before laughing at the memory of this childhood audacity.
"He was like 'Oh, that's nice, bubs'. I don't think he ever thought I would be playing rugby like this."
Early days in the sevens squad were tough. Woodman was still working as a primary school teacher aide and at a day care centre, getting up at 5.30am to train and training again after work.
When the Black Ferns leadership group made it clear the players were struggling, New Zealand Rugby started the professional ball rolling.
Woodman recalls a fledgling sevens circuit, of players washing their own clothes in hotel rooms, struggling to get them dry.
At the first tournament in China, they lived on canned chicken and tuna, rice and breakfast cereal brought from New Zealand.
"Now we stay in hotels where [rapper] 50 Cent stays, where F1 people go to party," she says.
Opportunities are opening up. Japanese clubs are offering sevens contracts and she has been approached by clubs in the new four-team NRL women's league competition, which starts in September. While those offers are not huge for now, commercial and advertising opportunities are growing.
She is adamant New Zealand can emulate Australia with a professional domestic competition and says NZR is keen on an international tournament involving Australia, Samoa and possibly South Africa.
"Maybe the women's game needs to separate more from the men, because we are quite different," Woodman says. "If we can get on TV more and change people's minds ... so people realise these women are playing amazing rugby."
She believes her public comments, questioning why the Hamilton sevens was men-only played a part in NZR organising a women's tournament next year.
Who knows where this will end? But the Black Ferns' successes, including another World Cup win last year, are vital to progress, along with the profile of stars such as Woodman.
She will bypass the 15s until after the 2020 Olympics and women's rugby is at an interesting crossroads on such issues, as the professional game develops. If there are new dilemmas, they are good ones.
"I'll always remember when we signed those first rugby contracts. It was history - we totally felt the significance. We were in disbelief - it was a breakthrough moment.
"Our team has a motto of leaving mana in our wake. We are creating this legacy, this history, of women who are going to make massive strides. These are exciting times.
"If we can inspire young girls and boys to play rugby, or just follow their dreams, that's all we wish for."