There is no substitute for speed on the rugby field and the All Blacks, who have led the way in terms of an expansive game plan that everyone else is now following, proved that again in the series against France and in particular the final test in Dunedin.
The All Blacks, the defending world champions and world's No1 team since 2009, have extreme pace in their backline, and, just as importantly, they know how to use it to the fullest due to their tactical appreciation and grunt work of their pack.
It was significant that neither their strategy against a 14-man France nor their work up front was good enough in the second test in Wellington. As a result, Rieko Ioane, Jordie Barrett and Ben Smith didn't have the consistent opportunities they would have wanted.
That changed during the 49-14 victory over the French in the third test in Dunedin where Ioane's first hat-trick of test tries at Forsyth Barr Stadium took his tally for the All Blacks to 16 in 16 tests (although the play didn't go the way of right wing Waisake Naholo).
If anything, Blues wing Ioane appears to be getting quicker. It's early days still but the 21-year-old, who scored a double in the first test at Eden Park three weeks ago, is on track to be the All Blacks' best ever strike weapon. Doug Howlett holds the All Black try-scoring record with 49 tries in 62 tests.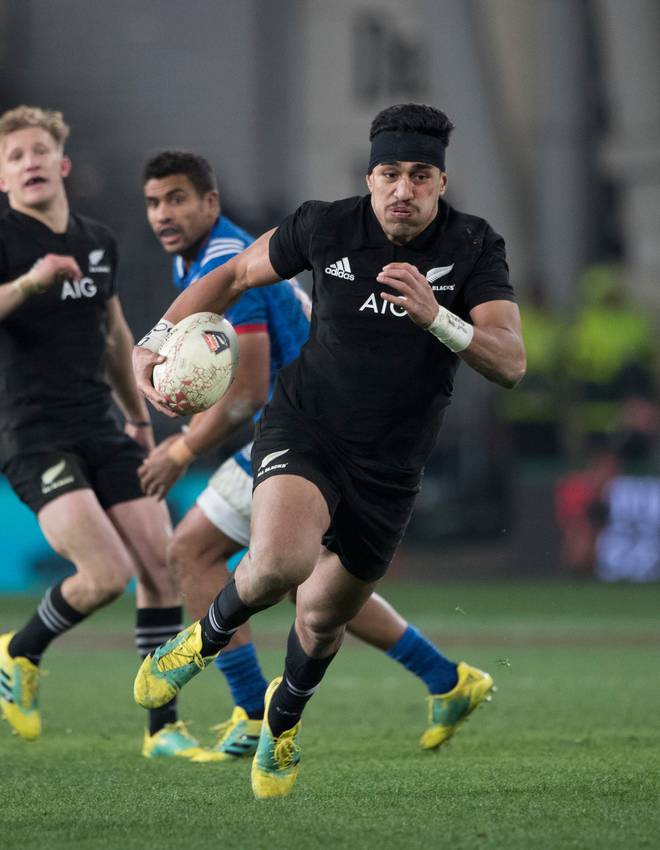 Ioane's second try in Auckland came via an intercept and 60m sprint at the end of which he was tackled over the line by opposite Teddy Thomas. That proved the French No14 also has "wheels" in the common parlance but not the opportunity to use them in an attacking sense.
All Blacks first-five Damian McKenzie scored a double in the most recent test purely because of his pace and he had the French in fits in the first test when he came on at fullback. So did midfielder Ngani Laumape and even hooker Codie Taylor.
McKenzie has now scored eight tries in 15 tests. His first under the roof on Saturday – when he ran a flat line off a scrum on to Aaron Smith's pass and got some accidental help from referee John Lacey (who blocked French halfback Baptiste Serin) - was reminiscent of Beauden Barrett's against Ireland in Dublin last year, albeit the latter scored his from nearly 40m out.
The point is those tries can only be scored by first-fives quick enough to beat the halfback. It's devilishly difficult to score off first phase at this level, but the All Blacks continue to do it because of their cutting edge which is sharper than any other in test rugby. The aforementioned Barrett is one of the quickest No10s in world rugby.
In Dunedin a day after the third-test win which allowed the All Blacks to sweep the series, coach Steve Hansen was asked about McKenzie's performance in particular and the importance of speed in general.
"It's been like that for a long time," Hansen said. "The one thing in the game [that is key] is that it's a massive advantage if you've got speed. A fast guy is going to beat a slow guy every time and he [McKenzie] is quick so it's a big asset."
Regarding All Blacks No11 Ioane, Hansen said: "He's more than a finisher – he's a big ball carrier. I think back to games last year, particularly the Welsh and the Scottish games, he really took them by the scruff of the neck himself and won us the games. He's that type of player – everyone gets excited when he gets the ball. Something's going to happen."
Ioane has been used in the midfield for the Blues this season – it's where he prefers to play – but with his form in the black jersey going to a new level after he sprang to prominence during last year's British and Irish Lions tour, there is not surprisingly little appetite from Hansen to move him.
"We've got a lot of midfielders so it would be handy if he stayed on the wing for a bit."
To get the day's top sports stories in your inbox, sign up to our newsletter here