Gagame Feni and Ian Paia are already feeling the cold in Hawke's Bay but the warmth emanating from the Havelock North club is keeping the elite Solomon Island soccer players in a happy place.
The 27-year-olds' predicament is quite understandable because they hail from the hauntingly beautiful Malaita province, accessible from the Guadalcanal that boasts narrow coastal plains, secluded bays and a rugged highland interior.
Feni and Paia made their debut for the flagship Building King Havelock North Wanderers team in the 5-2 away loss to Lower Hutt City last Saturday.
Feni, who is a versatile Solomon Island international winger since 2012, helped the villagers, with Liam Shackleton, score their first goals in the Ultra Football Central League match.
Today the Solomon Warriors (formerly Uncles club) teammates, who a fortnight ago finished their O-league campaign with a 2-0 quarter-final loss to Auckland City FC, will help the Chris Greatholder-coached Wanderers try to claim their first points in the premier winter league when they kick off at 1.30pm against the Paul Ifill-coached powerhouses, Wairarapa United, at Guthrie Park, Havelock North, in the Anzac Day clash.
"Our team is quite young. For many it's the first time to play in the Central League so it's a big ask but if we can show some discipline and concentrate on our goals then we should do well," says Feni, mindful of Ifill's reputation.
"If we bounce back from last weekend's results we should do well because it'll be an interesting game."
The speedster reckons scoring goals shouldn't be an issue but it is imperative that the Ethan Dent-captained Wanderers tighten their defence now as they attempt to avoid relegation in their debut season.
The hosts won promotion to the Central League after Team Taranaki withdrew amid claims of a player dearth in their province and declining to recruit countless imports for fear of losing their identity.
Wairarapa United are fifth on the league table, with two wins, a draw and a loss from four matches.
Assistant coach Dion Adams approached Feni via social media after, the player suspects, he was following his progress for a few games.
"This year I made up my mind to move over and try different places to improve my game," says the former Canterbury United Dragons (2009) and Waitakere United player.
"I spent one season with Waitakere and played [alongside] Roy Krishna," he says with a smile of the Fiji international captain who plies his trade with the Wellington Phoenix in the A-League.
As a teenager Feni won a scholarship to play and study at Nayland College in Nelson but it has dawned on him that this winter league will bring its share of climatic challenges.
It wasn't hard for him to persuade Paia to join him on the trip, after the latter had graduated with an accounting and finance degree from the Solomon Islands National University in Honiara and wanted to grow his game, too.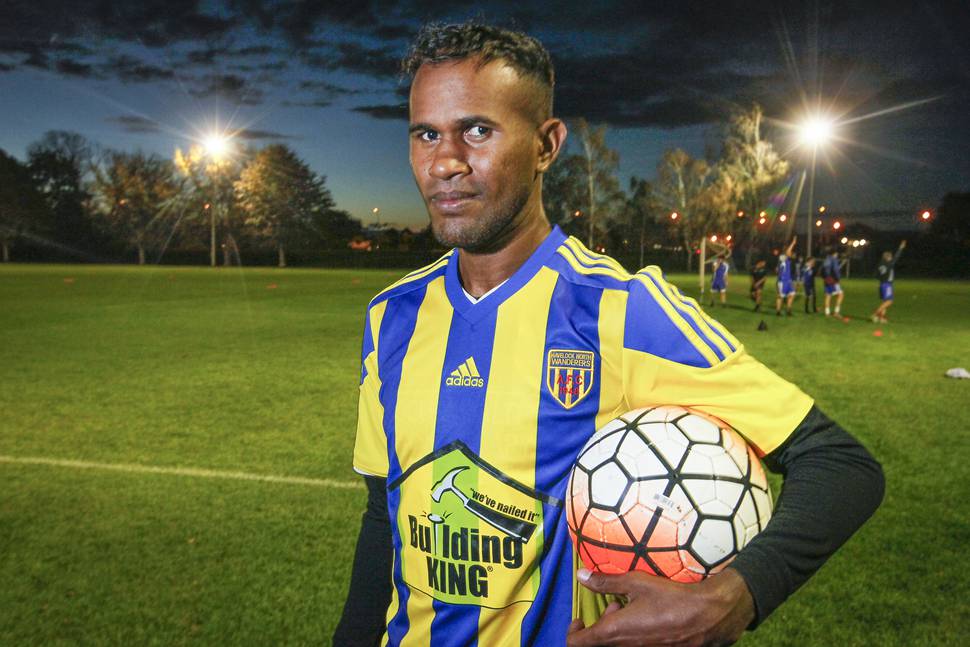 Explains Paia: "I was on the flight to play Auckland and I made up my mind that playing here was the best thing for me."
The former Koloale FC member from Honiara has the blessings of his parents to travel here although he is in a mild state of culture shock because it isn't the same as when he plied his trade with Ifira Black Bird FC in Port Vila, Vanuatu.
"I think the biggest difference is going to be the climate but I'll do my best," says the striker who already feels cold but believes he'll adapt.
Feni, who played for Lower Hutt in 2015, enjoyed last weekend's game but for Paia it was a good lesson on an artificial surface.
"Most of the time I kept sliding on the field and fell over too easily," says the latter with a grin, hoping to acquire boots that offer better traction on the Astroturf.
Having scored nine goals for Solomon Warriors, Paia is keen to deposit some for the villagers this winter.
For him, the beautiful game is akin to a business after Koloale club promised him a few things via a contract at 14 that included schooling.
He made his Solomon international debut in 2011 but isn't in the current squad.
His father, a civil servant, and mum, a hotel worker, provided for his seven siblings over the years and are on the verge of retiring.
Paia says in the islands he trains every week day, bar Wednesday, so the Tuesday/Thursday evening sessions here requires adapting.
"I have to do runnings in the mornings and strength exercises throughout the week here," he says, finding the junk food quite tempting as he adheres to a healthy "home food" diet.
Feni says the attitude towards sport in the islands is quite laid back but it helped that his brother, Brian, now 40, was a former beach soccer international as well as a basketball representative for his country.
It was the Uncles club that plucked him out of high school for a scholarship to Nelson.
"For me it was excitement, nervousness because I didn't know what to expect but I also knew it was going to be a turning point for me for my career," says the bloke whose father is a builder who takes care of an extended family of 14.
He is engaged to fiancee Czarina Shama Pubulu in the islands.