McKayla Maroney is the latest Larry Nassar victim to reveal that the paedophile doctor used food as part of his grooming process.
Maroney, 22, who competed in the 2012 Olympics in London, recalled how the disgraced Olympic doctor often would come to the aid of her and teammates.
Read more: Gymnastics doctor Larry Nassar sentenced to 40 to 175 years in prison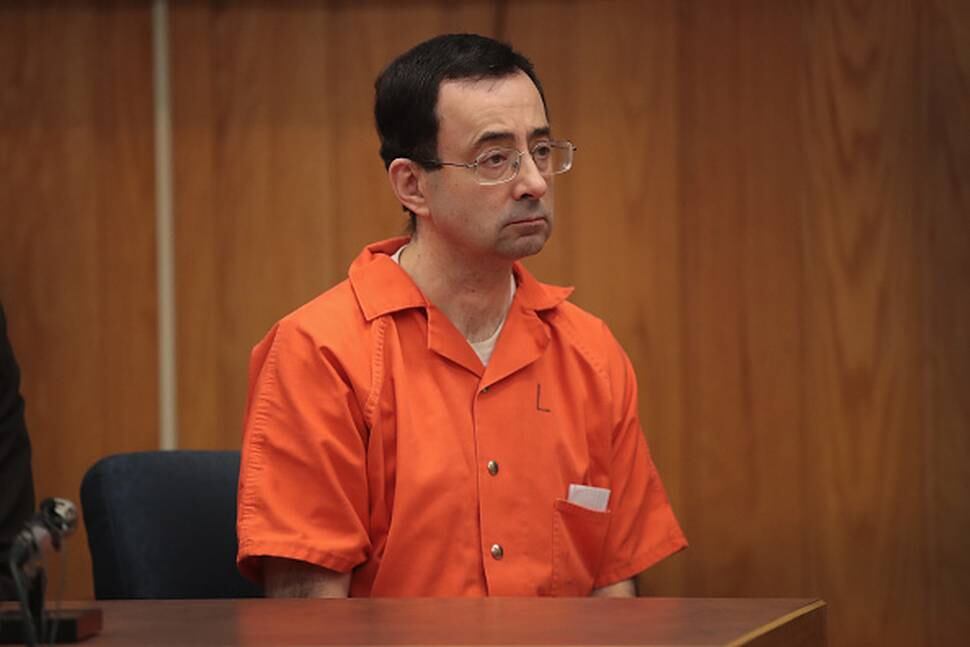 "I think I would've starved at the Olympics if I didn't have him bring me food," Maroney told Savannah Guthrie in a special episode of Dateline.
"Your coaches are just always watching you. And wanting to keep you skinny," explained Maroney.
"There's just other things about the culture that are also messed up that he used against us."
When asked by Guthrie what exactly Nassar did, Maroney gleefully replied: "Buy me a loaf of bread."
"I at times question if my gymnastics career was really even worth it because of the stuff I'm dealing with now, because sometimes you're just left in the dust," said Maroney.
"You have to pick up the pieces of your life. That has been the hardest part for me, but it's always three steps forward, two steps back."
This was similar to remarks shared back in January by Nassar victims Jamie Dantzscher, Jeanette Antolin and Mattie Larson on The Story With Martha MacCallum.
"There's other coaches right now abusing athletes. That's why we keep talking about the whole culture, and the fact that it's not just mental, physical and emotional abuse," explained Antolin.
The women also shared details about the culture at the Karolyi Ranch in Texas, where the national team would train.
"They would search our bags for food. We weren't allowed to bring food. Our parents were not allowed to go to the ranch," said Dantzscher.
"It was a distraction ... They wanted us to be focused 100 per cent of the time. And I was afraid to - we weren't allowed to talk, we weren't allowed to smile."
Maroney, who recently spoke at The New York Society for the Prevention of Cruelty to Children, revealed that she had been molested by Nassar since she was 13 years old, explaining why she had kept it a secret for so long.
Read more: US Olympian McKayla Maroney reveals horrific details of being sexually assaulted
"He said that nobody would understand this, and the sacrifice it takes to get to the Olympics. You can't tell people this," said Maroney.
"And he didn't say it in a way that was, like, mean or anything like that. I actually was like, that makes sense. I don't want to tell anybody about this. And I didn't believe that they would understand."
Maroney was not in attendance back in January for Nassar's sentencing hearing, instead she issued a powerful statement calling out those who let Nassar thrive for so long.
"How could have Larry Nassar been allowed to assault so many women and girls for more than two decades?" she wrote.
"The answer to that question lies in the failure of not one, but three major institutions to stop him - Michigan State University, USA Gymnastics and the United States Olympic Committee."
"A simple fact is this. If Michigan State University, USA Gymnastics and the US Olympic Committee had paid attention to any of the red flags in Larry Nassar's behavior I never would have met him, I never would have been 'treated' by him, and I never would have been abused by him."
Read more: Mother discovers she was present while Larry Nassar sexually abused her daughter
There had been concern that she might not be able to share her statement without incurring a $100,000 fine as part of her 2016 settlement with USA Gymnastics.
The two-time world-champion vaulter agreed to sign a non-disclosure agreement as part of the deal, which imposed a $100,000 fine should she speak about Nassar or the abuse she suffered at the heads of the disgraced doctor.
Maroney said that she was in desperate need of the money due to her deteriorating psychological state and need for treatment as a result of the abuse she suffered at the hands of Nassar.
That all changed however thanks to massive public support for the gymnast after model and cookbook author Chrissy Teigen posted a DailyMail.com headline on her Twitter account.
After reading that McKayla could be forced to pay USA Gymnastics for breaking her silence, Teigen said she would cover the expense for the sexual abuse victim.
That ultimately shamed the group into announcing its sudden change of heart.
Maroney is now suing USA Gymnastics - with her legal team arguing that it was illegal for USA Gymnastics to make Maroney sign a clause demanding her silence about her molestation.
"I want people to understand that this kid had no choice. She couldn't function. She couldn't work," said Maroney's attorney John Manly.
"It takes tremendous courage to publicly disclose it, knowing that any day there could be a process server at her door."