It was obvious for 800 painful metres Callum Hawkins' mind was making appointments his melting body could never keep.
What still isn't obvious to those who looked on in horror as the Scotsman lurched, stumbled and almost crawled 800 metres before collapsing in a heap on the Commonwealth Games marathon on course on Sunday is why medics took so long to intervene.
As Games organisers used rules of disqualification and the need for competitors to indicate they wanted help as their defence for the 25-year-old being allowed to push on, Dr Brad McKay watched in professional horror.
Dr McKay joined a growing chorus of medical experts and professional athletes in saying the Scotsman condition should never have come to that.
At the very least he said, medics should have been shadowing Hawkins, knowing what was likely to come.
Because it's doubtful Hawkins himself did.
"I'd suggest he was delirious," Dr McKay said.
"As his muscle are failing, his brain, which has been trained to reach that finish line at whatever cost is set on achieving that.
"He gets up, falls over, almost smacks his head, gets back up.
"There's no rational decision in that. That's suggesting his brain's on autopilot."
He said delirium, common at the point of exhaustion, causes people to make strange decisions.
"He was at the point where the brain may be willing, but your body is just breaking down," Dr McKay said.
"When you are delirious your brain is not functioning according to plan and we are very likely to make dumb choices at that time. They're not rational choices."
The rules of marathon state that a competition must seek assistance to get treatment, because it means instant disqualification.
Dr McKay said the rules of marathon need to be examined so medics can intervene when someone is as clearly as risk as Hawkins was.
FLASHBACK TO 1984
For older sports fans, Hawkins' dramatic collapse was reminiscent of one of the modern Olympics' most enduring images: The 1984 Los Angeles Olympics women's marathon.
In temperatures and conditions very similar to those on the Gold Coast on Sunday, as Swiss athlete Gabriela Andersen shambled into the Olympic Stadium for the final 400 metres of the race, and the crowd shared a collective gasp.
She was 20 minutes behind the gold medal winner, stumbling like a broken marionette, torso twisted, left arm limp, right leg mostly seized.
She waved away medical personnel who rushed to help her.
Mindful that to touch her would mean her disqualification, they noted that she was sweating, (which meant her body still had some disposable fluids), and simply stayed close.
Her heat exhaustion was grotesquely evident. It took her five minutes and 44 seconds to struggle through that last lap.
She stayed upright. The medics shadowed her every step of the way.
She staggered across the line and collapsed into their arms.
Within minutes she was on a stretcher, being covered in wet towels and bags of ice, having a drip inserted.
Contrast that with the Gold Coast on Sunday, and Hawkins, who fell once on a grass verge, lay for a bit, then staggered to his feet.
That, according to Dr McKay should have been more than enough warning that medics needed to be close.
Instead, Hawkins lurched another 800 painful metres, solo, crashing into barriers at the side of the course.
As commentators and spectators looked on in horror, still there was no medic was in sight.
"That first fall should have been enough warning," Dr McKay said.
"Medics should have been shadowing him from that point.
"One alongside him wouldn't have had to touch him, but could have been asking him did he need help before he fell again. One each side would have been even better — to catch him if he fell."
"The heat exhaustion and delirium would have meant he can't make rational choices."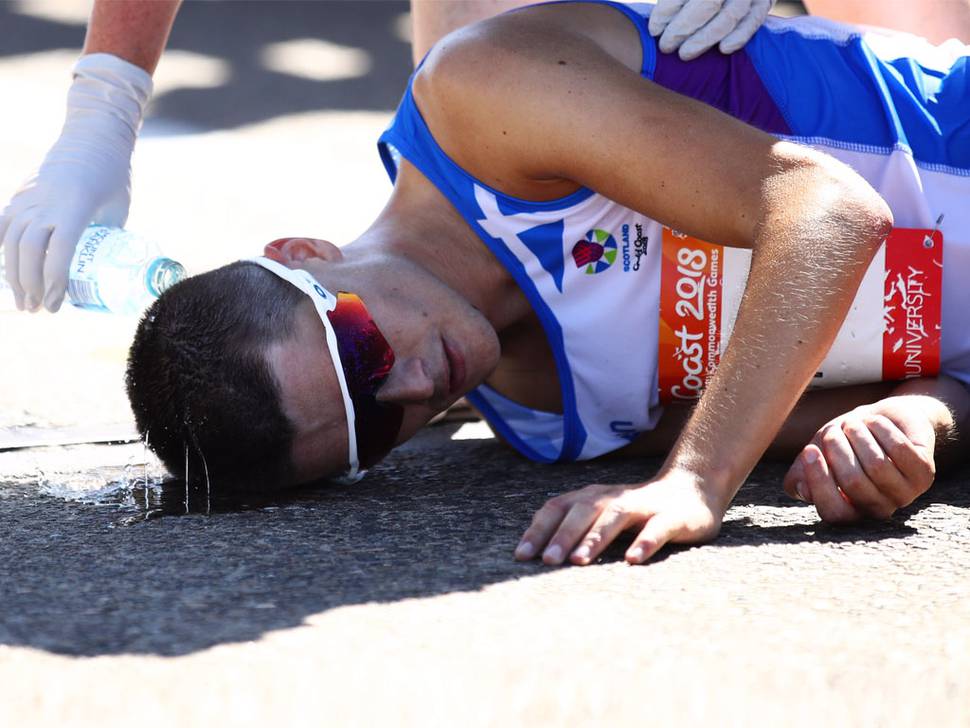 GREATEST DANGER
Dr McKay's greatest fear was having fallen once, another fall would see Hawkins hit his head on the pavement," Dr McKay said.
"That was the big immediate danger — head injury through impact," he said.
"The heat exhaustion, treated quickly enough, could be reversed. But head trauma could mean permanent brain damage.
"If you are delirious and you are getting up but your muscles are failing, you are just going to crumble on to the ground. And he appeared to hit his head a couple of times.
"That stuff that was the real danger and nobody was stopping him.
"My professional opinion is that from the time he got up from the first fall he was not in a position to make that call himself.
"I felt nauseated just watching it.
"It's a tough call, but when athletes have concussion we have rules and restrictions saying if you hit your head, you don't go back on.
"They'll insist they are fine, but they are not."
Dehydration and heat exhaustion would have made Hawkins "ketotic", Dr McKay said.
"Normally sugar is going around your body providing the energy you need for your brain and your muscles, but if you're getting to absolute exhaustion the sugar is gone and your 'back-up system kicks in'.
"In ketosis, muscle starts to break down. Your source of energy isn't sugar but ketones in the blood. They'll keep you alive, but it's not a very effective system.
The weaving and staggering happens as an overheated brain tries to shut the body down to try to stop more heat build-up.
"Lactic acid would have been rushing through his entire body as well. The muscles would have been flagging," Dr McKay said.
"Then you have cramps and fatigue. Even hobbling there is pain with every step. The muscle, in simple terms, area really irritated and going into spasm."
THE AFTERMATH
Hawkins managed to complete almost another unsteady kilometre in the 28 degree heat before his final fall, in which he narrowly avoided hitting his head on the metal guardrail.
No medic was immediately there beside him.
One and a half-minutes later, as spectators offered him water and Hawkins rejected help, rolling around onto his hands and knees before collapsing again, finally a medic arrived and he gave a weak 'thumbs up' signal that he'd accept help.
Gold Coast 2018 chief executive Mark Peters responded to the public outcry by saying officials were only able to provide assistance when Hawkins eventually requested it.
He said medical staff had been placed strategically every 500m along the marathon route and had radios to respond to medical aid requests when they were made.
He said response time was "within agreed response guidelines and time frames".
Then he slammed spectators for taking photos of distressed marathon runner Callum Hawkins after he collapsed during the event due to exhaustion.
Chairman of Commonwealth Games Scotland Paul Bush voiced his concerns with how the incident was handled.
"We've formally raised the situation with the organisers," Bush said. "We have some concerns. The concern is the amount of time it took (for medics to get to Hawkins).
"We're fully aware of the IAAF rules in terms of how the athlete has to declare himself unfit to compete, but he was in trouble for a long time and fell twice. We would have hoped that people would have got to him quicker because the second time he fell he was in serious trouble. We were extremely worried."
Hawkins appears to have suffered obvious problems following the incident.
After a night in hospital, he said in a statement he was feeling "much better" on Monday morning.
He added: "Thanks for all your messages of support today and to the Gold Coast University Hospital staff."
To get the day's top sports stories in your inbox, sign up to our newsletter here