World melts over skater's heartbreak
Canadian figure skater Gabrielle Daleman burst into tears on the ice after falling multiple times during her free skate.
Daleman was an emotional wreck and the tears only flowed faster when she received a score of 103.56, which put her into seventh.
She'd skated so well with the same piece during the team competition earlier in the Olympics, in which Canada won gold, but it all went horribly wrong on Friday as she struggled to stay on her feet.
Equipment failure fuels Aussie disappointment
Sami Kennedy-Sim kept her medal hopes alive by winning her quarter-final of the ladies' ski cross to progress to the semis.
But those hopes didn't last long. She had a nightmare start out of the gates in her semi-final, not having enough speed to get out of the pipe with any momentum.
She needed other skiers to fall and Lisa Andersson from Sweden obliged, but countrywoman Sandra Naeslund and Switzerland's Fanny Smith stayed on their feet and crossed the line first to condemn Kennedy-Sim to the small final, in which she came fourth of four racers to be eighth overall.
"It is different out there today, we might as well not have trained the last three days. You never come for anything but the best and to expect that from everybody is unrealistic," Kennedy-Slim told Channel Seven.
"I feel like I did my best today and I left everything that I have out on the track today. Bittersweet. Best result of the season so far but would have been nice to be the top four.
"My pole strap broke and my thumb got stuck in the side gate."
Canada's Kelsey Serwa claimed gold while compatriot Brittany Phelan recovered from a stumble to win silver with some slick moves.
Switzerland's Fanny Smith won the bronze medal.
Teammates shocked by scary carnage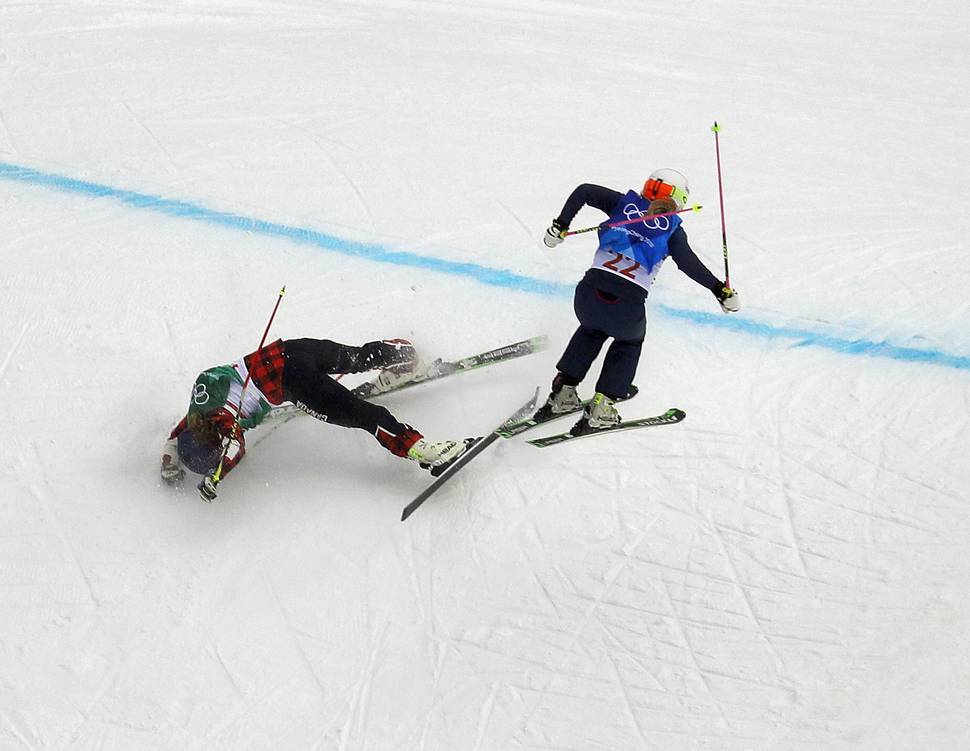 Disaster struck for Sochi gold medallist Marielle Thompson in the first run of the ladies' ski cross.
The Canadian was slow out of the gate and fell not far into the course, robbing her of the chance to defend her title.
"That's a huge shock for the Canadian and the defending champion is out," a Channel Seven commentator said.
"She'll be absolutely devastated," another commentator added. "She came here to race. She came back four months after an ACL (knee) reconstruction. Less than 20 days on snow. She put down such a strong performance yesterday, so this is quite devastating for her."
Before Thompson's run, Canadian coach Stan Hayer said it was a "miracle" she was even competing given the seriousness of the knee injury she had to overcome.
"It was just a miracle that she's here, right?" he said.
Thompson's bad luck was good news for Sweden's Lisa Andersson and Switzerland's Talina Gantenbein, who qualified for the quarter-finals just by crossing the finish line.
Aussie Sami Kennedy-Sim enjoyed a much smoother run in the next group to go down. Italian Lucrezia Fantelli didn't make it to the start gate, meaning Kennedy-Slim just had to finish to advance to the quarters, which she did so easily.
But the carnage continued as skiers went down like flies. Italian Debora Pixner and Victoria Zavadovskaya both stacked it in heat five and a photo finish was needed to decide who came second and qualified. Pixner fell on the last jump and literally slid across the line, replays showing her ski just crossed the line before Zavadovskaya, who had recovered from an earlier crash to challenge for second.
The very next run Canadian India Sherret suffered a heavy fall that prevented her from getting to the finish line. She remained on the snow, motionless, as medical staff came out to check on her, delaying the start of the next heat.
Channel Seven's Jason Richardson said there was an "eerie" feeling on the slopes as Sherret's teammates gathered and waited for news on her condition.
Trump breaks his silence
Unusually for American President Donald Trump, he has been relatively quiet on Twitter when it comes to the Winter Olympics.
He's had a well-known feud with North Korean leader Kim Jong-un, famously referring to him as the "little rocket man". But while the hermit state has launched a "charm offensive" at the Games in PyeongChang, sending more cheerleaders than athletes, Mr. Trump has stayed on mute.
That changed when he tweeted his congratulations to the American women's ice hockey team, who defeated Canada to win the gold medal in a thrilling shootout.
Vice President Mike Pence attended the Winter Games and Ivanka Trump will attend the closing ceremony as part of the US delegation.
'Why the f*** would you ask her that?'
American comedian and actress Leslie Jones put NBC Sports analyst Pierre McGuire on notice as the veteran commentator rehashed painful Olympic memories during the USA-Canada women's ice hockey gold medal game.
Speaking with Team USA's Gigi Marvin during the second intermission, McGuire pressed the 30-year-old forward about the 2014 Sochi games, in which the US lost the final to its neighbours to the north 3-2.
"You're one of the 10 ladies that experienced the disappointment in Sochi. What's going to be your message coming out here for the last 20 minutes?" the longtime analyst asked, via Awful Announcing.
With one period standing between Team USA and Olympic gold, which they would ultimately claim, many weren't pleased with McGuire bringing up the heartbreaking history, and Saturday Night Live staple Jones was one of them.
"Okay, f*** a**hole! Why the f*** would you ask her that right now, in the middle of a f***ing game that she's playing right now?" Jones seethed in a video posted on Twitter.
"Thank you. Thank you for putting that in her motherf***ing head. You know what, get your a** the f*** away from the hockey player! You know what, I swear to God, I swear to God. See, when I go, y'all lose your f***ing mind! What the f*** would you ask her that for?"
Jones travelled to South Korea as a contributor for NBC's Olympic coverage. And though she watched the thrilling shootout victory from the comforts of home, Jones was able to sleep soundly knowing Team USA won gold.
Skater slammed for culture clash
Dutch speed skater Jan Blokhuijsen apologised after igniting the wrath of many South Koreans by lecturing the Winter Olympics host country to "please treat dogs better" — a reference to the nation's (mostly bygone) history of eating dog meat.
Blokhuijsen made the comment during a Wednesday news conference after winning the bronze medal in men's team pursuit speed skating event.
"Please treat dogs better in this country," he said while leaving the conference room, according to Yonhap News Agency.
The clip quickly went viral online, angering some South Koreans, who slammed the comment as "racist and ignorant of a different culture". Some people even called for an official report to the International Olympic Committee.
The Dutch speed skater hopped on Twitter the next day to apologise.
To get the day's top sports stories in your inbox, sign up to our newsletter here