The fourth Ashes test took another dramatic twist on Friday, when the England team were accused of ball-tampering - less than 24 hours after the series erupted over the fairness of an Australian catch.
England were warned by the on-field umpires over excessive treatment of the new ball, after Channel 9 cameras caught England star James Anderson digging his nail into a cut-up section of leather in vision that some cricket fans believe to be a clear case of ball-tampering.
The on-field twice spoke to England captain Joe Root about his team's treatment of the new ball, which included numerous cases of players throwing the ball with excessive force into the pitch to try and rough up one side of it.
Root, Stuart Broad and Anderson were all involved in a tense discussion with umpire Sundaram Ravi on the morning of day four.
The incredible accusation set cricket commentators into meltdown, including Aussie legends Shane Warne and Mitchell Johnson.
"I'm not sure you are allowed to use your fingernail there," Warne told Channel 9.
"You do what Stuart Broad has just done here, you show the umpire.
"If you are going to touch the ball at all, it's not just shining it, you want to do it right in front of the umpire so they know there is nothing untoward going on. But I'm not sure that Jimmy Anderson — this might get some people talking. That's interesting, you can't get your nail into the ball. That's a no no. Bottle top is better."
Johnson tweeted: "No problem with the ball being thrown at the stumps by both teams as long as that's all it is! Wouldn't have thought the ball could reverse so quickly. Oh well".
Aussie cricket great Michael Slater added weight to the accusation of ball-tampering, saying the Channel 9 cameras caught England doing something they are not allowed to do.
"That's the wrong way," Slater said as Channel 9 broadcast images of Anderson digging his nail into the scuffed up Kookaburra.
"It doesn't help when there is 28 cameras around the MCG.
"The reason they're doing it is to get the ball reversing sooner rather than later.
"It's a difficult ball to face as a new batsman, but any movement through the air is difficult to face. That's what England want to happen quickly.
"The cheap way to do it is to keep the shine and you just isolate one side and you keep going hard at one side and you just hope naturally it's going to deteriorate quickly enough for you to get the movement.
"All of these things are what the umpires are onto."
England veteran Broad noted reverse-swing would be one of the keys to victory in Melbourne after claiming 4-51 on day two.
"We saw an interview Sakesy (Australia's bowling coach David Saker) did before the Test, talking about how important reverse-swing is at the MCG," he said.
"It's proven (correct). It doesn't really seam or swing conventionally."
Friday's incident followed after Usman Khawaja set social media alight with his controversial catch late on day three at the MCG.
Khawaja dived forward to take a catch off Broad's bat, but the replays were inconclusive.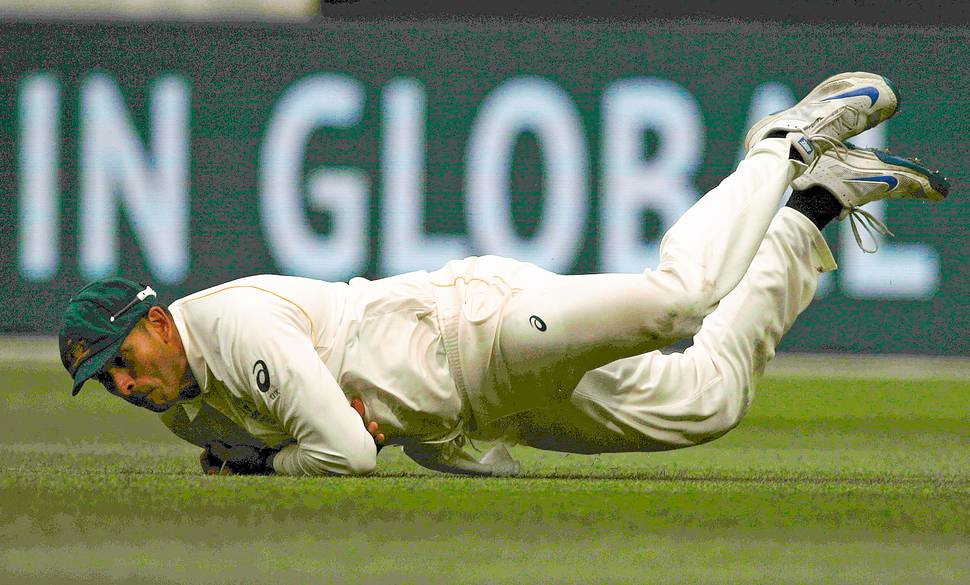 A decision by the on-field umpires to send the decision up to the video umpire, proved to be the reason Broad was sent packing.
He got up celebrating, but then motioned to the on-field umpires that he was unsure.
This admission still resulted in umpires sending the decision to video umpire Joel Wilson with the advice that the on-field decision was that Khawaja successfully clunked the catch.
Broad was sent back to the pavilion for a pyrotechnic 56 runs from 63 balls.
Khawaja's ugly diving catch quickly became one of the biggest flashpoints of the series.
"That is an incredible decision," English great Graeme Swann told the BBC.
"If you are English you see that and think there is no way that is out. If you Australian you say that is definitely out."
Michael Clarke told Channel 9 there was too much doubt for the umpires to make any recommendation to the video official.
"I don't know how he would know that," Clarke said of Khawaja's initial reaction to claim the catch.
"He is all over the place. I'm not saying he is trying to cheat or anything, but the ball was going all over the place and diving forward.
"Certainly, I think if there is any doubt, must go the batsman's way. You can't guess."