Rugby League World Cup 2017
When?
27 October - 2 December #RLWC2017
What?
28 Games - 14 Teams - 13 Venues - Five weeks - Three Countries
Where?
New Zealand, Australia and Papua New Guinea
Stay Up to Date:
Follow live updates and keep up with all the latest news at www.nzherald.co.nz and the New Zealand Herald
Host Cities:
Auckland, Hamilton, Wellington, Christchurch, Port Moresby, Darwin, Cairns, Townsville, Brisbane, Sydney, Canberra, Perth, Melbourne
How to Watch?
Sky Sport will broadcast live coverage of all 28 RLWC2017 matches
Official Site:
RLWC2017.com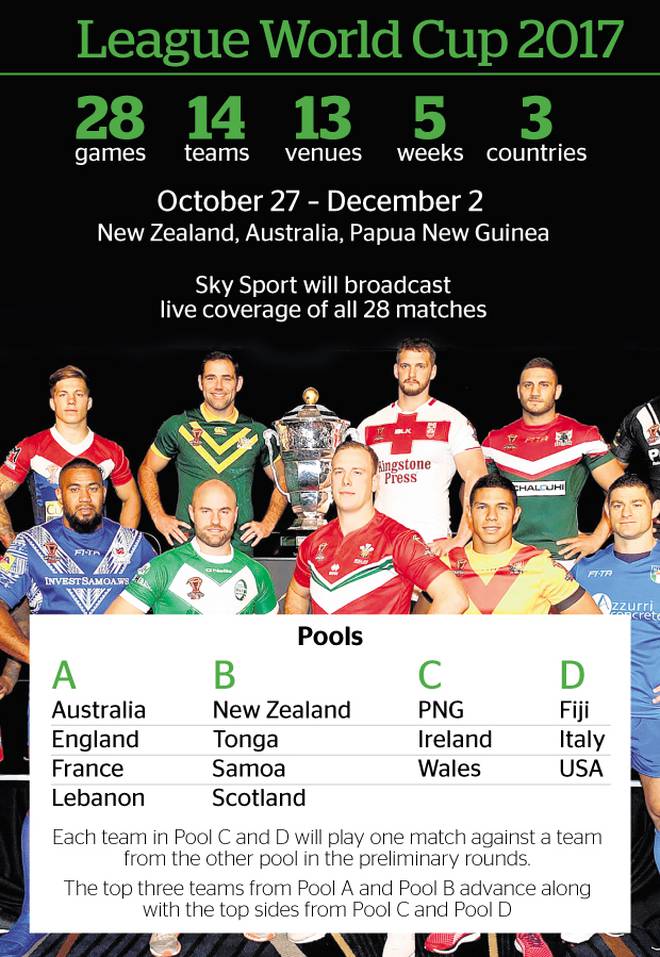 Did You Know?
The Rugby League World Cup trophy is known as 'The Paul Barriere Trophy'
Named after the President of the FFR XIII - Federation Francaise de Rugby a XIII between 1947 to 1955, Paul was a driving force behind the creation of the International Rugby League Board and the first Rugby League World Cup in 1954.
Seven Games in New Zealand:
Auckland
New Zealand v Samoa
Mt Smart Stadium
28 October
Christchurch
New Zealand v Scotland
Christchurch Stadium
4 November
Hamilton
Tonga v Samoa
FMG Stadium Waikato
4 November
Hamilton
New Zealand v Tonga
FMG Stadium Waikato
11 November
Christchurch
Quarter Final
Christchurch Stadium
18 November
Wellington
Quarter Final
Wellington Regional Stadium
18 November
Auckland
Semi Final
Mt Smart Stadium
25 November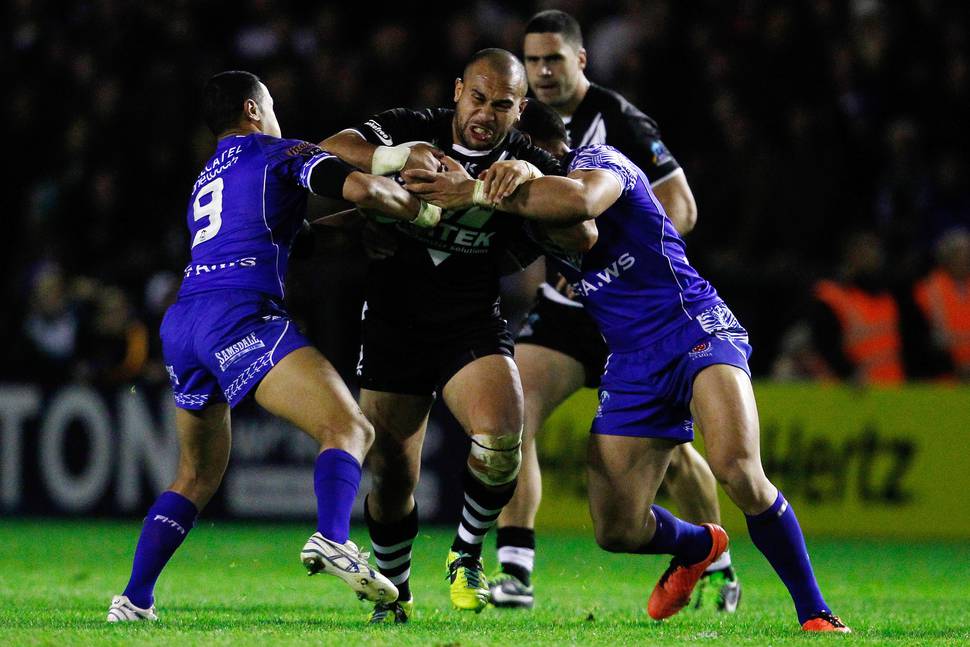 RLWC 2017 Pool Groups
Pool A
Australia
England
France
Lebanon
Pool B
New Zealand
Scotland
Tonga
Samoa
Pool C
Papua New Guinea
Ireland
Wales
Pool D
Fiji
Italy
USA
RLWC2017 Official Draw
*Each team in Pool C & D will play one match against a team from the other pool in the preliminary rounds
*The top three teams from Pool A and Pool B advance along with the top sides from Pool C and Pool D
*Quarter Finals host cities are Christchurch, Darwin, Melbourne, and Wellington. Allocation of games to host cities will occur after the pool rounds
Pool A
27/10/17
Australia v England
Melbourne
29/10/17
France v Lebanon
Canberra
3/11/17
Australia v France
Canberra
4/11/17
England v Lebanon
Sydney
11/11/17
Australia v Lebanon
Sydney
12/11/17
England v France
Perth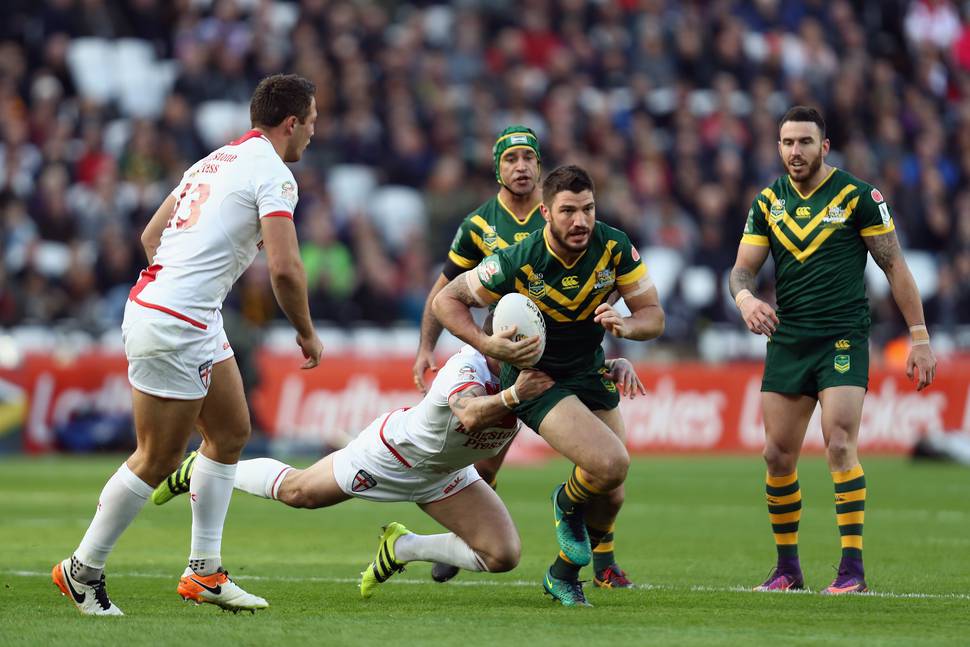 Pool B
28/10/17
New Zealand v Samoa
Auckland
29/10/17
Scotland v Tonga
Cairns
4/11/17
New Zealand v Scotland
Christchurch
4/11/17
Samoa v Tonga
Hamilton
11/11/17
Samoa v Scotland
Cairns
11/11/17
New Zealand v Tonga
Hamilton
Pool C
28/10/17
Papua New Guinea v Wales
Port Moresby
29/10/17
Ireland v Italy
Cairns
5/11/17
Papua New Guinea v Ireland
Port Moresby
5/11/17
Fiji v Wales
Townsville
12/11/17
Wales v Ireland
Perth
12/11/17
Papua New Guinea v USA
Port Moresby
Pool D
28/10/17
Fiji v USA
Townsville
5/11/17
Italy v USA
Townsville
10/11/17
Fiji v Italy
Canberra
Tournament Finals
Quarter Final 1
17/11/17
1st in Group A v 3rd in Group B
Darwin
Quarter Final 2
18/11/17
2nd in Group B v 1st in Group D
Christchurch
Quarter Final 3
18/11/17
1st in Group B v 3rd in Group A
Wellington
Quarter Final 4
19/11/17
2nd in Group A v 1st in Group C
Melbourne
Semi Final 1
24/11/17
Winner of QF1 v Winner of QF2
Brisbane
Semi Final 2
25/11/17
Winner of QF3 v Winner of QF4
Auckland
FINAL
2/12/17
Winner of SF1 v Winner of SF2
Brisbane