The hiatus in international cricket comes at an important juncture in the captaincy career of Kane Williamson.
The 26-year-old's ascension to the job has seen New Zealand continue to succeed in the Mike Hesson-coaching era, though punctuated by the odd trouncing.
Under Williamson's watch the Black Caps have won every completed home match this summer against Pakistan (tests), Bangladesh (all formats) and Australia (one-day internationals).
The team also verged on uncharted territory last year.
In March, they breezed through pool play at the World T20 in India, defeating the hosts, Australia, Pakistan and Bangladesh, only for England to ease to a seven-wicket victory in their semifinal.
In October, New Zealand were locked at 2-2 with India heading into an ODI decider, having not beaten them in a bilateral series away. They capitulated for 79 chasing 270.
Williamson's viral illness in the second test at Kolkata hampered the tourists' chances in the 3-0 series loss to India; then Australia pummelled them 3-0 in the December ODIs.
The summer will ultimately be judged on how they fare against South Africa, the only test-playing country New Zealand have not beaten in a series.
A solitary T20 ignites the tour on Friday in Auckland, followed by five ODIs and three tests.
The playwright George Bernard Shaw once wrote: "The reasonable man adapts himself to the world; the unreasonable one persists in trying to adapt the world to himself. Therefore all progress depends on the unreasonable man."
That premise holds true in many avenues of life, including cricket, but Williamson threatens to buck the trend.
Scan the annals of New Zealand cricket and sightings of a more selfless player than the country's 29th test captain are rare. Few top New Zealand sportspeople have had a more restrained ego.
He has never sacrificed his sincerity or his manners at the altar of bravado.
Williamson's extraordinary abilities, whether in disarming bowlers with his bat or using his emotional intelligence to engage people, have been documented since he was a teenager.
Those qualities earned him enough respect to be the automatic heir apparent to Brendon McCullum. There was no need to institute a presidential-style race, a la McCullum and Ross Taylor, before the white smoke wafted from New Zealand Cricket headquarters on April 28 last year to anoint Williamson across all formats.
He brings a conciliatory approach. He sets the cricketing and behavioural standards and, in a relatively young team, trusts several lieutenants from his age group or early provincial career for advice. The Herald understands Williamson has an informal policy where younger or new players are taken out for dinner or coffee to create an inclusive rather than Lord-Of-The-Flies culture.
The loyalty engendered extends to the fanbase. The decibel levels never deviate or discriminate when the No.3 ambles out to bat, regardless of the venue around the country.
Unlike some players of recent heritage, Williamson knows the value of autographs to young fans. Some might consider them scribbles on a scrap of paper, for others, they are a touchstone connecting supporters with their heroes. Regardless, Williamson and his team-mates flock beyond the boundary armed with black felt pens at the end of games.
Most cricketing journalists know that questions aimed at enticing Williamson to talk about himself are swiftly dispatched off his verbal pads. He tends to only play expansive soundbite shots when referencing the team.
The downside in his tenure to date? Less time to play the guitar.
"[The captaincy] takes up more time, naturally," Williamson says. "There's a lot to learn about yourself, and the people around you, to work out how they're travelling and get the best out of them.
"There are always people [outside the Black Caps] you talk to about the game, too.
"You trust them to pick up on the little things."
Williamson had previously captained representative sides at age-group level but knows there are adjustments to leading an international team where Peter Pan advice won't cut much sway.
"It's an adult environment and the guys tend to like responsibility. It is a balancing act, which I'm always trying to improve, but am probably never going to master.
"It's a gradual process. You can talk about wins and losses, but the growth of the team and seeing us operate in a way that suits best is the most important thing."
A significant moment in Williamson's captaincy career occurred at the end of the first home Chappell-Hadlee ODI at Eden Park last month. New Zealand were haemorrhaging runs as Marcus Stoinis opted to deposit the ball in the stands rather than along the ground.
Williamson had dropped a catch off him at deep mid-off, and missed a run out at short cover. New Zealand had had Australia 67 for six in the 19th over chasing 287, but a miraculous comeback brought that total into sight.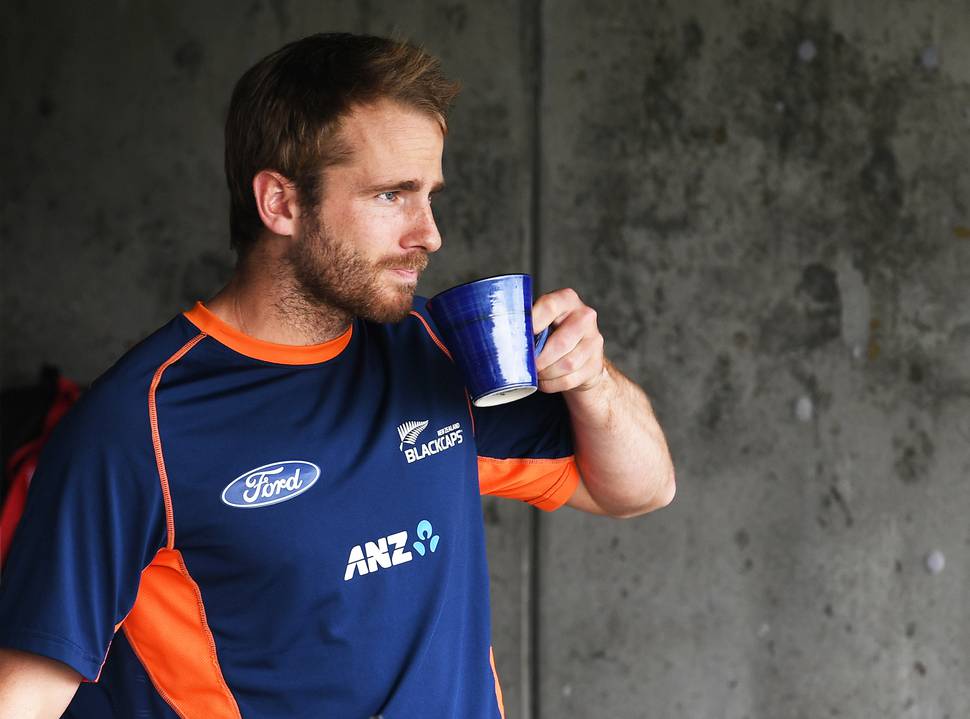 The New Zealand captain stationed himself at short mid-on with seven required to win. Tim Southee pitched full on middle-and-leg and Stoinis drove to Williamson. In a flash he had underarmed at the stumps, leaving Australian No11 Josh Hazlewood flailing.
The scene demonstrated Williamson's instinct. Sometimes it works in cricket, other times it doesn't, but often the opposition hesitate and opt for caution.
The success of the summer, and almost certainly the retention of the silverware, hinged on that play.
Williamson has absorbed pressure himself. In the first test against Bangladesh at Wellington, the visitors made the highest first innings test score - 595 for eight - from which a side has been defeated. Williamson made 104 not out to see New Zealand home by seven wickets. Of those cricketers to play 15 or more fourth innings in tests, his average of 66.90 ranks second to Don Bradman's 73.40.
"The best thing [this summer] has been that we pounced on tight moments in close games and there was clarity about what we were trying to do," Williamson says.
"Some days we didn't execute perfectly, but how we went about the plans of what we wanted to achieve was far clearer than in Australia."
Watching Williamson in the field often leaves the impression he is playing in the backyard, albeit on an acreage with thousands of people looking over the back fence.
Observers say he does not shirk from delivering the odd firm word, like after the Australian ODI demolition in the previous Chappell-Hadlee, but fun is a core part of his ethos.
"When I was first asked to do the role, I wanted to stay true to how I like playing the game. At times that can be a challenge, but it's important that is the focus because you love playing with your mates."
So what about laying down the law to establish the culture?
"There has probably been the odd moment, but a number of leaders in the side have been brilliant in supporting roles.
"A lot of the captaincy is about keeping tabs on the pulse of the team and that involves talking to senior players who have a good feel for it."
South Africa last toured in the 2011-12 season and won the three-test series 1-0. However, at the Basin Reserve, Williamson spent 228 balls and almost five and a half hours to see off Dale Steyn, Morne Morkel and Vern Philander. He earned a century and a cracked box, but saved the match.
If Williamson leads like that again, while continuing to adjust to the captaincy, he will give New Zealand a chance at history. Expectations are high a Reasonable Man can make progress.