When the athletes took to their stage at the Joao Havelange Olympic Stadium in August last year, they did so in the shadow of some of the most spectacular topography on the planet in front of thousands of onlookers. When they finished their events, they ran the gauntlet of the mixed zone, where comment is sought that will be translated into a myriad of languages and stories.
When the athletes take the start line at Onewa Domain tonight, or edge towards the toe board in the shot put circle, there will be few shadows cast, save for the one from the rugby scoreboard that has, all summer, pointed to a game long past involving Southland Boys High. It is, in all honesty, a featureless expanse of lawn bordered by bush on one side and busy arterial roads on the other.
There is no mixed zone, but there is a coffee cart and a sausage sizzle.
There is also a good chance that tonight, like many nights before, that an Olympic finalist will be hanging around, passing on tips near the toe board, measuring the sort of throws that he would be able to clear with his wrong arm while sitting down.
I can't claim to know Jacko Gill. I may have interviewed him once or twice while he was trying to claim every junior shot put record there was to own. There was a time, specifically when he withdrew from consideration for the London Olympics, where I wondered about his mental make-up and the advice he was getting, but you have to pause and consider he was a mere teen in an oversized body.
He's still only 22.
What I don't have any doubt about know is his dedication to his sport.
On beautiful summer evenings, when he could be doing just about anything for himself, Gill drags himself down to Onewa Domain to the weekly Takapuna Amateur Athletics & Harriers Club meets with his father Wal and mother Nerida to help out a bunch of kids, most of whom are too young to appreciate the effort and artistry it takes to hurl a 7.26kg ball of molten steel 21m.
We live in an age where sightings of the Haast eagle are as common as All Blacks at club rugby, where the top-heavy nature of professional sport has seen the grassroots wither. Where community sports club survive on the goodness of dedicated volunteers and the sadness of pokie machine money.
So it's gratifying to see a guy who is among the best in the world at what he does giving back to those who are a million miles from being the best.
And it feels good to be able to report that it doesn't go unnoticed.
Credit to Williamson
As unconvincing as Kane Williamson's captaincy was in the opening Hadlee-Chappell match at Eden Park, it was pitch perfect at Seddon Park. This is what we should expect and embrace: a young captain who isn't going to get it right every time, but who's going to make sure every experience is filed away and learnt from.
Four questions ahead of the South Africa tour
1.
Does Ross Taylor get picked for the T20s?
There should be one and one consideration only: Is he one of the five best T20 batsmen in the country? If the answer to that question is "yes", and I strongly suspect it is, then the rest is just white noise. International cricket is not a development league, no matter the format. If Hesson can articulate why Taylor is no longer regarded in the upper echelon of T20 batsmen, then he should go. It is not a format that plays well to faded reputations.
There is a secondary consideration here that might play well to conspiracy theorists. Taylor is most likely in the last few years of his international career. The various franchise T20 leagues offer rich retirement funds for a further year or two. By not selecting Taylor for T20Is, you're effectively denying him a shop window that, given the years of service he's given the Black Caps, would appear a little mean-spirited.
2. Can Martin Guptill be shoehorned into a test side... again? Having watched his white-ball performances against Australia this season it is clear that Guptill is arguably the best ball-striking batsman we've ever had. You could write a book covering the theories as to why he can't translate that ability to test cricket but it is clear he has technical vulnerabilities against a new red ball and attacking fields.
New Zealand did, however, carry a 'luxury' batsman at No 5 for a number of years before he retired at the end of last season. Could Guptill's future lie there, as a player who, like Brendon McCullum, had a licence to fail?
The problem being is the incumbent No 5, Henry Nicholls, has done enough to hold his place after two half centuries against Bangladesh.
3. Can New Zealand get 20 South African wickets without preparing those lurid first-day greentops? You'd be more confident now than previously, with Trent Boult looking to have regained his zip.
Santner's emergence as a spinner, too, raises hopes, though he's adapted far more quickly to the short formats than tests.
4. Colin de Grandhomme, James Neesham, Corey Anderson... or a specialist No 6 batsman?
This shapes as the most contentious decision. De Grandhomme is the incumbent but aside from his dramatic entrance against Pakistan with the ball on a greentop, he has looked a bits-and-pieces cricketer shy of true test standard.
Neesham is the best cricketer of the three but has lost the trust of the team with the ball and have shown vulnerability against short-pitched bowling.
Anderson has shown the odd moment of class with the bat and once had a reputation as a golden arm, but he is injury prone and needs to send his test batting average (32.5) heading towards his bowling one (41.2), and vice versa.
Rather than place any value in the few overs you might get from these allrounders, don't be surprised to see a specialist batsman, like a Neil Broom or Martin Guptill, picked in this slot to strengthen the order against a formidable attack. That will mean Santner might be used more as a stock bowler early on to rest Boult, Tim Southee and Neil Wagner/ Matt Henry, and the skipper might have to bowl a few overs here and there.

THE WEEK IN MEDIA ...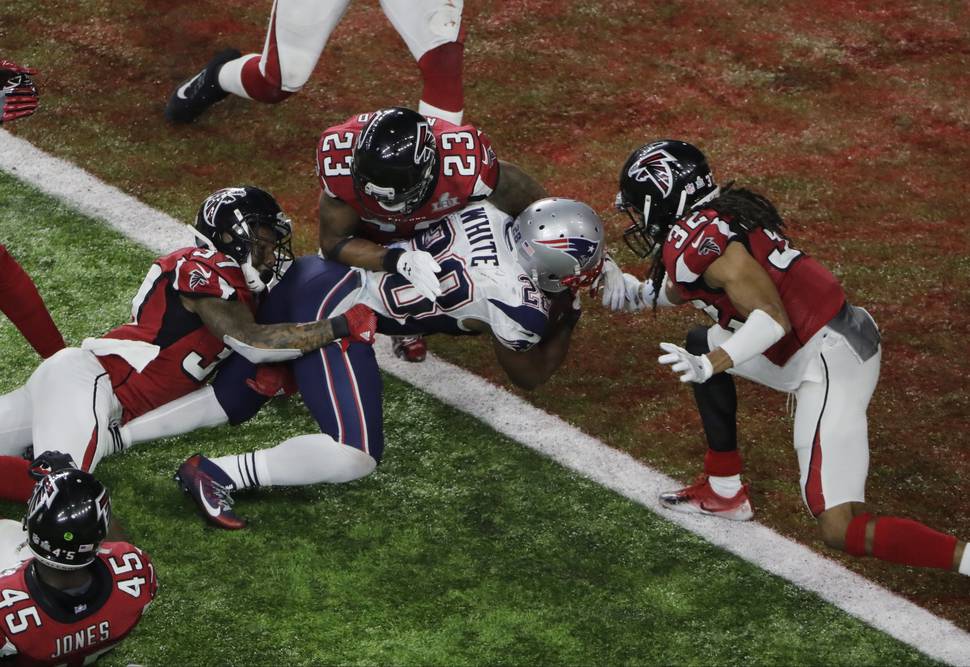 For such a stunning Super Bowl, perhaps the best ever, there was a paucity of good writing to follow it up. Perhaps, once the superlatives had been exhausted, there was nothing left to say. Perhaps that's why I was drawn more to this pained piece written by a veteran Atlanta journalist.
That's all.