A streaker at the Black Caps v Australia cricket match last night escaped a fine and was let off with a warning. These five nudie runners weren't so lucky.
State of Origin streaker run down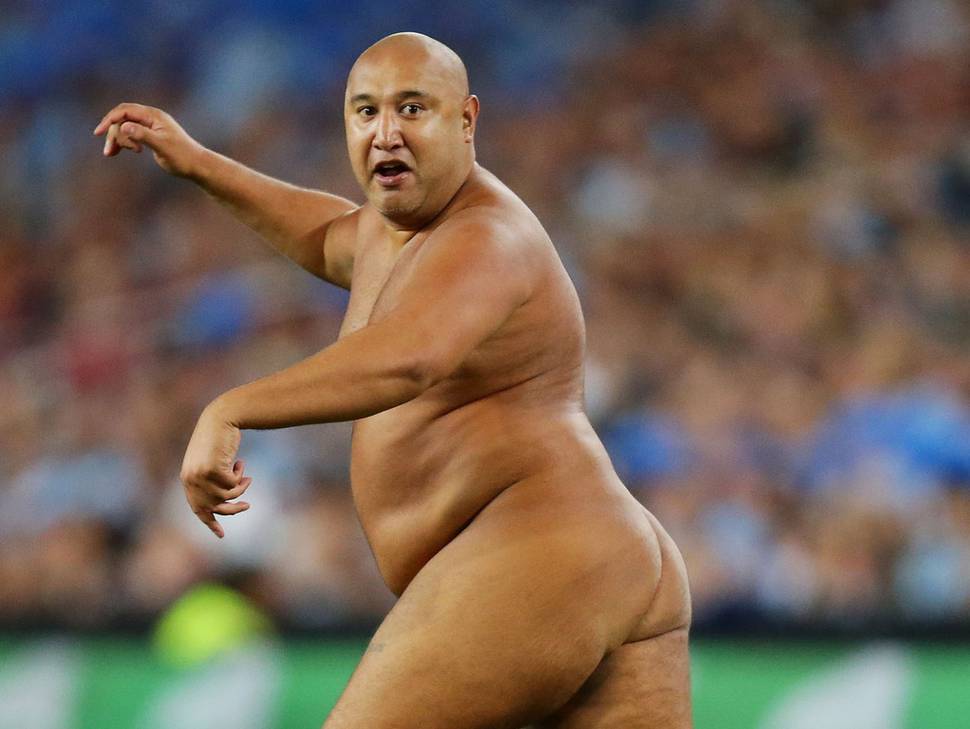 New Zealander Wati Holmwood was sentenced to three months in jail after streaker at the 2013 State of Origin decider in Sydney. Wearing nothing but joggers he ran the length of the field in the final minutes of the clash, just as Queensland were about to score a try.
He pleaded guilty to entering a playing field without authorisation and wilful and obscene exposure in a public place and was fined $2000 for baring all in front of 83,000 spectators.
His lawyer, Will Tuckey, had pushed for a non-custodial or suspended sentence.
But the magistrate said he considered jail the only appropriate option for the serial streaker, who got his kit off in 2011 at a Warriors vs Tigers match at Leichhardt in Sydney's inner west.
Holmwood could have been slapped with a maximum jail term of 18 months.
Streaker sent to the deck by Andrew Symonds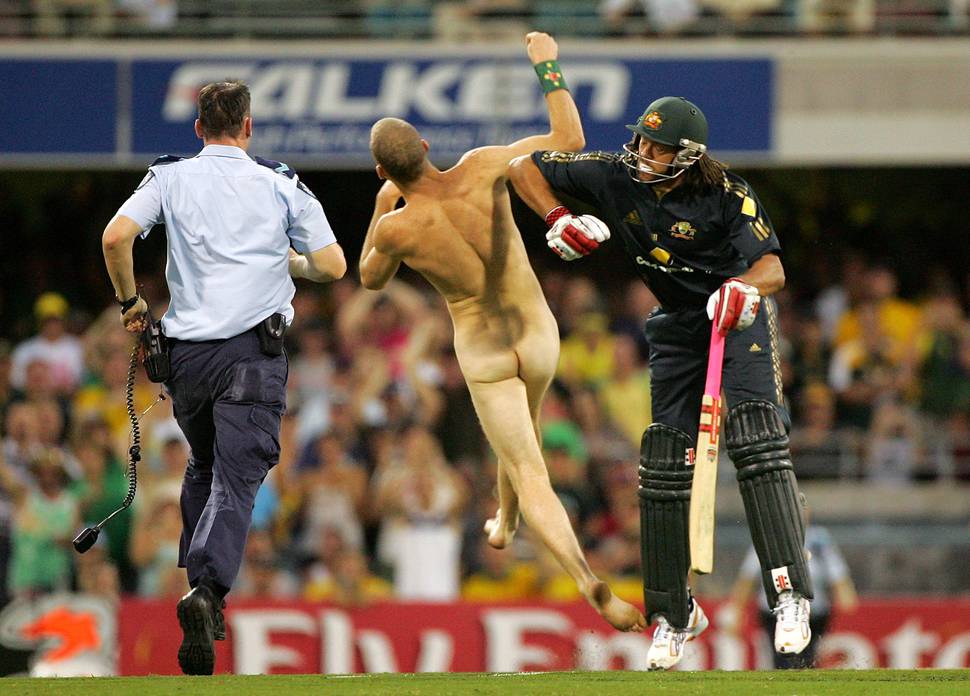 This one should have been a decent deterrent for wannabe streakers. Robert Ogilvie streaked onto the Gabba ground during a 2008 ODI between Australia and India. He made it as far as the pitch before Aussie all-rounder Andrew Symonds sent him to the turf with a Sonny Bill-like shoulder-charge.
Ogilvie , who said it 'felt good' to be taken out by Symonds, was fined AU$1,500 but no conviction was recorded.
"It was great actually... it was just like playing football," he told reporters outside of a Brisbane court.
Asked whether he had any intention of bringing assault charges against Symonds, Ogilvie said: "No, wake up to yourself".
Ogilvie apologised to the cricketers involved in the match but said he did not regret his naked run.
"You only live once, don't you?" he said.
When streakers cost the All Blacks a win
Two streakers interrupted a Bledisloe Cup at a vital moment in 2002, just as All Black first five-eighth Andrew Mehrtens was lining up a penalty attempt. Mehrtens missed the kick after the disruption of two streakers who had Vodafone logos painted across their bodies.
The All Blacks had just been awarded a penalty for a high tackle and Mehrtens was trying to extend his team's three-point lead with a long-range shot in difficult, swirling conditions.
He went on to hit the ball wide for one of four misses from seven attempts that night. The All Blacks went onto lose the test 16-14.
New Zealander Aaron Bain was one of two streakers and said the All Black goalkicker called him after the incident and had no hard feelings.
Rather than getting an earful from the first five-eighth, Bain found himself indulging in some light-hearted banter.
"He just said I owe him a beer and owe New Zealand a big fat apology," he told the Daily Telegraph newspaper.
He told Mehrtens that he was sorry for the incident.
"If I put you off the kick, I'm feeling pretty bad about it."
Bain said the main regret he had about his streak was that New Zealand were kicking for goal at the time.
"If people think it's my fault that New Zealand lost the game, it's not true," he said.
"It's 80 minutes of rugby and New Zealand were winning 11-8 at the time."
Fellow streaker Brett Mutton was arrested and charged, while Bain was fined on the spot because he co-operated with police after being ejected from the stadium.
Horseplay
For a stag-do prank, this takes some beating.
This drunk Aussie stripped off on a day out at the races in 2008, leapt onto the track - and took on the horses.
The nude stag made his mad dash in front of 26 of his mates watching from the stands at the Moruya course in Bateman's Bay, New South Wales.
His streak freaked out one horse so much it slammed into the inside rail, almost sending the jockey flying.
And stewards were forced to scrap the race after furious punters and owners complained about the interference.
A 31-year-old man from Canberra was arrested at the track and later issued with a court attendance notice for offensive conduct. Police also charged the man with entering enclosed lands.
But the situation only got worse for the man and his mates when they returned to town that night, only to be told they were no longer welcome.
Waterfront Hotel owner Greg Hargraves said the punters were too intoxicated to be allowed to stay the night.
Snookered
Steve Davis won his third Masters title in 1988 by defeating Ronnie O'Sullivan in the final, but history remembers the occasion for a different reason.
The final was notable for featuring snooker's first ever streaker, 22-year-old secretary Lianne Crofts, who invaded the playing area at the beginning of the third frame.
After stewards removed her from the arena, O'Sullivan amused the crowd by comically wiping the brow of veteran referee John Street, who was refereeing his final match of his career.