The Warriors now proudly lay claim to having New Zealand's largest high definition LED stadium mega-screen at their Penrose home ground Mt Smart Stadium.
Installation was completed yesterday on the impressive million dollar 212 square metre screen which now dominates the hill at the northern end of the ground.
The largest permanent stadium screen in the country is almost five times the size of the temporary screens previously used at Warriors home games.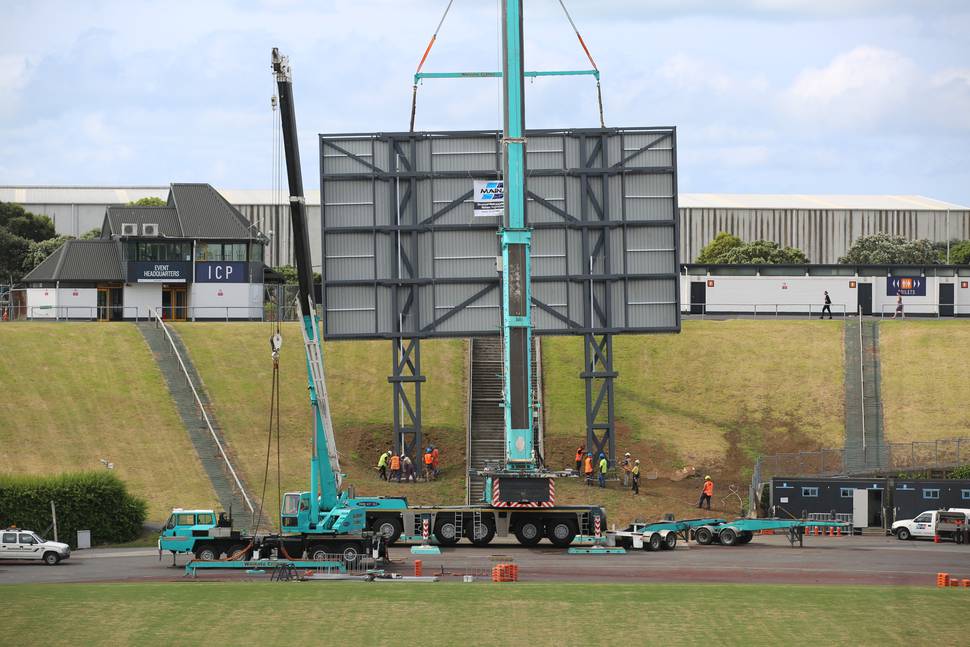 Standing 11 metres by 19 metres, the mega-screen will deliver high-definition live action and replays and also offers split screens showing scores, statistics and other stadium messages.
Construction began in October with large scale excavation and digging began to house the screen's deep-set foundation. Work continued through the early part of the New Year before the mammoth structure was finally unveiled while the finishing touches are still being applied.
It will be put to use for the first time at the Warriors NRL season-opening clash against the Newcastle Knights on March 5.
"This is a fantastic development and something we know our members are really looking forward to," Warriors managing director Jim Doyle said.
"Watching it be installed on Wednesday, you can finally appreciate just how big it is.
"We're very excited about how much it's going to enhance the game day experience here at our home, Mt Smart Stadium."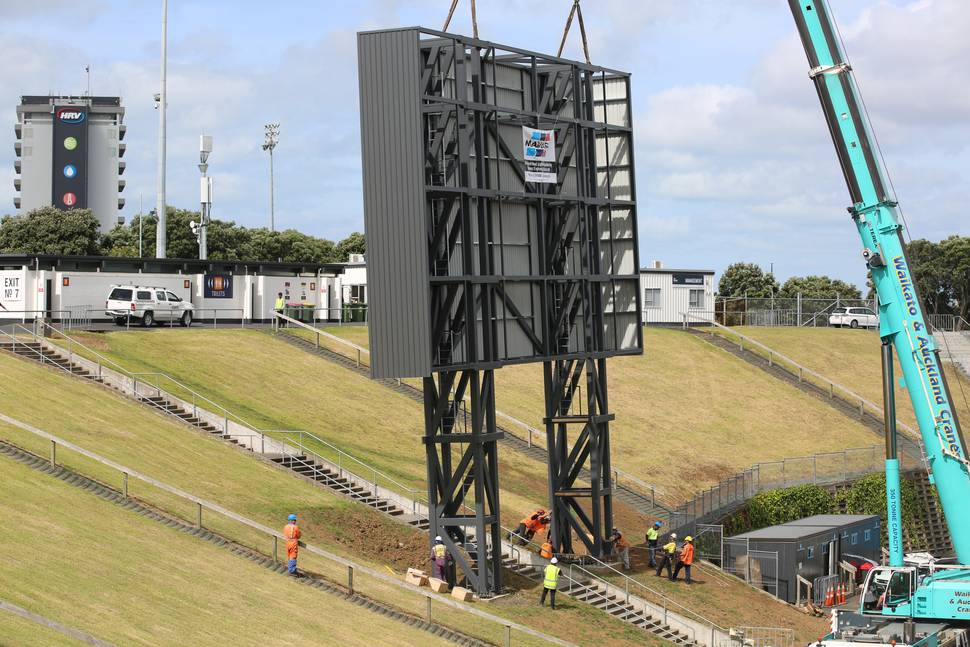 The Daktronics screen is the same brand and similar in size to the huge 'superscreens' installed at Sydney's Allianz Stadium in 2015.
The cost and installation of the mega-screen is being covered by Regional Facilities Auckland as part of the terms of their agreement with the club that secured Mt Smart Stadium as the Warriors home ground until 2028.
The RFA have committed around $11 million to upgrading the venue in the next few years, with improvements also due to be made to the stadiums toilets and change room facilities.
The screen's installation is a long-term investment removing the need and cost of hiring temporary screens for Warriors' matches.
RFA chief executive Chris Brooks told The Herald last November that the cost of the project is expected to be off-set by 2022.
"The payback of that is about six years because we hire screens in," Brooks said.
"The Warriors have also done a lot of good work in terms of enhancing things on their side as well."
The project is testament to the improved relationship between the club and RFA, after the Warriors successfully opposed the council's initial stadium strategy that proposed a shift to either Eden Park or North Harbour Stadium.
"They've been really, really supportive," Doyle added. "Obviously in the last year we've changed from going to be kicked out to staying there for another 10 years so it's been great."