Double Paralympic gold medallist Liam Malone has revealed that he sought advice from Oscar Pistorius ahead of his successful campaign in Rio.
The young Kiwi broke the disgraced South African's Paralympic record when he won the 400m T44 final overnight.
Herald Investigative Journalist Phil Vine, who has known Liam since the beginning of his road to Rio spoke to Liam on the eve of his gold medal winning performance yesterday about the advice given to him by the infamous Pistorious.
Herald Investigative Journalist Phil Vine takes a look back at Liam Malone's journey over the last two years, his road to rio and how his mother's memory pushed him to win gold.
Malone showed his true power moving through the race and was just too strong to cross the line ahead of Germany's David Behre (46.23) and American Hunter Woodhall (46.70).
Malone told the UK's Channel Four that he reached out to Pistorius for advice earlier this year.
"He contacted with me and I talked to his coach via email searching for advice," Malone said.
"All we talked about was training, and not his circumstances. It was purely business."
Pistorius is currently serving a six-year jail sentence for the murder of 2013 Reeva Steenkamp.
Pistorius, dubbed as Blade Runner, was the face of the 2012 Paralympics and also competed in the London Olympics 400m heats against able-bodied athletes.
The gold medal today backs up from Malone winning gold in the Men's 200m T44 and silver in the Men's 100m T44. He also broke Pistorius's 200m Paralympics record.
"It's a tough race. It was at the end of the Games and I was feeling shattered going in," Malone told Newstalk ZB's Rachel Smalley on Early Edition.
"I knew these boys were fast and I knew I had the top-end speed so I went out hard and I knew I was it was going to be 'kill or be killed' so coming into that last bend I just put the foot on the gas and did my best to not crumble down the back straight which is what happens to most people."
Liam Malone in Rio
400m T43 - Gold - 46.20s (Paralympic Record)
200m T32 - Gold - 21.06 (Paralympic Record)
100m - Silver - 11.02s
The 22-year-old got his first set of blades following the support of the New Zealand public, who donated to a crowd funding site to the tune of $20,000.
Malone said he'll celebrate his success before deciding on what he'll do next in his career.
"I'll go out and celebrate with some friends and brainstorm what's next. I'm here to collect as many experiences as possible in this life and we'll see what happens next."
Listen: Liam Malone talks to Rachel Smalley

Malone's medal today now means the New Zealand Paralympic Team have officially meet the total medal target of 18 in Rio - 9 gold, 5 silver and 4 bronze. It also moves New Zealand to eighth place on the medal table.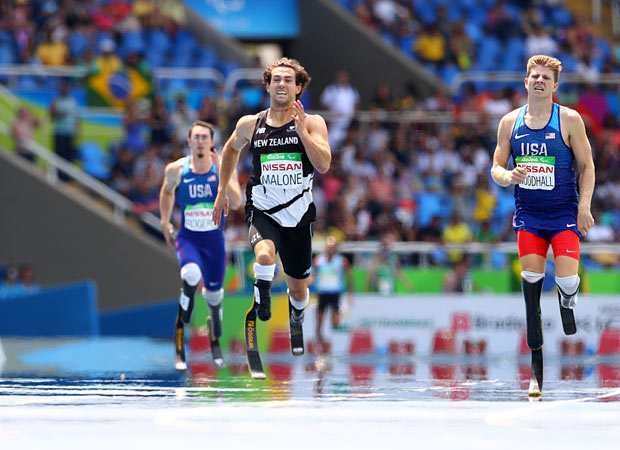 Liam Malone of New Zealand competes in the Men's 400m - T44 final during day 8 of the Rio 2016 Paralympic Games. Photo / Getty
The Wellington-based athlete has been taken into the hearts of Kiwis after his brilliant gold medal victory in the T44 200 metres sprint final which fell on the day of his late mother's birthday.
Malone told NZH Focus he would sacrifice his Rio Paralympics medals in a heartbeat if it meant having his mother back.
"I'd definitely sacrifice a gold and silver to have her back," Malone said before the 400m final of his mother Trudi Scott who died of cancer in 2012.
Malone, who only took up Paralympics competition two years ago, said the tragedy had also strengthened him.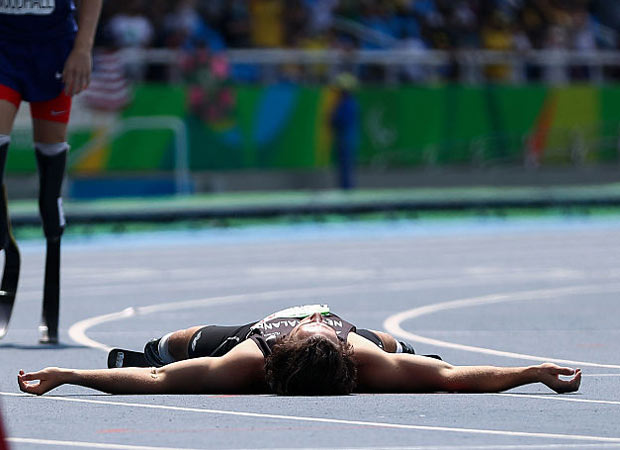 Liam Malone lies on the track after winning the Men's 400m - T44 final during day 8 of the Rio 2016 Paralympic Games. Photo / Getty
"On the other side of the coin, I learnt a lot from her passing away. I had to learn to stand on my own two feet, as much as a man missing two feet can," said Malone who had both his feet amputated when he was 18 months old after being born with the same congenital disease as infamous South African Paralympian Oscar Pistorious.

"Obviously I got the (100m silver) medal on my mum's birthday which is a very special occasion for both myself, my father and my friends and my family who have been through the process of grieving her loss. That moment will stick with me forever.
"I was in such a dark place and I just needed an overriding goal to get me out of it and to teach myself that hard work is the most important thing to get anything in life - and I've certainly learned that."
Malone, who broke Pistorious's world record in winning the 200m final, admits Rio and his increased public profile has been a surreal experience.
"First two years I really battled and battled and battled and wasn't seeing much progress. It's really just been in the past six months that I have got everything done and gone to the top. I feel like if you want to achieve something then you have to dedicate yourself to it and it really just comes down to mindset.
"My top speed is good and I spent two years building the tank and the last 8 months we've been putting in the accelerator. So I put down the gas and went for it and it was great. When you're out there you don't really think too much. You're just in the moment...win or lose, I'm just stoked to be here."
Elsewhere the day started with Scott Martlew making Paralympic history in the first ever Men's KL3 Para-Canoe final at a Paralympic Games and for Martlew. He finished eighthin a close field that saw only a four second difference between Martlew and gold medallist Yemelianov (Ukraine). Martlew was called up to the New Zealand Paralympic Team only two weeks ago following the Russian suspension.
Paralympic debutant Jesse Reynolds missed qualifying for the the Men's 100m Butterfly S9 final after swimming a personal best time of 1:04.50 placing fifth in his heat.
The final Kiwi in action this morning was Mary Fisher in the Women's 100m Freestyle S11 placing third in her heat and heading into this morning's final ranked fifth overall.