There's been plenty to criticise the Rio Olympics Games about - but there's also been some inspiring, heart-warming and genuinely funny stories. Here's 10 of the best so far...
Sir Bradley Wiggins and the Great Britain men's cycling team have a reputation for partying hard. So their female colleagues decided a pre-emptive strike was needed after the men claimed a historic gold and headed out to town in Rio. The Team GB's women left a hilarious note on their Olympic village bedroom door warning the boys to stay away. Great Britain's women made sure they would get a good night's rest for their own team pursuit final on Saturday - by telling the men's team to stay out of their room in the early hours of the morning.
Paul and Gary O'Donovan are a pair of Irish brothers and Olympic rowers who did their nation proud by bringing home the silver medal. So they did what any Olympic heroes would do, they gave an interview to a television network back home. But unlike most Olympic interviews, this one had no clichés about the triumph of the spirit or how they owe it all to God. No, this interview was all about peeing, pizza, and how no matter how fake the background behind them looked, it was totally real.
FIJI CREATE HISTORY WITH GRACE
Fiji's men's rugby team had already grabbed our hearts even before their humble act of kneeling before Princess Anne when they received their gold medal for winning the tournament. The humble Fijians were lauded worldwide for their performances on and off the field. Even Kiwis couldn't begrude the Fijians knocking out our boys in the quarter finals. Fiji went on to smash Great Britain in an awesome finals display of skill and power. The feat brought the tiny south Pacific island to a standstill, providing Fiji with the first Olympic medal in its history. And what a way to do it!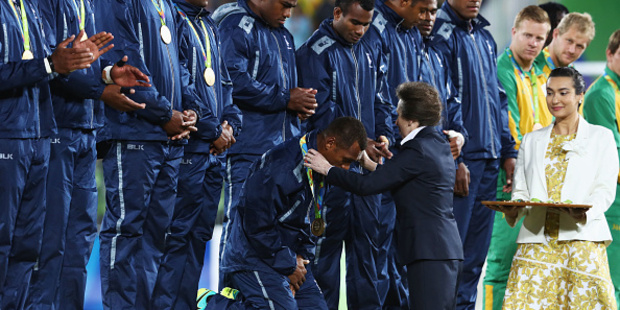 The Fiji Rugby Sevens team managed to win the world's hearts as well after its triumph. Photo/Getty
UBER'S GOOD SAMARITAN
How's this for a sweet story? Ellis Hill, the father of American shot putter Darren Hill, was not even going to go to the Olympics because he couldn't afford to watch his son compete. Hill drives an Uber taxi in Philadelphia and was planning to watch his son on TV. That was until he mentioned to one of his passengers that he wouldn't be able to go. The Good Samaritan decided to crowd-fund to get him there. "It was devastating to hear that," said the passenger, Liz Willock, in an interview withPeople magazine. "Here's this wonderful man, who has a close relationship with his son, and I know any parent would want to see their son or daughter compete at the Olympics, but it was very understandable how that could be out of reach."
THE RUGBY PLAYER WHO BROKE HER NECK AND SURVIVED CANCER
For Jillion Potter, just getting to Rio with the US women's sevens team was a triumph. The Eagles didn't have a great tournament but their presence highlighted Potter's remarkable story. After taking up rugby at university and debuting for then national team in 2007 when only 16 years old, Potter broke her neck three years later in the build-up to the Women's Rugby World Cup. She recovered without any serious damage but then suffered another setback was not far away during the 2014 World Cup when she found some swelling underneath her jaw. She soon discovered that she had a soft tissue cancer. Potter managed to beat the cancer and become an Olympian, making her one of the most inspiring athletes at these Games.
MENDING FENCERS
It's a trying time for race relations in the United States. Ibitihaj Muhammad has done her best in Rio to change that. The fencer became the first American athlete to wear a Muslim hijab during the Olympics. Muhammad revealed she took up fencing, in part, because the uniform allowed her to maintain the tenets of her faith. "I wish that, not just my life, but the lives of Muslims all over the world were a little bit easier, particularly in the United States. I'm hoping that with my first-time appearance as a member of Team USA here at the Olympics, I'm hoping that the rhetoric around the Muslim community will change." She did better than that. She won a bronze medal!
RUNNING FOR HIS LIFE
Lopez Lomong was just six years old when he was abducted and taken to a prison in Sudan, the country of his birth. Townspeople helped him escape and make his way to the Kenya border where he lived in a refugee camp for a decade before resettling in the US in 2001. In 2003, he was reunited with his mother who he thought had been killed, and in 2009, he travelled back to Sudan to bring his younger brothers to the States. This will be his fourth Olympics, having made his debut at the Games in 2008. He will run in the 5,000m.
FROM BLACK BELT TO ARCHERY CHAMPION
The bald facts say Zahra Nemati competes for Iran in archery. Her back story is far deeper. Nemati is a former black belt taekwondo competitor but was paralysed in a car accident in 2003. Three years later she decided to take up archery, and within six months, she had finished third at the national championships against able-bodied athletes. In 2012, she won two gold medals at the Paralympics and qualified for both the 2016 Summer Olympics and the 2016 Summer Paralympics this time around.
She's only 19 but feisty American teenager Lilly King calls it as it is. And thank goodness for that. Far from daunted by the big stage in Rio, the super swimmer has led the way in athletes speaking out against drugs in their sport. A gold medal winner in Rio, King literally pointed the finger at Russia's Yulia Efimova who had previously served a 16-month suspension for a banned prescription steroid." She also had a crack at her fellow American Justin Gatlin for his long list of drugging misdemeanours. King's stance emboldened other athletes to speak out against drugs in sport.
For the first time at the Olympics, there is a refugee team taking part - all of whom have incredible stories to tell. Yusra Mardini is perhaps the most famous of the team. Mardini nearly drowned while escaping the conflict in Syria, fleeing her country after her house was destroyed. The boat she was on began to fill up with water. Just four people on the boat - including Mardini - were able to swim. They pushed the boat for three hours until reaching land. She swam in the women's 100m butterfly and although she did not advance, she won her heat.