Coach explains why All Blacksalways strive to be successful - looking down better than up.
Steve Hansen is certain the challenge of maintaining success in test rugby is easier than trying to find it.
Self-belief is the magic ingredient - the component that drives standards in training and promotes calm in those tricky moments when a game hangs in the balance. It took the All Blacks a while, maybe the first 10 years of the professional era, to have that faith in themselves, in each other, that they could dig their way out of almost any hole.
But they have it now and Hansen's tenure as All Blacks coach has been all about strengthening that conviction within individual players and the collective group, that if they prepare well, adopt a relentless work ethic and use their experience as a guide to accurate decision-making, they can continue to be successful. Maybe even a better team.
Coming into the first clash of the year with Australia next week, that ingrained culture of self-belief is going to be critical. Probably the single biggest advantage the All Blacks have over the Wallabies.
In contrast to New Zealand, Australia entered the professional era with a relatively strong conviction in their ability, only to lose it, or see it erode, in the past decade.
And it's been their failure to win regularly against the All Blacks that has largely been responsible for filling them with self doubt. The Wallabies haven't held the Bledisloe Cup since 2002.
In all those years since, they have lost an awful lot to the All Blacks. To be precise, they have lost 29 times, won seven and drawn twice. That's the sort of bleak picture that has inflicted all manner of psychological hang-ups across the Tasman.
That's the sort of record that has left even the most optimistic Australians wondering if, not when, the Bledisloe Cup will be theirs again. It's a record that has seen them burn through five coaches in a period when the All Blacks have had two.
And it's a record which has led to the Wallabies trying just about anything and everything tactically to break the stranglehold. It hasn't worked for them yet, but there's little doubt that since Michael Cheika took over in November 2014, the Wallabies have found a steelier core.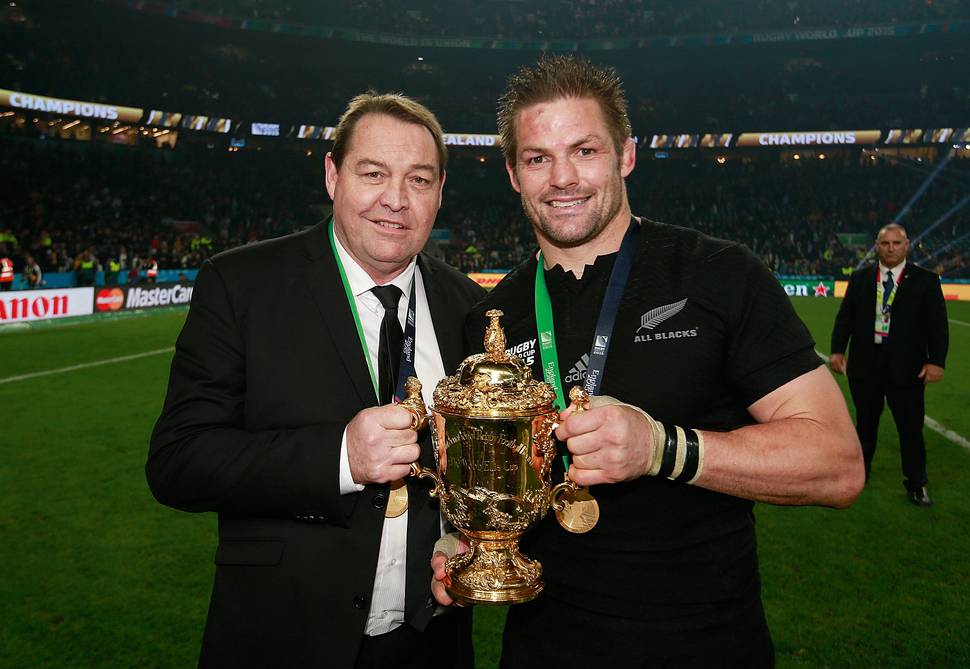 They have won more, played consistently and perhaps most surprisingly, build their scrum to the point where it has become a weapon.
But in three tests against the All Blacks under Cheika, they have delivered only once. A victory in Sydney last year was followed by a royal hiding in Auckland and then defeat in the World Cup final which could, in all honesty, have been one of the most one-sided in history had it not been for a yellow card to Ben Smith that wasn't dubious as such, but was inconsistent given it's similarity to other incidents that went unpunished.
So has much changed under Cheika? Is he the one who will be able to break through and instil within the Wallabies the self-belief they need to regularly beat the All Blacks?
"I think there is a lot of respect from both sides and he [Cheika] is a guy who is pretty keen on his team winning," says Hansen. "We have been successful so they know that one of their KPI's will be to win the Bledisloe Cup.
"While there has been a lot of things that have fallen our way so we can maintain it, they will believe they are getting closer and that's what they want to do. He is trying to restore self belief as much as he can. But self-belief has got to be earned and our role [All Blacks] is to make sure that we keep them under pressure and that we maintain our own high standards. If we do that, we give ourselves a chance to win."
It is the old, old adage of success breeds success and that really rings true when you have been successful.

SHARE THIS QUOTE:
For those tasked with knocking the All Blacks off their perch, there could be some glimmer of hope taken from Hansen's words as surely no sporting legacy can be maintained? There has to be a changing of the guard in world rugby at some stage as presumably the All Blacks won't be able to maintain their high standards for ever.
But Hansen doesn't see it like that. Having coached a Welsh side between 2002 and 2004 that were desperately trying to rebuild and re-establish their standing in the European game, he has experienced first hand the difference between trying to find and trying to maintain success.
He knows which one he prefers and which one is arguably easier. "Maintaining, I think, is about setting standards high and having the desire to keep driving quality performances," he says.
"Trying to get there involves building a self-belief that tells you that you belong there and that is a lot harder I think. It is the old, old adage of success breeds success and that really rings true when you have been successful.
"Your experience and bringing that inner self-belief that it is not only you [as an individual] but collectively as a group, as a unit, and as long as you don't allow that to become complacency then you can be very difficult to knock over.
"When you don't have that, when you are trying to find that - and you may have it against Team A but you can't get over the line against Team B - when that continues to happen then there is a nagging man on your shoulder that says 'here we go again'. That takes quite a bit of getting over."