• Bond and Murray win NZ's first gold by 2.8 seconds
• Third NZ rowing crew to defend Olympic title
• 69 races at 24 international regattas without defeat
• 2610 days without defeat in tandem
Hamish Bond and Eric Murray have underlined their names in New Zealand's Olympic pantheon, winning the country's first gold medal at the Rio Games.
The men's coxless pair triumphed on the Rodrigo de Freitas lagoon by 2.8s to remain unbeaten in eight seasons, a feat ranking among the finest examples of New Zealand, let alone world, athletic supremacy.
They have gone 69 races at 24 international regattas without defeat in the class. No one has completed more in rowing's history. In a discipline of such technical nous, they have overcome every conceivable doubt in every heat, semifinal and final on every visit to a race course.
In case you were wondering, since their first win on June 19, 2009, they have gone 2610 days without defeat in tandem.
It's a record which is beginning to rival American Edwin Moses' 122-race stretch of nine years, nine months and nine days, in the 400m hurdles. They're challenging Moses' biblical namesake for parting water, too.
This win was the most defining of their careers.
With the clinical analysis of Lovelock at Berlin, the raw talent of Loader at Atlanta and the relentless determination of Ulmer in Athens, Bond and Murray dismantled the field.
Their London Games performance under coach Dick Tonks was so convincing it seemed a formality as they blitzed the Dorney Lake course to win by 4.46s. It was men versus buoys.

Hamish Bond and Eric Murray talk to Rikki Swannell after defending their Olympic title:

The defence of their title under mentor Noel Donaldson was no different, as they cleared out to win with South Africa second and Italy third.
"We're ecstatic," Murray said. "There was a lot of pressure and expectation and we're thankful for the support from the New Zealand public, family and friends.
"It wasn't our best racing in tricky conditions, but we couldn't really exceed expectations because we've been winning the whole time."
"Thank you to all those who recognised we had a scrap of talent and put in the hard yards with us," Bond added.
"I just wanted us to get more distance over the field, just in case anything went wrong in the last 500m.
"The last few months have been hard. I'm sick and tired of Eric," Bond quipped.
The result confirms the duo as rowing's greatest coxless pair.
The only remaining challengers were British immortals Sir Matthew Pinsent and Sir Steven Redgrave, who won consecutive Olympic golds at Barcelona and Atlanta and four-straight world championships from 1991-95, and East German twins Joerg and Bernd Landvoigt who won at the Montreal and Moscow Games in addition to four world titles.
Among Kiwi Olympians they join fellow rowers Dick Joyce, Caroline and Georgina Evers-Swindell, coxswain Simon Dickie, shot putter Valerie Adams, runner Peter Snell, kayakers Ian Ferguson and Paul MacDonald and equestrian rider Mark Todd as athletes to have won golds at consecutive Games.
Nonetheless, they know what failure feels like. As part of the defending world champion men's four heading to the Beijing Games, they missed the final. The subsequent feats are born of that horror.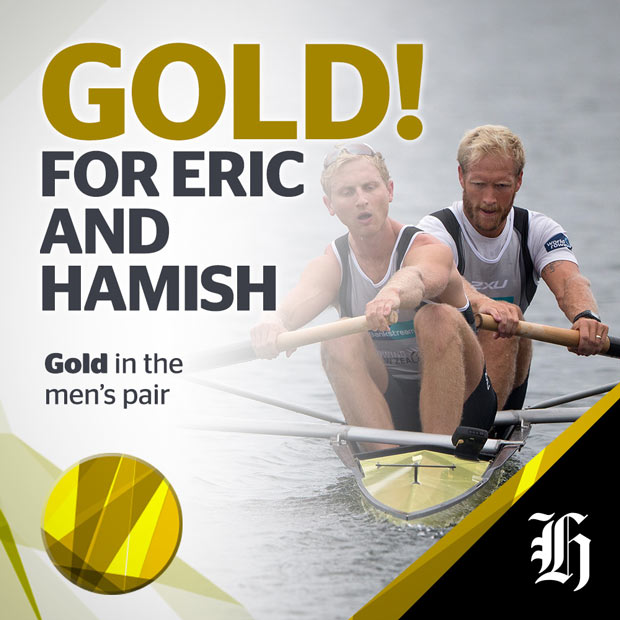 Historians, psychologists and physiologists might ponder why the Bond-Murray phenomenon worked with such aplomb.
They're not the biggest crew and don't spend much time together off the course, but a common determination to row myriad kilometres on Lake Karapiro in training has been relentless and rewarding. It's been guts and grace from Mssrs Chalk and Cheese.
They're workmates. Sure, their office is a lake rather than a grey partitioned cubicle and they loosen lycra rather than ties at day's end, but they are doing a job.
Murray embodies joie de vivre, exemplified by his keenness to don lederhosen at Munich's Hofbrauhaus when the coxless four won at the 2007 world championships, or discovering that the old Kiwi 50c pieces were exactly the same size as five Swiss francs (the currency conversion is Warren Buffett profitable) for use in Lucerne vending machines. He is the crew's creative director.
Bond is director of operations. He needs any ingenuity to have a practical application. It's no accident he has assumed the stroke seat in the catalogue of crews he has represented through the years. Bond has the composure of an astronaut at T minus zero on Cape Canaveral when the going gets tough.
In March 2009, while eating a tin of cold baked beans at Lake Karapiro - presumably for the energy value rather than the flavour - he was asked whether he had any trepidation about joining with Murray. They faced what looked daunting opposition on paper, including British Olympic coxless four gold medallists Andrew Triggs Hodge and Peter Reed. Unblinking, Bond responded: "Hopefully we can give them a nudge ... I'd be disappointed if we weren't pushing them."
So it has proved.
Rowing New Zealand entered further uncharted territory by qualifying the men's and women's eight for finals. The women's pair and lightweight double sculls also reached their respective showpieces.​
All you need to know about Hamish Bond and Eric Murray
Hamish Byron Bond
• Born: Dunedin
• Age: 30
• Circa 1998 (rowingnz.com): Begins rowing. First coach at Otago Boys High School, Fred Strachan, says Bond was so skinny he thought he must want to sign up as a coxswain.
Through 1999: As a third-former, comes under the guidance of seventh-former and future international crewmate Carl Meyer at OBHS.
• July 2005: Finishes 11th at under-23 world championships in the Netherlands, stroking a coxless four. Member of the junior eight the previous two seasons.
• March 2006: Strong national championships with Meyer sees them selected in elite coxless four with Murray and Selwyn Cleland. Bond sits in the bow, Murray is stroke.
Eric Gordon Murray
• Born: Hastings
• Age: 34
• Circa 1997 (rowingnz.com): Begins rowing. Described by first coach Charles Haggie as a "roly-poly young fella" who lost his first race by 500m.
• August 2003: Races first world championships at elite level in Milan as part of coxed four. They finish fifth.
• August 2004: Attends first Olympics with coxless four. The crew, including Mahe Drysdale, finishes fifth.
• September 2005: Watches on while teammates take four golds in 45 minutes. Coxless four finishes sixth.
Together in the coxless four
August 2006: Finish in dead heat with the United States in world championships semifinal at Eton Dorney. Lose consequent race-off and finish third in B final.
March 2007: Bond moved to the stroke seat, James Dallinger replaces Cleland.
June 2007: Haul a length off the Dutch favourites in the final 500m at Amsterdam World Cup. Serves notice of their ability. Coach Chris Nilsson admits years later that when Bond and Murray raced as a pair in training they "were in a class of their own".
July 2007: Inflict the first loss on British crew in 27 races, albeit in a semifinal, at the Lucerne World Cup.
September 2007: Become the first New Zealand coxless four to win a pinnacle event in 23 years at the Munich world championships. Their 1984 predecessors won Olympic gold.
August 2008: Can't replicate the previous season's form. Miss out on the Beijing Olympic final. After a break recovering from the disappointment, Bond and Murray form the pair.

Together in the coxless pair
June 2009: Dick Tonks takes the coaching reins and they achieve immediate World Cup success at Munich. Beat favoured Brits Andrew Triggs Hodge and Pete Reed. Win No 1.
August 2009: Secure world championships in Poznan. Win No 3.
November 2010: Triumph in one of the all-time great world championship races on Lake Karapiro. Beat the Brits by 0.32s after their rivals led the whole way. Win No 7.
September 2011: See off a 14th consecutive challenge from Triggs Hodge and Reed to take the world championships in Bled. Brits return to coxless four for the Olympics. Win No 10.
July 2012: Pair rated the hottest favourites across British bookmakers for any Olympic event. Their odds are shorter than those of Usain Bolt and the American basketball team.
July 2012: Win Olympic heat in world best time of 6m 08.50s, taking 5.73s off previous best set 10 years prior.
August 2012: Achieve one of the most convincing gold medals in New Zealand Olympic history, crossing 4.46s clear of France. Win No 13.
January 2013: Both earn the New Zealand Order of Merit as part of the New Year's honours list.
February 2013: Win the supreme Halberg award.
March 2013: Change coaches from Tonks to Noel Donaldson.
June 2013: Victory in the World Cup at Eton Dorney means they have the most consecutive men's crew boat wins at international regattas. Win No 14.
July 2013: Win No 15 in the World Cup at Lucerne places them equal with Ekaterina Karsten of Belarus.
August 2013: Overtake Karsten with win No.16 at the world championships in Korea.
August 2014: Win coxless pair and coxed pair at world championships in Amsterdam, developing the skills of future men's eight coxswain Caleb Shepherd in the process. Win No.19.
September 2015: After taking some time out early in the season, they return to win their sixth world championship by 6.52s in France.
March 2016: Named to compete in the Rio Olympics with the prospect of joining nine other Kiwi athletes to get gold medals at consecutive Games.
August 2016: Achieve their objective as Nos 10 and 11. They win a 69th consecutive international race and 24th straight regatta. As consecutive coxless pair gold medallists they join British immortals Sir Matthew Pinsent and Sir Steven Redgrave, who won at Barcelona and Atlanta, and East German twins Joerg and Bernd Landvoigt, who won at the Montreal and Moscow Games.