As part of our comprehensive build-up to Rio 2016, the Herald, in association with ANZ, is counting down New Zealand's top Olympic towns. Today, number five - Gisborne. Find out how the list was compiled below.
On his return to Gisborne, fresh from his gold medal-winning feats at the Los Angeles Olympics, Grant Bramwell found himself reflecting on the role his hometown played in his success.
Flying back into the East Coast township, where a hero's welcome awaited Bramwell and his fellow K-4 1000m team-mate and Gisborne local Alan Thompson, the pilot deviated from the usual flight path to do a flyover of the Waimata River.
It was Bramwell's chance to pay homage to the stretch of water he believes gave him and Thompson - part of New Zealand's golden era of flatwater canoe racing in the 1980s - an edge on the world stage.
"The Gisborne environment was really good in terms of the river conditions, even though we had to trudge our way through mud every day, the river never froze over like in Europe, and there were always large areas of water protected from the wind that we could use, so we virtually never had to have a day off because of weather conditions," said Bramwell, who now runs a pharmacy in the town.
All three of the Olympic medallists born in Gisborne chose water-based events to excel in. Alongside Bramwell and Thompson, the select group is completed by rower Chris White, part of the coxed four that won bronze at the 1988 Games in Seoul.
It's about this time in every quadrennial Bramwell is called upon to relive his memories of Lake Casitas, a short drive up the California coast from Los Angeles, dusting off his gold medal and doing the rounds of the local schools to share his Olympic experiences.
He said the experience of winning Olympic gold never really leaves him, but the buzz generated every four years by the biggest global sports show pulls the 1984 Games back into focus.
Nostalgia has not set in over the passing of time. Bramwell still remembers the over-riding emotion as the New Zealand team crossed the line in first place being one of relief.
By the time he took the start line in the K-4 1000m final, his team-mates Thompson, Paul MacDonald and Ian Ferguson had already captured three gold medals, with victories in the K-1 500m (Ferguson), K-2 500m (Ferguson and MacDonald) and K-1 1000m (Thompson).
The New Zealand team were favourites to claim a fourth gold medal and deliver Ferguson an historic triple.
"We had put so much into it, and we firmly believed we could win the gold medal. But to actually go out there and stick to your best race on the correct day and achieve what you've been working so hard towards was an enormous sense of relief.
"I felt added pressure being the only guy in the boat who hadn't already won a gold."
Bramwell credits the success of the New Zealand paddlers of that era to Thompson, who was a disciple of the Lydiard training method - devised by running great Arthur Lydiard - adapting it to the needs of a kayaker.
"I think our training programmes had been quite revolutionary really, compared to what other paddlers had been doing. [Our competitors] had just been doing interval work, and we based a lot of our training on the Arthur Lydiard principle, where we had a strong aerobic base.
"And we just had really intense internal competition as well, we didn't have the luxury of just popping over the border as the Europeans do for regattas. All our competition was between ourselves in training-based situations really."
Thompson is now passing on his wisdom to the next generation of Gisborne paddlers, with he and wife Liz heavily involved with coaching at the Poverty Bay Kayak Club.
Thompson is currently in Racice, Czech Republic, helping his son Quaid, Zach Ferkins and Britney Ford (all of Gisborne) prepare for the junior world champs in Belarus in just over a week.
It is only a matter of time before the Waimata River produces another champion.
WATER KEY TO SPORTING GLORY
More than three decades on from their golden glory, two of Gisborne's Olympic heroes continue to give back to sport in the region.
Alan Thompson, who won double kayaking gold at the 1984 Games in Los Angeles, and his K-4 team-mate Grant Bramwell, are helping churn out the next generation of sporting stars.
Bramwell is the deputy chairman of Sport Gisborne Tairawhiti, the organisation charged with promoting lifelong participation in sport and physical activity.
"I'm really passionate about sport in the area, junior sport in particular, and creating opportunities for kids. It's a really rewarding job and I think we're doing a good job," said Bramwell.
Located on the East Coast with the Waimata River running through the township, it's no surprise where Gisborne's sporting prowess lies.
"Our watersports in particular are really strong - canoeing, surf lifesaving, waka ama, surfing. We excel nationally in all those sports, so we're very water-orientated."
"We have good flatwater conditions as well. If the ocean is rough you can train in the river."
Bramwell also has an administrative role in the Poverty Bay Kayak Club, but the real strength behind the club is Thompson and his wife Liz.
Thompson has remained heavily involved in the sport since New Zealand's golden era of paddling in the 1980s, helping build the Poverty Bay club into a powerhouse in the sport.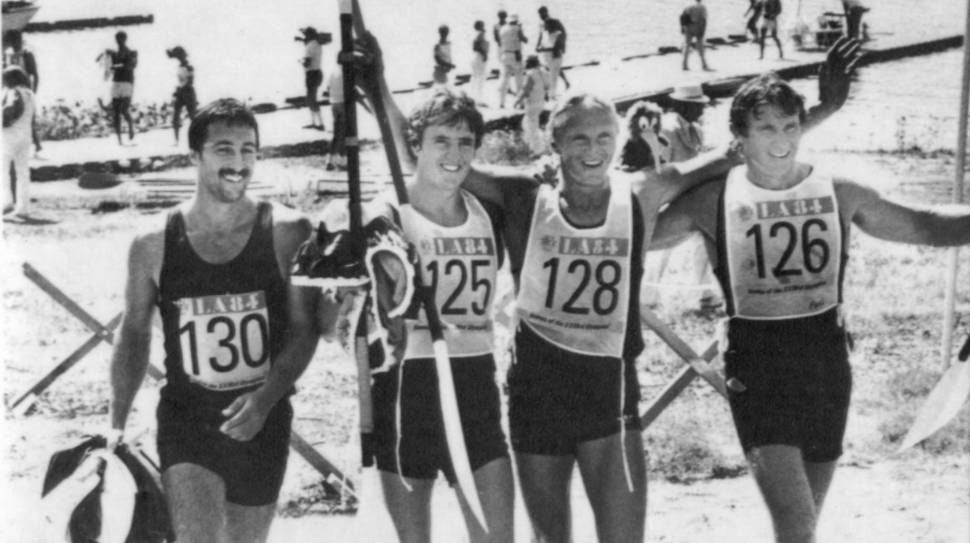 "We've always had a very strong club. We're small, but we often win the club of the year category at the national championships because of our junior numbers and people like Alan and his wife Liz, who coach paddlers here," said Bramwell.
"We've got really strong junior programmes, we still have a close allegiance with surf lifesaving, so a lot of the paddlers come from surf lifesaving. The kayak club is only a kilometre up the river from the surf club. So I think that relationship has been really beneficial."
Thompson has also worked as a coach, selector, manager and board member at national level; although like his crewmates from 1984, there have been some fractious moments with the canoe racing hierarchy. He resigned from the board of Canoe Racing NZ in 2010 over the axing of Paul MacDonald and Ian Ferguson as national coaches.
Thompson will also have an imprint on the Rio 2016 team. Lining up in Thompson's old event, the K-1 1000m, will be Marty McDowell, who was initially coached by the legend as a raw 18-year old a few years ago.
- Dana Johannsen
HOW WE DID IT
We analysed information about every summer Games medallist to come up with the 10 towns that have made the biggest contribution to Olympic glory.
The final position is the result of combining two rankings. The gold rank is based on the number of gold medals won by people born in each town and city, divided by current population.
The Olympic rank is based on the number of medal-winning Olympians born in each town and city, divided by current population.
We averaged the rankings to come up with the final position.
Today's town, Gisborne, is fifth on the ladder. It's the birthplace of three Olympians who have won four medals, including three golds. Its population is 47,000 according to 2015 figures from Statistics NZ. Its gold ranking and Olympic rankings are both 5, and so is the average.
The method isn't scientific and we expect it to prompt debate. We know some athletes might identify with the towns they were brought up in rather than where they were born.
But our ranking gives a strong indication of the places that have given us greatest cause to celebrate Olympic success since Harry Kerr won New Zealand's first medal - a bronze in the 3500m walk at the 1908 Games in London.