• Pistorius given six year sentence after manslaughter conviction upgraded to murder
• Sentence was delivered by Judge Thokozile Masipa, who heard the original trial
• Legal experts expected a term of between 11 and 14 years
• Could be back home by July 2019
• Comes three weeks after Pistorius hobbled across courtroom to demonstrate his physical vulnerability
• He will serve his sentence in the hospital section of Kgosi Mampuru II prison in Pretoria
The family of Reeva Steenkamp say they will not launch an appeal over her killer's six-year jail sentence insisting 'nothing will bring her back'.
Fallen superstar Oscar Pistorius was sent to jail over the murder overnight - but could be eligible to be considered for parole after serving just half of the sentence.
The one-time Olympic icon clutched at his family as he was led down to the cells to await his return to prison after being sentenced by Judge Thokozile Masipa.
At the same time, Reeva's parents June and Barry maintained a dignified silence and comforted the model's cousin Kim Martins as she wept in court.
Dup De Bruyn, solicitor for the Steenkamp family, said afterwards: "The law has run its course, nothing will bring Reeva back."
Oscar Pistorius removed his prosthetic legs as part of his defence lawyer's final remarks during sentencing hearing at the High Court in Pretoria on Wednesday.
Although the state were given the opportunity to announce an appeal against the decision, they declined to do so.
The 29-year-old runner's sister Aimee, wept loudly - her hands clasped to her face - as she watched her older brother descend into the bowls of Pretoria's High Court - where the latest chapter of Pistorius' extraordinary life has played out for the last two years.
Jenna Edkins, the double amputee's former girlfriend, who has reportedly moved back in with him to provide comfort during his last few weeks of freedom, whispered to him and held his sleeve as he passed slowly.
The grief-stricken parents of 29-year-old Reeva maintained a dignified silence as Judge Masipa sealed Pistorius' fate, and appeared to accept that the killer was shown great mercy by the judge, who could have jailed him for 15 years.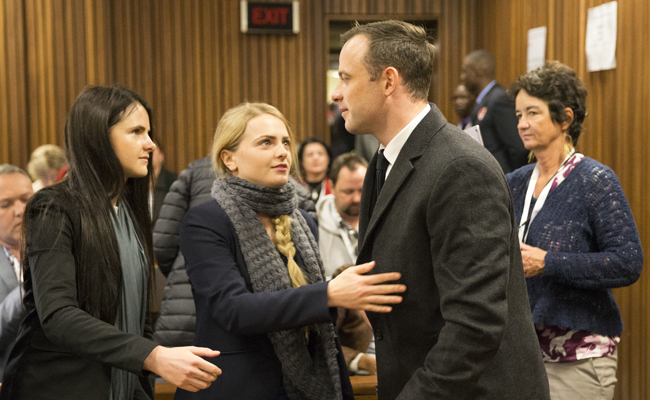 Oscar Pistorius, right, arrives inside the High Court in Pretoria, South Africa. Photo / AP
Judge Masipa, whose earlier decision to acquit the double amputee of murdering his lover was overturned by appeal judges, took an hour to read her lengthy judgment before ordering Pistorius to stand as she handed down his final punishment.
Lawyers for the defence looked relieved at the decision, although prosecutor Gerrie Nel looked uncomfortable.
The judge briefly adjourned the court enabling the lawyers to discuss the decision, but at this stage the state appears to be prepared to let it go unchallenged.
The statutory minimum for murder in South Africa is 15 years, however, the Judge found that Pistorius' disability, the context of the killing, the 12 months he has already spent behind bars during which he completed a raft of rehabilitation courses provided 'compelling' reasons to show mercy.
State prosecutor Gerrie Nel had called for the double amputee to serve the minimum sentence for firing four expanding bullets at his victim at close range as she cowered behind a locked toilet door.
And Barry Steenkamp, Reeva's devastated father, also asked the judge to ensure that his daughter's killer should "pay for his crime".
Judge: Overwhelming tide of hostile public opinion
But in her judgment, the judge made it clear she had accepted arguments made by Pistorius' lawyers that the statutory minimum sentence was not appropriate in the case, despite the overwhelming tide of hostile public opinion against the runner.
"Public opinion may be loud and persistent but it can play no role in this case," she told the packed court.
She rejected the 'misperception' of Reeva's parents, Barry and June Steenkamp, that there was a violent argument between the lovers before the fatal shooting.
Mrs Steenkamp lowered her eyes and shook her head in disagreement when the judge told the court that she did not consider the dead woman to have been in 'an abusive relationship'.
The judge accepted the defence's argument that there were 'two Oscars' - one a powerful athlete, the other a vulnerable man with a profound disability.
"It is easy to see we are dealing with two different people," she said.
Citing Pistorius as a "good candidate for rehabilitation' she concluded that the fact that he is known to have a 'quick temper did not make him a violent person."
As the judge read out her judgment, the body language of Reeva Steenkamp's family became increasingly uncomfortable as the realisation dawned on them that her killer would be shown mercy by the court.
Describing the accused as a "fallen hero" who "cannot be at peace" she told the court that a lengthy spell behind bars "would not serve justice in this matter".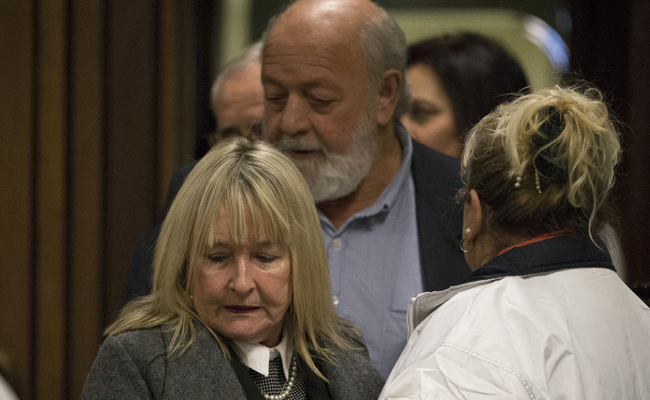 Parents of the late Reeva Steenkamp, June, left, and Barry, back, arrive inside the High Court in Pretoria, South Africa. Photo / AP

'The law has run its course'
Dup De Bruyn, solicitor for the Steenkamp family said: "The law has run its course, nothing will bring Reeva back."
There have been conflicting interpretations by lawyers about when Pistorius could be eligible to be considered for parole - ranging between one-sixth and two-thirds of his sentence.
Any challenge by the prosecution to the Supreme Court of Appeal would be another blow to Judge Masipa, who issued the original culpable homicide verdict that was later overturned.
Many legal experts said they had expected a term of between 11 and 14 years.
Jacqui Mofokeng, spokeswoman of the ruling ANC party's women league, told AFP after the sentencing: "We are very disappointed... from five years that we fought against, and now it is six, what is that? It's an insult to the women of South Africa."
The roads around the High Court were blocked by police as a prison van, carrying Pistorius, and police outriders swept up from the court's cells in a blaze of sirens and flashing lights.
The convoy arrived at Kgosi Mampuru II jail only a few minutes later where Pistorius will be processed before being led back to the hospital wing where he spent little under a year for manslaughter.
The runner will once again be given a schedule of rehabilitation programmes to complete while he serves his time which will count towards any consideration to give him parole, which could be considered by prison bosses in three years' time.
Outside court, where crowds had gathered for a glimpse of the famous prisoner, many observers were critical of the judge's decision.
The National Prosecuting Authority have two weeks to announce an appeal against the sentence - sources have said that prosecutor Mr Nel would not accept any jail term under eight years.
However, with the family of the dead cover girl appearing to resign themselves to the punishment, the decision by the judge may go unchallenged.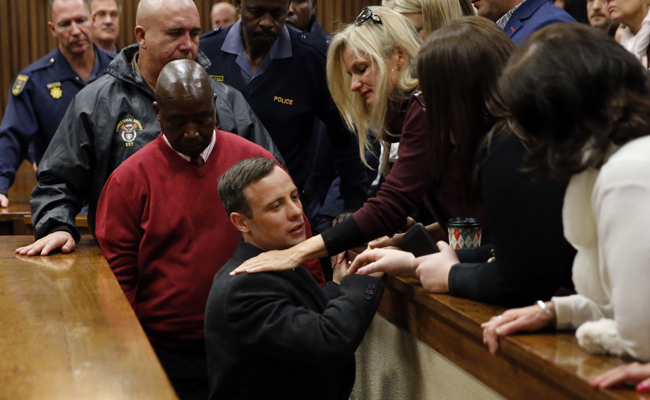 Oscar Pistorius leaves the High Court in Pretoria, South Africa. Photo / AP

Pistorius family: The truth will always prevail
After the sentencing, the runner's brother, Carl Pistorius, took to Twitter to reveal his "utmost respect for Judge Masipa" calling her a "remarkable woman".
In a second tweet, he wrote: "The record has been set straight and justice done. The truth will always prevail."
Pistorius' father Henke added: "Obviously I am sad to see my son going back to jail and this is not what I had wanted. I suppose we must see if Nel will appeal it, I hope not.
'But at least the judge today spelled some things out that we believe - that Oscar is remorseful and has tried to apologise repeatedly, and that all the headlines about him being violent are not true. For that, at least, I am happy."
Legal observers across South Africa took to social media to express surprise at how lenient the judge had been with Pistorius - adding only a single year to the sentence she had originally handed down to him for manslaughter. Many predicted prosecutors would be considering an appeal.
And Twitter lit up to highlight a string of much harsher sentences which had been handed down in South Africa, for far less serious crimes, such as theft.
Social media reaction
A recurring theme was that if Pistorius had been poor and black - and not rich, famous and white - he would now be facing a far longer stretch behind bars.
Reeva's best friend Gina Myers was in court with her sister, Kim and their mother, to hear the judge's decision. She refused to comment to journalists, but her later tweet expressed her frustration. She wrote '5forCulp6ForMurder'.
No appeal expected
Top South African defence lawyer Mike Hellens said he did not think that Gerrie Nel would be wise to appeal as it would have little chance of success in extending Pistorius' time behind bars.
An appeal would have to show that the sentence handed down was 'shockingly inappropriate' or 'there had been an error in reasoning and there was any mis-direction', Mr Hellens added.
"I didn't hear any misdirection in the judgment, and although Gerrie Nel will be disappointed with the sentence, I don't think any appeal would find it to be 'shockingly inappropriate'. I think once Gerrie Nel has calmed down a bit, he should see that he wouldn't get anywhere with an appeal and this should be the end of the matter, once and for all."
Pistorius shot Steenkamp in the early hours of Valentine's Day in 2013, claiming he mistook her for a burglar when he fired four times through the door of his bedroom toilet.
The athlete looked pale, drawn and hollow-eyed as he arrived at court this morning.
He spent several minutes hugging his family, friends and legal team who gathered in large numbers to support him.
Fans bearing wrapped gifts lined up to hug their fallen hero as he picked his way through the packed court on what was likely to be his final walk as a free man.
As he moved slowly along the bench towards the dock, where he spent months on trial for murder, Pistorius deliberately sought to make eye contact and greet the parents of his 29-year-old victim as he passed in front of them.
Jenna Edkins, the double amputee's former girlfriend, who has reportedly moved in with him to provide comfort during his last few weeks of freedom took her seat behind Pistorius, flanked by his sister Aimee and uncle Arnold.
SENTENCING HIGHLIGHTS
- Runner sentenced to six years in jail
- Must serve half before parole or house arrest can be considered
- Could be back home by July 2019
- Waiting to hear if state will appeal
- Family and supporters of the runner wept
- The quietest people in the room were the parents of Reeva Steenkamp
- Pistorius, 29, could be out by the age of 32
He then took his seat and was seen tapping on his mobile phone.
Pistorius, who pleaded not guilty at his trial in 2014, has always denied killing Steenkamp in a rage, saying he was trying to protect her.
The Supreme Court of Appeal in December ruled that Pistorius was guilty of murder, irrespective of who was behind the door when he opened fire with a high-calibre pistol he kept under his bed.
Pistorius - who was born without calf bones - had his legs amputated below the knee when he was just 11 months old so he could be fitted with prosthetic legs.
Since his release, Pistorius has lived under restrictions at his uncle's mansion in Pretoria.
He became the first Paralympian to compete against able-bodied athletes at the 2012 London Olympics.