The hole named Golden Bell became a Black Hell for Jordan Spieth as his search for successive Masters titles sank at the short par three 12th hole.
Spieth signed for a quadruple bogey seven after flaring his tee shot into Rae's Creek and then chunking his next into the same piece of water.
It compounded his successive bogey start to the final nine when he held a five shot advantage on eventual winner Danny Willett.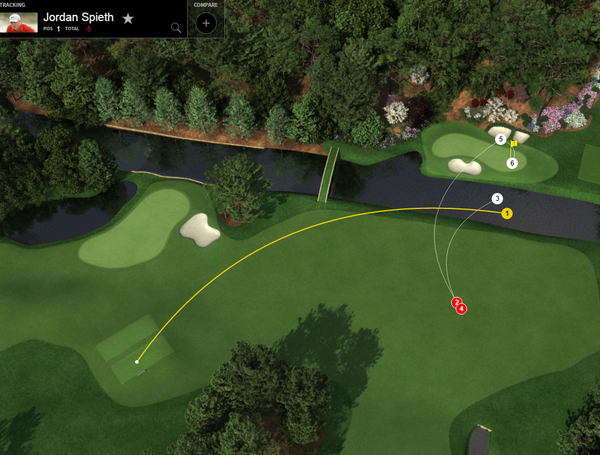 Jordan Spieth's nightmare at the 12th hole. Photo / masters.com
The 12th has claimed some famous victims down the years as the whirlpool winds funneling into a small green surrounded by bunkers and trees cause all sorts of havoc.
In 1980, Tom Weiskopf signed for a 13 as the 155 yard shortest hole on the course swallowed another victim.
The American put his tee shot then his next four shots into Rae's Creek.
Nick Price who holds the Augusta course record with 63 explains the short hole problems for right-handed golfers.
"Our two misses tend to be long left and short right, both of which are disastrous at the 12th," he said.
" It's the one hole I've played that demands absolute commitment mentally. Wind or not, if you don't have that, you will pay serious consequences."