Radio Sport Bryan Waddle and Herald writes Andrew Alderson and David Leggat share their fondest memory of their idol Martin Crowe.
Bryan Waddle
Great is a much overused word for many sports stars but not in reference to Martin Crowe.
There's not much that hasn't been said about Crowe. As a player he was near technical perfection, a natural talent that evolved at an early age, a genius. As a captain he was astute, proactive and with a vision far ahead of most others of his time. And latterly as a writer and commentator he was forthright and innovative in sharing his vision and passion for the game.
Those attributes I will remember as much as the sparkling innings he played for New Zealand. Crowe, as a player, was often misunderstood for his passion and emotion that didn't sit well with many people. But he also had a keen sense of humour that I had the pleasure of enjoying on numerous tours, starting in 1984 in Pakistan.
I'm not too proud to say Martin Crowe played an enormous part in my cricket education. He was always prepared to share his knowledge and understanding of the game and even if you doubted what he was saying you soon learned to respect his views.
And I learned early on not to take myself too seriously, being on the receiving end of some well-timed pranks on tour, like allowing him to order a mild curry, chicken karahi, for me in Lahore. He assured me he could be trusted until I took the first mouthful - I can still taste the burning sensation and the laughter of those around at the hottest curry I've ever had. Even bottled water couldn't put the fire out.
Crowe deserves to sit with the greats of the game at the top table. His untimely death has robbed the cricket world of a great player and an insightful commentator on the game. RIP Hogan, you deserve it.
Andrew Alderson
Cricket has lost a colossus in Martin Crowe.
I loved watching him bat and his innovative thinking on the game was unsurpassed.
More importantly, I respected his ability to wrestle with inner demons to try to bring a peaceful equilibrium in later years.
His 188 at The Gabba to help defeat Australia in 1985 remains the benchmark innings of my childhood. Footage of him driving, with the prototype stump microphone picking up willow middling leather, still generates goosebumps on replay.
His batsmanship was extraordinary, but so was his analysis. No one locally, nor internationally, compared for articulating cricketing wisdom.
Steeped in the game's history through his late father Dave, a call from Crowe about a cricketing issue correlated with shutting your mouth and opening your ears.
Examples included his passion for a test championship and an assessment of Brendon McCullum's batting. Crowe was a deserved choice to deliver the annual Cowdrey lecture at Lord's in 2006. In fact, the International Cricket Council should name its World T20 trophy after the inventor of Cricket Max.
He collated many of his ideas and struggles in Raw, his second autobiography. One word screamed from its pages: Cathartic.
Crowe laid his soul bare, grappling with problems that plagued his career from the pitch to the television studio to battling lymphoma. He seemed fulfilled yet haunted by the experience.
Crowe wrote of himself: "That innocent boy became a man who harboured grudges; became the world record holder for grievances."
He seldom refrained from speaking his mind.
"I want to live a life that is fearless, that is without judgment or scrutiny, let alone have any negative emotions of hate, resentment or grievance. I am so tired of that life, of fighting, of ego, of trying to win opinion and of needing acceptance."
Hopefully he found an ultimate panacea.
Watch: Martin Crowe's moving NZC Awards interview

Andrew Alderson is the Herald on Sunday cricket writer.

David Leggat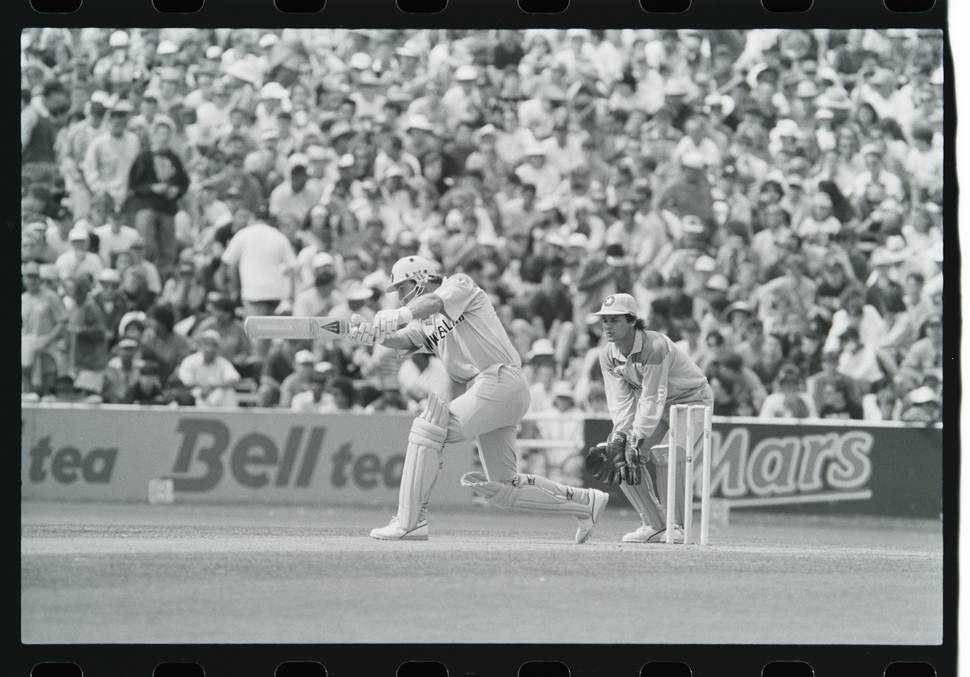 Memories, as they do at these times, flooded back yesterday.
Sitting on a team bus with Martin Crowe in Colombo; being the victim of a hotel phone prank, courtesy M.D. Crowe in Hyderabad; watching the fittest player in the team doing solitary lap after lap at grounds around England; a conversation at Eden Park a couple of summers ago, talking batting technique; interviewing a man who took his work very seriously indeed, yet who always enjoyed a light-hearted moment.
When you saw Crowe batting at his best - say, at Brisbane in 1985 in his 188 which helped crush Australia by an innings - you knew you were watching a true master at work, a batsman of poise, elegance, superb technical skills and power.
Before Crowe, they had generally been the words reserved for batsmen from elsewhere in the cricket world.
New Zealand had had other fine batsmen but Crowe also raised the bar as an innovative captain, notably in the 1992 World Cup, a man whose drive to be a successful leader matched his approach to batting.
You would interview Crowe and there'd be no sign of an easy out, a throwaway line. Cliches were rare.
He thought deeply about the game which dominated his life, and so you knew you were getting heart and soul rather than verbal fripperies.
David Leggat is the New Zealand Herald chief sports writer.
How the Herald followed Martin Crowe through the years:
1981: Martin Crowe - First mention
1984: 'Hogan' hero with first century
1985: Heroic innings earns NZ dignified draw
1985: Heroes' Problems
1986: Master cricketer in the making
1990: Cricket team aim to please public
1990: Crowe column - The way of things in Pakistan tests
1991: Crowe and Jones break world record: 467 reasons to be celebrating
1992: Win or lose, NZ have done the fans proud
1994: Crowe turned on batting heat after false alarm
1996: Martin Crowe: a batsman who brushed the stars