He's the most-capped in All Black history but you won't hear Tony Woodcock shout about it. He prefers his hard work on the field to tell the story. But Alan Perrott manages to get rugby's quiet achiever to open up about life off the field and his sporting future.
A farm, a pile of jerseys and a try in a World Cup final.
To Tony Woodcock's eyes they all symbolise the same thing - hard work - and though he's famously a man of few words, hard and work are two that crop up more often than most, and always as a matching pair.
Take the Kaukapakapa farm. He's the fourth generation of Woodcock to tend that patch of land and his bond to it is marrow-deep. So what does he see when he looks over the pastures he's known since birth? "All the hard work that went into them."
And his test match jerseys. He's kept almost all of the 110 so far earned. The few he has swapped were handed to extra special opponents - the Lions, the odd Frenchman, and Springboks such as Os du Randt. Why? "Because of the hard work that went into earning them."
Then there's that try on Eden Park in 2011, the one that eventually removed the burden he'd been carrying around from that inexplicable debacle against the same opponent, France, in 2007. Sure, the try felt pretty good, but he says it was only possible because of even more hard work, this time involving the whole pack. His was simply a well-practised part in a bigger charade.
So, yes, lots of work has been done, almost all of it of the hard variety, which may help explain how he's seemingly defied the years since his first test in Cardiff way back in 2002. He was only 21, but he looked older.
Somehow, 34-year-old Woodcock's always looked older, with the same cropped hair, the same stoic demeanour, and that slightly bemused look whenever he does something great. It's part of the constancy that's made him the most-capped prop in All Black history and a record for the second highest number of appearances - behind the equally ageless Keven Mealamu - for the Blues' Super 15 side.
Yet if Woodcock is one of those players you can build a team around, it's difficult to get a measure of his place in the heart of the fans.
Consider his World Cup try. You don't need to be a rugby expert to know a try is worth more than a penalty kick, but the mythology around that 8-7 win has somehow settled on replacement first-five Stephen Donald, the "Beaver" plucked from the banks of the Waikato to boot his country to victory. A movie, The Kick, was even made about his role - featuring 22 players or coaches that all but excluded the sole try-scorer, Woodcock. There's a brief clip in the movie of Woodcock's big moment, taken from the game day broadcast, but the recreation of the subsequent celebrations has an unnamed stand-in keeping his head so low his face can't be seen.
It's not just that the try was vital, it's also that it came from a move called the "teabag". What isn't so well known is that Teabag has been Woodcock's nickname since an incident during his time with the New Zealand under-19 side: "It was pretty funny, and it's not what you're thinking, there was a real teabag involved. But yeah, I don't think I can tell that story ..."
That the move carries his name says volumes about his All Black standing. The teabag is a lineout move where the forwards form into two units, called pods. One rushes forward as the other moves back, and they each lift their jumper to force their opposites to go up as well, hopefully opening a hole in the opposition line. As this is happening, the hooker throws the ball high to the back pod, where it's then passed down to a man charging into the gap (hopefully) unopposed. This is the crucial moment, if he's too early he'll overrun the ball, if he's too late the jumper will be left hanging, so ideally you want one bloke practising this move over and over, a bloke who's almost always in the team. A bloke like Woodcock, AKA Teabag.
Basically it works (most of the time) because he does, and as he contemplates his 13th Super 15 season on the trot and a possible third World Cup campaign he's working as hard as ever, which usually means twice as hard as most.
Like his teammates, Woodcock trains five days a week but, unlike his teammates, he's also on the Makarau Valley farm seven days a week, slopping out silage and ripping into whatever jobs inevitably mount up. But judging by the sparkle in his eye, it's the rural slog that's keeping him fresh. His reflections on the deer he introduced to the farm a year ago are as close to poetry as he gets: "It's pretty special watching 100 deer going across the side of a hill. They're really elegant when they're all clipping along ... "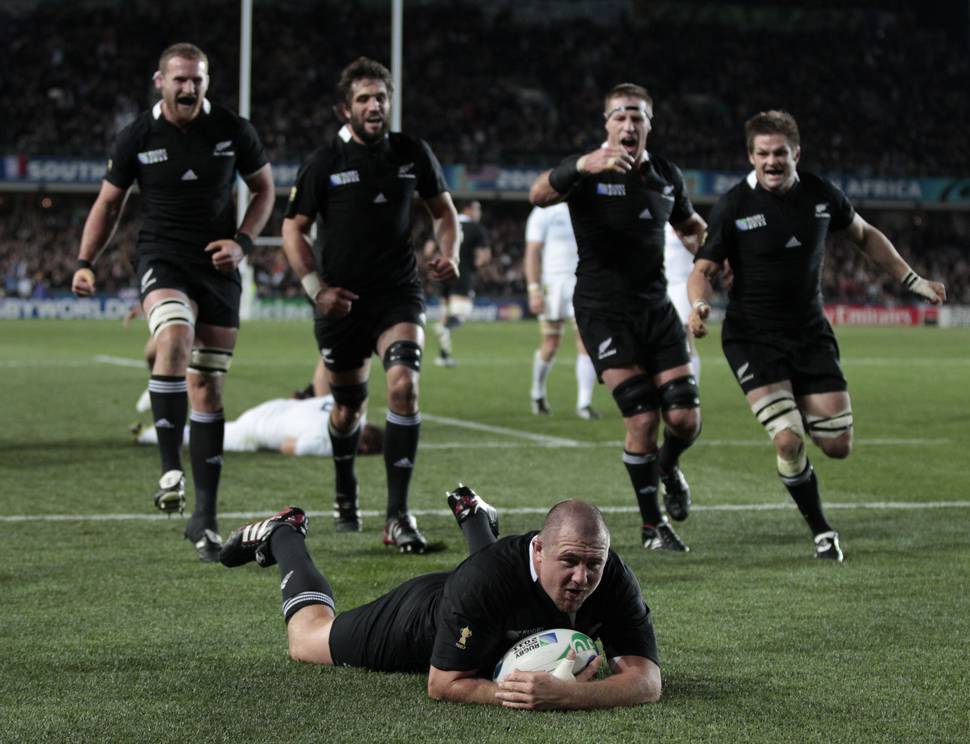 It's only fitting that his rugby life was born of running about those hills as well. And taking pot shots at the goal posts his dad put up in the front paddock.
Dale Woodcock was a summer cricketer who spent his winters running around with Kaukapakapa Cowboys rugby team. His son mostly kept to a watching brief until he turned 7 and followed his mates to the Helensville Rugby Club.
The yakka his dad expected of him on the farm soon shone out and by the time he hit high school Woodcock was known as someone you didn't want tackling you. But his talents may have been lost in the backblocks if not for a game between Kaipara College and the North Harbour Old Boys team. The sixth former not only gave former All Black prop Kevin Boroevich "a real tickle up" in the scrums, he knocked legendary hardman Buck Shelford "back on his arse", twice.
"That was when we all started to take notice," says former North Harbour coach Allan Pollock.
"I vaguely remember tackling Shelford," says Woodcock, "he might have pumped it up a bit, but I do remember him talking to me after the game really well. He just said: 'Keep doing what you're doing and you'll go places in rugby.' So yeah, sometimes it's just about playing a couple of good games in front of someone important."
He did exactly as he was told, training hard daily, and winning selection for the New Zealand under-16s in 1997. Two years later he was part of the Junior World Cup winning under-19 side (including Jerry Collins, Aaron Mauger, Richie McCaw and Mils Muliaina) before being called into Buck Shelford's North Harbour NPC squad.
"To be honest, it all happens very quickly and you don't have time to consider getting a job or think about your future. You just keep training, keep making sides, then all of a sudden you're playing NPC, you're a professional rugby player and you're sharing a changing room with all these guys you grew up watching on television."
Perhaps his introversion was paying off? Woodcock's reticence certainly made him a coach's dream - he was never that interested in partying and mostly kept to himself, following every training plan he was handed to the letter.
"But he was a fearsome thing," says Pollock. "If you were holding a tackle bag and Woodcock was coming at you, you kept your wits about you because the impact was ... substantial."
It wasn't even that he was particularly ambitious. As a teen he couldn't see past playing for North Harbour, but again he did exactly what Pollock and Shelford told him to do and inevitably the Blues came a-knocking in 2002.
His Super Rugby career couldn't have started better, coming off the bench in a 60-7 thrashing of the Hurricanes in Wellington, and it wasn't long before the young loosehead prop again caught the eye of important people.
If All Black coach John Mitchell had given fair warning he intended to rest the bulk of his first team for the 2003 World Cup, Woodcock's selection for the preceding Northern Hemisphere tour still came as a total surprise. He was at home when the news came on the TV, sparking "a bit of excitement, I guess".
But the reality of the step-up didn't hit home until he took the field against Wales. It wasn't the haka - he'd done plenty of those in age-group teams - it was the sheer physicality of test match rugby. "I can remember the start and the end, everything in between is a blur." Still, when the rested All Black stars returned, it wasn't entirely unexpected when Woodcock missed selection for the World Cup later that year: " It was still pretty disappointing but it was a fair call, my disappointment wasn't so much about the decision, I knew it'd been my own doing."
Then Australia knocked the All Blacks out in the semifinal, Mitchell was sacked, and in came Graham Henry and rising scrum guru Mike Cron, who took an immediate shine to the Blues player.
"He's a guy who picks up every detail, big and small," says Woodcock of Cron. "He just has an eye for scrums, I guess, and honestly, 10 times out of 10, what he says works. So he's pretty special and just really good at his job."
Through small changes to things like Woodcock's foot placement and getting him to duck his head before engaging, the prop became a world-beater. His coming-of-age was in the 2004 win in Paris where the All Blacks won 45-6 and the French threw in the towel.
It was a humiliation and coach Henry was happy to give his loosehead the plaudits: "He was a young prop playing against probably the most experienced front row in the world and the best scrum in the world, we thought."
Yes, that was a good day, says Woodcock, "but you kind of keep it on the inside, that's the way I am, there's no point in giving too much away."
So, was Cron responsible for his rapid rise? "Yeah, probably." That's bankable in his language.
Then came 2007, the year he scored his first of his eight test tries (after taking a record-setting 30 tests to break his duck) in a loss to Australia before the French got their own back in that fateful quarter-final. The loss left a hollow feeling Woodcock didn't shake until 2011, but how would you know? His reactions are always kept to the bare minimum.

His father's not much different. Speaking to the Rodney Times a few days after the final, he said of his son's try: "When he went over the line I looked up because the old eyes are a bit dusty and I thought it was a number 11 on the jersey. I looked up again and saw it was Tony. The guy next to me was giving me bear hugs. I think everybody was more excited than me." He called his son the next day to see how things were. "Yep, pretty good," was the reply.
The question now is whether he'll get a crack at retaining the Cup. The will is definitely there, but injuries have not been kind, in severity and nature.
"I get the feeling I always get the raw end of the stick, it's really frustrating. I'll have a foot sprain and the doc says it'll be either six days or six weeks and I get the longer end of the scale, or my shoulder's a bit sore so I get a scan and it needs surgery. So I always prepare for the worst now, it's just the way it is."
Which is why his focus is solely on the upcoming Super 15 competition. Since shoulder surgery curtailed his season last year he now needs those repairs to fully bed in: "So I can't afford to think about the World Cup too much, first and foremost I have to get myself right."
Which leaves Woodcock quietly philosophical about his All Black future: "Well, in the end you're only ever looking after [the jersey] for the next guy and the guy who came before you and the guy who came before him. All you can do is do your best to add something to [that legacy] while you have it. You just keep adding and definitely never take anything away."
In the meantime Pollock knows exactly what'll happen. "I expect the same old 'has Woodcock had his day?' conversation to start. It kicks off every time something happens or some young player emerges. But how many has he seen off? All of them, but then he's always been underestimated, just because of the way he is, no doubt about it. But Tony can only ever be Tony, so it's just as well that the people who do know a thing or two about rugby know what he has to offer."
And being Tony, he'll stay well away from any debate. He's far too busy anyway given the way our conversation is ended by a glance at his watch, "Christ, sorry, gotta go ... " He has to get home to feed out the silage and back to work. Hard work.
The Blues kick off their Super 15 campaign against the Chiefs at North Harbour's QBE Stadium on February 14 at 7.35pm.