A new showman has been born for New Zealand boxing in the form of David Nyika, who won gold in Glasgow with a dazzling performance against Kennedy St Pierre of Mauritius.

The 18-year-old was too quick, too agile and too slinky for his hard-hitting opponent, with Nyika claiming New Zealand's first boxing gold medal since David Kenny in 1990.

Nyika won the light heavy bout 2-1, after the Mauritian was awarded the first round following his high-intensity and fast-swinging introduction.

"I feel good and I feel healthy, " said Nyika.
"I didn't take too much of a beating there. The guy's a big strong dude and he was throwing punches from a long way away. I was swinging my body all over the shop; I think I might have put my back out."

The youngster from Hamilton used his shots better. Where St Pierre swung and missed, Nyika ducked and dived before using his long reach to pin clean hits on his opponent. Nyika knew he had won, punching the air before the final verdict was even announced.

He became the first New Zealander to step on to the podium for any boxing medal since 2002, breaking down into tears before dropping to his knees in celebration.

"The gold medal is a bonus," said Nyika. "I just came out to put in my best performance every time I step out in the ring. I feel great and I'm so stoked that I made it through five tough fights."

In an emotionally charged Hydro Arena, Nyika's bout was followed up by David Light's gold medal fight with Canadian veteran Samir El-Mais.

But there was no such glory for Light, who had to settle for silver in the heavy after losing on a split decision in front of the 10,000 strong crowd.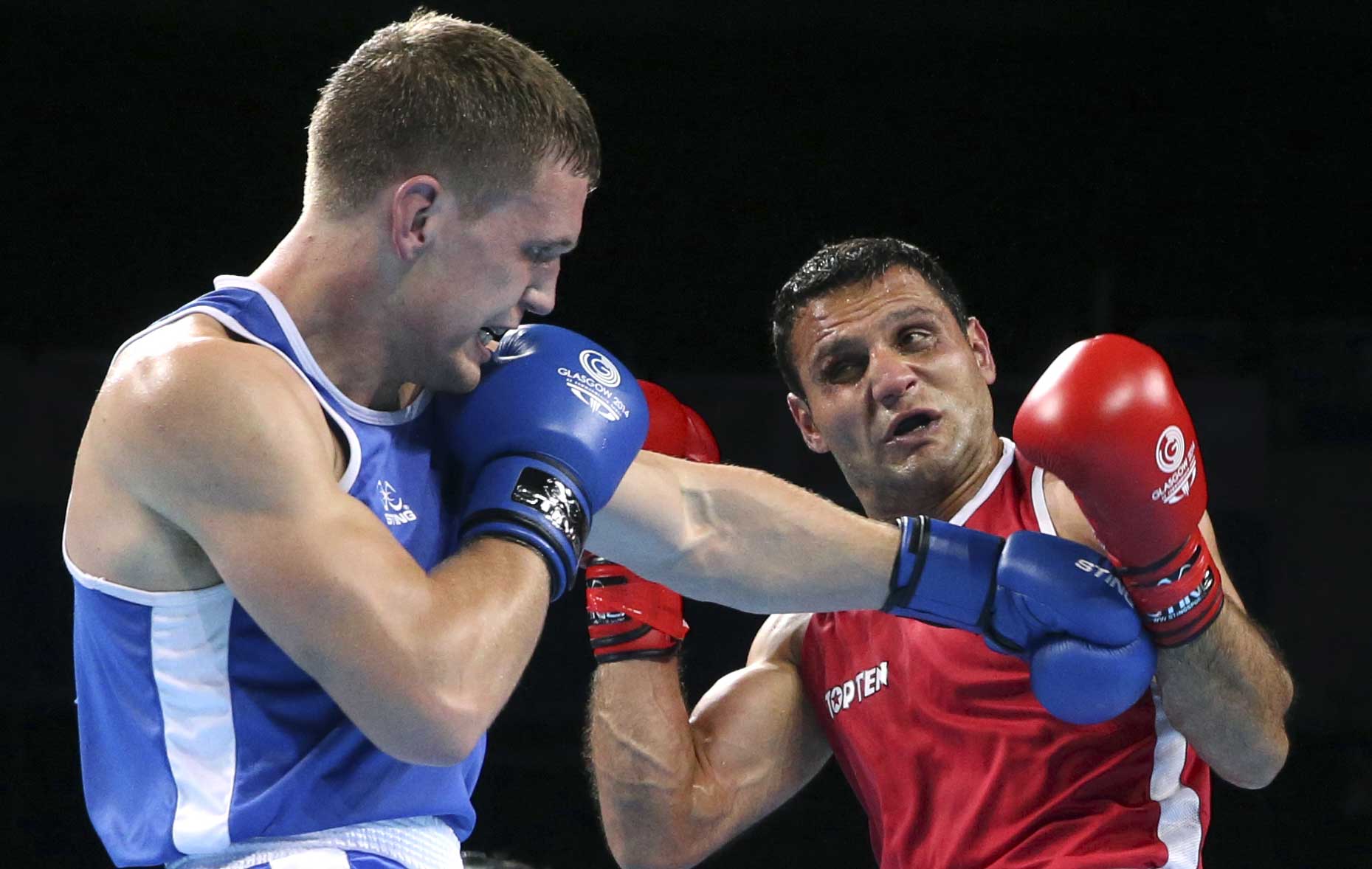 David Light, in blue, took on Canada's Samir El-Mais in the 91kg gold medal bout. Photo / AP

The 22-year-old lost the first round to the more aggressive Canadian, but then fought back in the second with a more powerful performance on the front foot.

Light knew that he needed to attack in the final round, but El-Mais's experience shone through with some powerful bombs to take the sting out of the youngster.

"You never feel good losing a fight, so I'm gutted," said Light.
"I looked over to the coaches, who judge fights pretty well, and they thought I was ahead. One of the judges saw it that way as well, so I can' have been too far away."