A quick bite of the best of the action from day five at the Glasgow Commonwealth Games.
Richie Patterson had a lift for gold four years ago and missed. Today he had three more and it wasn't until the final attempt that he claimed weightlifting gold in the 85kg competition. How's he going to celebrating winning New Zealand's eighth gold in Glasgow? By getting married later in the week.
One last lift was the difference between the top of the podium and the depths of despair for Richie Patterson. The Kiwi weightlifter, ranked No 1 in the Commonwealth and winner of silver four years ago, nearly came away with nothing from this morning's (NZT) 85kg competition in Glasgow. Two no-lifts in the clean-and-jerk saw him on the precipice of disaster, threatening to squander a top performance in the snatch and the type of form that left him supremely confident of victory. As is turned out, that confidence was justified. Eventually.
Shooting has been the fourth most successful sport for New Zealand in Commonwealth Games history, behind athletics, cycling and swimming, but the Kiwi team were without a medal in the sport at Glasgow. Until, that is, Sally Johnston struck gold in the 50m rifle prone, winning the event with a Games record points tally. The 44-year-old, who took bronze back in 1998 in Kuala Lumpur, celebrated her fourth Games in style, taking the country's gold medal tally to seven after five days of competition.
Silver for Boyle
Lauren Boyle won New Zealand's second medal in the pool with a silver in the 800m freestyle this morning. Boyle battled with gold medallist Jazz Carlin of Wales throughout the whole race as before Carlin pulled away over the final 100 metres. Boyle races in her more favoured 400m event, where she finished third at the world championships, tomorrow.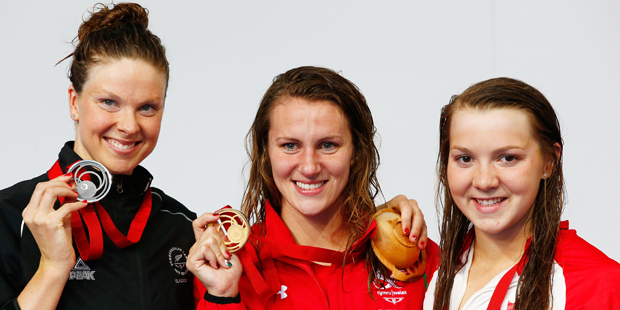 Lauren Boyle, left, with her silver medal after the 800m final. Photo / Getty Images
More silver
Tom Walsh fell just short of a gold medal in the men's shot put final after leading early in the final. The 22-year-old Timaru man was pipped by Jamaica's O'Dayne Richards, who took the lead in the fifth round with a Games record throw of 21.61m.
New Zealand made it double silver at Hampden Park this morning, with shot putter Tom Walsh and hammer thrower Julia Ratcliffe each finishing second. But the emotions were starkly different. Where Princeton University-based Ratcliffe was delighted with her performance, Walsh was doing it tough under the main stand after being shaded by Jamaican O'Dayne Richards.
It was New Zealand's second throwing medal within an hour after Julia Ratcliffe also claimed silver in the women's hammer throw. With Val Adams to come it looks like it will be a successful meet for the throwers in the New Zealand team.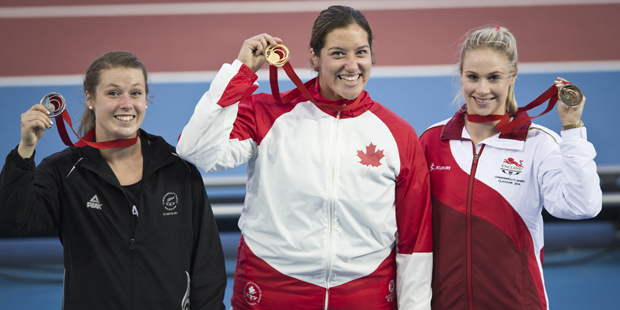 Hammer throwers Julia Ratcliffe (Silver, NZ), Sultana Frizell (Gold, CAN) and Sophie Hitchon (Bronze, ENG). Photo / Greg Bowker
Read:
• Medal table
• Kiwis in action
Quick Nikki
Nikki Hamblin will have a chance to follow in Zane Robertson's footsteps in the 1500m final tomorrow morning, but the middle distance runner is simply happy to be back in elite competition. After struggling with persistent injuries in the four years since she won silver in the 800m and 1500m in Delhi, Hamblin returned to the Games and immediately showed her class. The Kiwi qualified second-fastest for the final, losing her heat only to a Games record run.
King for a day
After the disappointment of losing her semifinal to world No 1 Nicol David yesterday, squash ace Joelle King bounced back with a win in the bronze medal match to complete a full collection of medals. King crushed Englishwoman Alison Waters in straight sets overnight, backing up the gold and silver she took at the Delhi Games. King has a chance to add further to her haul in this week's doubles event.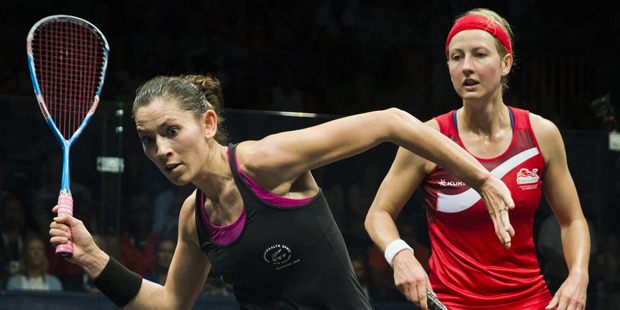 Joelle King in action against England's Alison Waters. Photo / Greg Bowker
Famous fans at boxing
It was a mixed day in the ring for New Zealand's boxers. In a round-of-16 bout in the welterweight division, Bowyn Morgan won a split decision over Mmusi Tswiige - surely a candidate to be a question at the next Scripps Spelling Bee - while compatriot Eric Finau lost to Siph Iwe Lusizi by a unanimous decision in the middleweight. Enjoying all the action from the stands will Wills and Kate (and Harry).
Decathletes underway
The two Kiwi decathletes got their programme underway at Hampden Park, completing three of the 10 events in the morning session. But neither was particularly successful, with Brent Newdick sitting seventh on 2413 points and Scott McLaren back in 17th on 2128 points. Both made the most gains in the shot put and both trail leader Damian Warner of Canada, who has managed 2691 points.