Scandal widens - key period under investigation is Black Caps' 2008 tour of England.
A New Zealand cricketing great - in addition to current captain Brendon McCullum, Lou Vincent and Andre Adams - is among those to have spoken with the International Cricket Council Anti-Corruption and Security Unit.
The player, who requested anonymity, said: "I have had dealings with the ACSU to help other people." He said he had not been approached personally to fix a game.
Read more of the Herald's match-fixing coverage this morning:
Cricket: McCullum did everything right - ICC boss
Tough penalties on cards under new law
The player said he chose "to be there as support for a player when they went to the ACSU to report an approach".
New Zealand Herald cricket expert Andrew Alderson discusses Cairns named as 'player x' as a cricket scandal, trial by media, and what should happen next with this investigation.
The Herald understands a period under scrutiny is the Black Caps' 2008 tour to England, during which players may have been approached.
The latest revelation comes after the Herald revealed the player named as Player X in evidence to the international cricket inquiry is New Zealand legend Chris Cairns.
Multiple sources said the former all-rounder had been named in testimony to the ICC's anti-corruption unit (ACSU), referred to as Player X, by Vincent and McCullum.
Cairns has emphatically denied approaching the players, saying the allegations against him are a "complete lie". McCullum's lawyer, Garth Gallaway, last night refused to say Cairns was the player involved and insisted the appropriate forum to explore the evidence was an ICC hearing or a court.
Watch: Herald Cricket: Cairns named as 'player X'
"To report a match-fixing approach takes considerable courage. There's nothing in it for a player to report an approach to match-fix apart from upholding the integrity of the game. An obvious question to ask would be 'why on earth would McCullum report an approach in 2008 if it hadn't been made?"'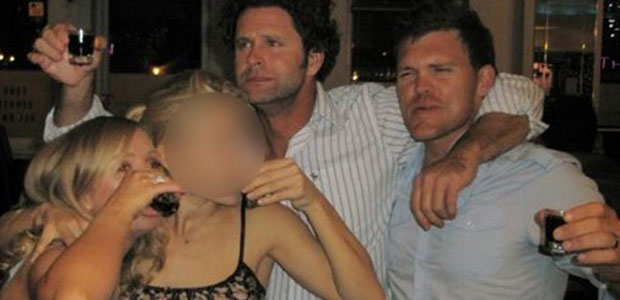 Lou Vincent's ex-wife Elly Riley says she confronted Chris Cairns during a night out with him and her then husband in 2008.
The new allegations come as One News reported Lou Vincent's ex-wife Eleanor (Elly) Riley had disclosed further details of her former husband's involvement in match-fixing across a similar period.
The revelations followed a statement from Cairns yesterday in which he said he stood by earlier comments on the Vincent scandal, and that the allegations against him were "a complete lie". Cairns has always denied involvement in any match fixing.
Cairns backed up his statement with tweets yesterday such as "@rugga13 ... I accept from the allegations out there that I am Player X ... but I reject the allegations against me ... ", "@RyanLSimpson ... important to remember that only one side of the story has been leaked to the public ... important to get the full picture ... " and "Thanks for all the support out there and to all those who understand that there are bigger forces at play here ... chat soon ... cheers".
Meanwhile, anti-corruption detectives have collected witness statements from three further people - one of them a current English county cricketer - supporting fixing allegations made by Vincent.
The three statements add to the weight of evidence collected by the International Cricket Council's anti-corruption investigators after Vincent's explosive 42-page testimony, which was given in January and alleges fixing in five countries between 2008 and 2012.
Of the three individuals, one of them is a former county teammate of Vincent in England, another is a friend in New Zealand, while the third is involved in cricket but not as a player.
In recent days, testimony from Vincent, his ex-wife and McCullum has been leaked into the public domain, including alleged meetings between those players and Cairns.
McCullum's lawyer Mr Gallaway told Seven Sharp the leaks of his client's testimony were "damaging in a process that should be transparent and appropriate when players are prepared to come forward and show courage and make statements against other players who match fix".
"I think he feels very let down by the parties that have leaked this statement, but still has his resolve in relation to what happened and to the fact of course that he reported it very soon after the approaches were made to him."
When asked by the Herald on Sunday whether he was Player X, Cairns said he didn't want to "speculate" but told Fairfax - Cairns was recently a columnist for the Sunday Star-Times - the allegations were false.
"I am aware that former cricketer Lou Vincent and current New Zealand captain Brendon McCullum have made a range of allegations against a cricketer dubbed Player X," Cairns' statement said.
"It is well known that the ICC/ACSU has been investigating allegations of corruption and my name has been linked by others to these allegations. I am being asked whether I am Player X. Based on the limited information I have received during this investigation, I believe it is being alleged that I am that player. These allegations against me are a complete lie.
"As for Lou Vincent he appears to have confessed to match fixing in respect of games played in numerous countries around the world, most of which I have had no connection to. He is in a desperate position. He faces potential prosecution and in trying to negotiate a plea bargain he appears to be willing to falsely accuse me of wrongdoing."
McCullum was interviewed by the ACSU, as revealed in the Herald on Friday. He told of a double-pronged approach by a "former international star" in 2008, which included advice to launder money gained from match-fixing through the purchase of Dubai property.
McCullum's testimony was leaked to cricket corruption expert Ed Hawkins, author of Bookie Gambler Fixer Spy, who has published it in the UK's Daily Mail.
McCullum met somebody he described as his "hero" in the lobby of a hotel on the eve of the inaugural Indian Premier League to discuss a business opportunity. The player explained to McCullum the intricacies of spread betting. McCullum was told he could secure up to $210,000 a game.
Cairns said in his statement: "I ask that people reserve judgment until all the facts are brought to light. I have nothing to hide. I have been to court to demonstrate conclusively that I am not a match fixer before. I will have no hesitation in doing so again."
Former wife recalls tears
The former wife of Lou Vincent claims he called her in tears, saying he had cost Chris Cairns US$250,000 ($291,500) after Vincent's attempts to match-fix went wrong.
Eleanor (Elly) Riley made the allegation in a signed statement to International Cricket Council anti-corruption investigators and police last October, One News reported last night.
The leaked document followed a statement from Cairns earlier yesterday in which he said he was standing by his earlier comments on the match-fixing scandal and that
the allegations against him are "a complete lie".
Ms Riley told investigators that Vincent had become involved in match-fixing in early 2008 after joining the Indian Cricket League's Chandigarh Lions, captained by Cairns.
She alleged Vincent told her Cairns was going to pay him US$50,000 a game for the fixing. Vincent said he was an ideal candidate for fixing because he was an unpredictable player.
According to Ms Riley's reported testimony, at one point her former husband received a briefcase full of money.
However, a short time later, "I got a phone call from Lou and he was crying, saying he had just lost Chris Cairns US$250,000 or something like that because he got things wrong".
She further alleged: "Lou and I kind of fell out about the whole ICL fixing thing, as I didn't want him to be involved, but Lou kept saying, "don't worry, we're all doing it'. And that's why Lou was approaching other players."
Ms Riley told investigators that following on from the ICL, English county games became a focus.
Ms Riley told investigators that she confronted Cairns with her concerns during a 2008 night out in Manchester. She alleged that Cairns' reply was that they were safe and everything was under control.
Chris Cairns
The son of former New Zealand cricketer Lance Cairns, the 43-year-old played for both the New Zealand test and one-day side, captaining the side on several occasions.
Cairns' big hitting meant he was a fan favourite, and he was widely regarded as one of the finest all-rounders in the world. He retired from the test side in 2004 and in 2006 he stepped down from the one-day side.
Cairns has been involved in a number of charitable causes, and initiated The Chris Cairns Foundation in 2006, which raises public awareness about motorist safety when approaching railway crossings.
His sister Louise was killed while a passenger on board a train in 1993 when a truck failed to stop at a level crossing. In March 2012 he won a libel suit against former IPL chairman Lalit Modi over allegations that related to his stint in the Indian Cricket League. Cairns had formerly been based in Dubai and Canberra, but returned to New Zealand last year with his Australian wife Mel and their daughter.
Read the full statement from Chris Cairns here: