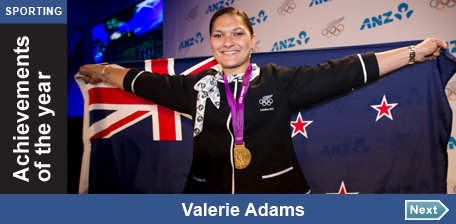 Valerie Adams became the first woman in New Zealand's long and proud Olympic history to defend a title.
With all the hubbub that has accompanied her this year, that essential fact tends to get lost.
Her path to a second Olympic shot put title took a circuitous, tear-stained route. Her defence was under huge pressure from outside and, more alarmingly, from within.
On the eve of her event, Adams realised her name was absent from the start list, the result of an administrative oversight later pinned, much to Adams' distaste, on long-time athletics official Raelene Bates.
A late reprieve from the IAAF, world athletics' governing body, allowed Adams to compete, but she responded with an out-of-kilter, out-of-character performance.
"It caused a little bit of stress," Adams said of the bungle. "That's the sort of s*** you don't need to deal with."
To be brutally honest, even if Adams' build-up had been pitch perfect, she might have struggled to match Belarusian Nadzeya Ostapchuk, a name that now sits in a New Zealand sporting Rogues' Gallery alongside Greg Chappell and Wayne Barnes.
Adams' best of 20.70m was well below her best and a massive 66cm short of Ostapchuk's "winning" distance of 21.36cm. It was good enough for silver and by most standards silver would be considered agreat result, but this one ranghollow.
We all knew Ostapchuk had spent the previous few months throwing stupendous distances in her homeland, but these were treated with a measure of cynicism here. Wait until she got to London, we opined, where in the white-hot atmosphere of the Olympic Stadium, she would melt against Adams, as she almost always did.
She didn't, cruising to victory and putting her rapid improvement down to Russian coach Alexander Yefimov for a new "training methodology".
More likely it was the metenolone, an old-school anabolic steroid that was still coursing through her system when she was tested post-victory.
Adams was informed of her promotion via a phone call as she driving in Switzerland.
She burst into tears. She then drove straight to her coach Jean Pierre-Egger's house when they embraced and she cried some more.
Nothing about her third Olympiad had gone to script, but somehow the champion got the happy ending she deserved.
Sporting achievement of the Year Finalists:
Jo Aleh and Polly Powrie
Waikato-Bay of Plenty Magic
More to be named throughout the week