' />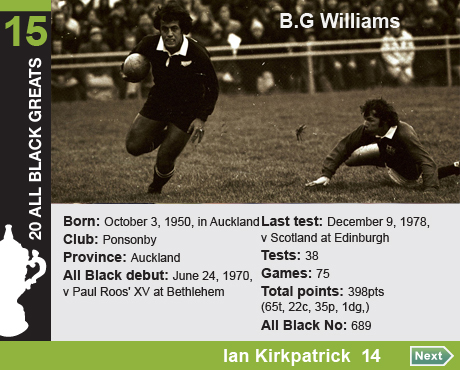 Bryan "Beegee" Williams was more than a wonder winger, he was a pioneer.
One of the first Pacific Islanders to wear the All Black colours, certainly the first Samoan rugby superstar, he was a touchstone figure for a community unsure of its place in 1970s New Zealand.
Not that Williams, who had a Samoan father and a Rarotongan mother of Samoan extraction, looked at his All Black career through any sort of sociological prism at the time. He was just thrilled to be along for the ride.
Pick your top 20 greatest All Blacks of all time.
It wasn't until after he stopped playing and moved into a coaching and administrative career - which continues at the Ponsonby Rugby Club and at Mt Albert Grammar - that he recognised what an important role sport and sports men and women had played in the invigoration of pride among Pacific Island communities.
"When I made the All Blacks, I was the first Polynesian for quite some time," Williams, 60, says.
The Solomon brothers, Frank and Dave, also Ponsonby players, played for New Zealand in the 30s and Arthur Jennings was a non-capped All Black in the 60s, but Polynesian representation was rare.
"In that sense, I did become a bit of a pioneer."
When Williams wandered out of the gates of Mt Albert Grammar in the late 60s and watched from Auckland University law school as we ticked over into the 70s, New Zealand was a very different place. The carefree 60s were winding down into a more austere 70s, particularly after the United Kingdom chose the EEC over the Commonwealth.
"I guess in those days the family wasn't encouraged to display their island ways," Williams said.
That attitude has been reversed now, with communities embracing their heritage.
The big driver behind that had been the pride generated by those who had made it to the top of the sporting tree.
"In the 60s and 70s we had the dawn raids and Polynesians were looked down upon, but once we started to display ability on the sporting field, we started to get real acceptance.
"The European population started to understand that us guys and girls had something special to offer.
"Since then we've started to see a far better relationship between the different ethnic groups."
For all that, Williams said he rarely encountered overt racism as he made his way through the grades.
"Occasionally, you'd have the odd flare-up when someone would call you a black so-and-so, but nothing I was particularly disturbed about."
Ironically, it was in South Africa, the home of apartheid, that Williams announced himself to the world in 1970.
Not bad for a kid who didn't even want to get off the plane when the team landed at Johannesburg's Jan Smuts airport.
Williams was not naive enough to think it would be a universally popular decision to tour. He'd seen the likes of Tim Shadbolt and Trevor Richards protesting on the university campus.
His brown skin meant he required dispensation to tour but, again, he never thought that this warranted a debate over the merits of his accepting the invitation. Until the plane landed, that is.
"I arrived at the height of the apartheid era going to places like Pretoria and Bloemfontein, in the heart of Afrikanerdom, it was daunting.
"When the plane touched down, I had a panic attack. I thought, 'What's going to happen now?' I wanted the plane to take off and take me home again.
"It all hit home to me. You get caught up in the excitement of being picked for the All Blacks. You pack your bags and away you go with lots of romantic notions about how good it was going to be, then suddenly reality hit and I thought, 'I don't want to be here'."
Rugby fans were pleased he prised himself off the plane, even if the anti-apartheid movement wasn't.
Williams was nothing short of a sensation in 1970, scoring 14 tries in 13 appearances, including tries in the first and fourth tests (he had a perfectly good try disallowed by the Springboks' 16th man in the second).
"Some people say I never quite hit those heights again," Williams says. "When you're a young fella and people don't know what you've got in your armoury, I guess I took a few people by surprise.
"Once you've forged a name for yourself, people start marking you more closely and, for awhile, I did struggle after that South African tour."
What Williams had was speed, a prodigious sidestep and, though dwarfed by backs of the modern era, size. He backed himself to beat players because in his last year of school, playing first five-eighth, coach Eugene Cheriton told him to kick it or run it, but never pass.
Moved to the three-quarters, Williams was even more effective, although All Black ambitions did not always match his own.
"There were occasions in my career when I didn't get the ball. If you look back on that All Black tour to the UK in 1972-73, we tended to play a forward-oriented game and my form suffered. I didn't score many tries on that tour."
Injuries began to blight him by the late-70s. The electrifying brilliance was seen more sporadically but he remained a special talent until his final test, aged 28, in 1978. "My over-riding feeling is that I was lucky to have the career I had. You always have some regrets, but I played nine seasons for the All Blacks and more than 100 games.
"We had proper tours. One was 4 months long, one was 3. For a young man seeking adventure, going to places and meeting people - we had an audience with the Queen - I would have otherwise never had contemplated."
If Williams played in today's era, he would have been a rich young man. It's not a thought that troubles him. "People tell me I would be a millionaire but we had to make our own way in life. We had our rugby career and we had bills to pay with no money coming in at all. I look back on it and that has definitely made me a better person."
Williams admits the greatest reward as an All Black was being put on a pedestal. It's a pedestal that, in the eyes of the Samoan community in particular, he's never left.
Pick your top 20 greatest All Blacks of all time.

Next Monday nzherald.co.nz will compare our experts' list with the public's.