Helping youth is the motivation for a move from sales to school teaching.
After 10 years working in sales Anthony Lander was worried changing to a career in teaching might have been intimidating.
But the University of Waikato student found the opposite was the case.
"I originally thought there would be a lot more younger students in my classes but there are others my age and older," he says. "Age hasn't been an issue at all, in fact I think there are benefits to studying teaching after spending time in the workforce and having a bit of life experience. It allows me to draw on past experiences to connect theory with relatable examples".
Moving from the challenges of a sales environment to the challenges of the classroom, Lander is looking forward to his new career as a secondary school teacher.
"After 10 years in sales, I realised that teaching and helping youth was what I wanted to do. I didn't have good job satisfaction in my last career but I think teaching will give me a good work/life balance," he says.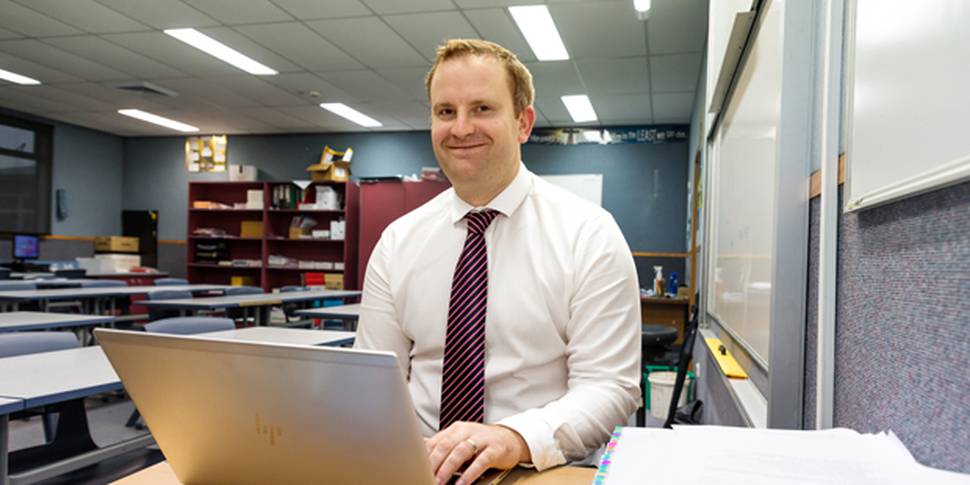 Lander graduated with a Bachelor of Management Studies from the University of Waikato and this year has been studying towards a Graduate Diploma in Teaching. The one-year intensive course is designed for those who already have a bachelors qualification and are wanting to enter the profession.
Students can specialise in either primary or secondary school pathways, Lander choosing secondary. "I did so because it allowed me to specialise in a subject I enjoy and to draw on knowledge from my past career – bringing real-life experience to economics makes a difference to students".
When deciding where to study Lander knew that the University of Waikato's School of Education was the right choice: "I had studied at Waikato previously and knew that the School of Education has an excellent reputation, a strong practical focus and staff that care about their students."
Teaching plays an important role in the Lander family with his parents both involved in the profession.
"My dad is a principal at a secondary school and my mum is a teacher and career advisor," he says. "I have grown up around education all my life so I know what to expect in some ways. I know you have to be passionate about the profession and even though it's extremely rewarding, it's a lot of work and preparation."
One of the highlights of the programme for Lander has been the practical element where students get practical classroom experience and are assigned a teacher mentor.
"Having the practical elements of the programme is a huge advantage in terms of building confidence and having some real-life experience before getting into the classroom".
For more information about the education qualifications available at the University of Waikato, visit: https://www.waikato.ac.nz/study/campaigns/education/