Kiss in the carpark proves a mistake
A reader writes: "A friend of mine visiting from Noosa in Queensland related to me a recent experience at a carpark. He and his wife were to meet friends at a restaurant and found a parking space right outside. There was a second carpark right next to where they had parked so my friend stood in the place to protect it. A little red car turned up almost immediately and the lady passenger gave a little wave so my friend directed them into the vacant slot, opened the door and gave the lady a hug and a kiss and suddenly realised the occupants were strangers."
German police don't have leg to stand on
German police have apologised to a one-armed cyclist after they pulled him over and fined him for riding one-handed. Bogdan Ionescu was travelling through Cologne when he was stopped by an officer who told him he was riding dangerously. Realising Mr Ionescu was missing an arm, the overzealous officer turned his attention to the customised bicycle, fining him €25 ($39) for having adapted his brakes to work off a single lever - despite the fact doing so was perfectly legal. The story made national news in Germany and he has since had his fine cancelled and received a full apology from Cologne's police. The officers originally claimed his bicycle breached German safety standards by not having two hand brake levers. (Source: Daily Mail)
Swedish man makes name for himself
A Swedish man is believed to have the world's longest name: Kim-Jong Sexy Glorious Beast Divine Dick Father Lovely Iron Man Even Unique Poh Un Winn Charlie Ghora Khaos Mehan Hansa Kimmy Humbero Uno Master Over Dance Shake Bouti Bepop Rocksteady Shredder Kung Ulf Road House Gilgamesh Flap Guy Theo Arse Hole Im Yoda Funky Boy Slam Duck Chuck Jorma Jukka Pekka Ryan Super Air Ooy Rusell Salvador Alfons Molgan Akta Papa Long Nameh Ek. At 63 words long, Mr Ek's is at least the longest in Sweden. Ek has changed his name six times, making it longer on each occasion. "My parents were a little confused the first time a letter came addressed to Usama-Bin Ek instead of Alexander," he told news site Nyheter24. (Source: Boing Boing)
Lookalikes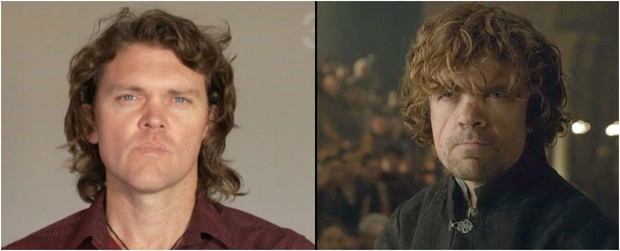 Disgraced former cricketer Lou Vincent and Game of Thrones star Peter Dinklage.
Art: Lonely Sculpture...
Remember this? 80s PSA warns about the importance of seatbelts...
Design: Cloud light hangs from your ceiling and simulates a thunder storm in your lounge...
Video: Sesame Street parody of True Blood is of course called True Mud...
Video: How to put your pants on without hands...
NZ Herald app users click here for today's video.

• A Sideswipe item on June 19 referred to an incident involving a sponsored vehicle at Fieldays. We're happy to point out that the person involved was not Matt Watson from TV One's The ITM Fishing Show.
Got a Sideswipe? Send your pictures, links and anecdotes to Ana at ana.samways@nzherald.co.nz