Something different for Mum. Sign in Tory St, Wellington.
Collins shows how
A few short weeks ago Media Training NZ, which supplies politicians with ways to get one up on the media, was happy to blow its own trumpet on its website about how it put Judith Collins through her paces. "Judith Collins has shown this week exactly how to react when thrust into the media spotlight," the back-slapping piece reads. "Her approach with the media on the issue has been faultless. We always tell our media training clients to front up on these issues, otherwise you leave all the limelight to those attacking you ... Mrs Collins almost made a negative story into a positive one." (Source: mediatrainingnz.co.nz)
Prisoners locked up again
The locks are working again at the Arkansas county jail in De Witt. Jail administrator Robbie Fread says the previous electronic locks were old and could easily be blocked or torn from the cells. No major problems had been reported but the sheriff says one inmate wrote a letter saying he didn't feel safe from the other inmates because of the broken locks.
Diet site users love takeaway chicken, apparently
Regarding yesterday's item about KFC ads on a diet app, a reader writes: "In all likelihood MyFitnessPal won't have much control over the ads. They will be served up by Google or some other ad provider. MyFitnessPal will sell the space and it gets filled by the company willing to pay the most for that spot based on a mixture of what the current site is and the user's previous browsing history. A computer algorithm has blindly determined that diet site visitors are more inclined to click on dirty bird adverts than any other adverts they might show ..."
Drivers available for hospital patients
Regarding the items about a patient's park at Auckland City Hospital: "I am a volunteer driver for patients attending radiotherapy or chemotherapy, mainly at City Hospital, but also Green Lane or Mercy. Patients are not expected to drive themselves. If family and friends are not available to assist, then there is a free service, door to door, organised by a well-known nationwide support group."
How ad-makers get a hair model's best asset to fly right. (Source: Behind the Scenes @MakingOfs on Twitter)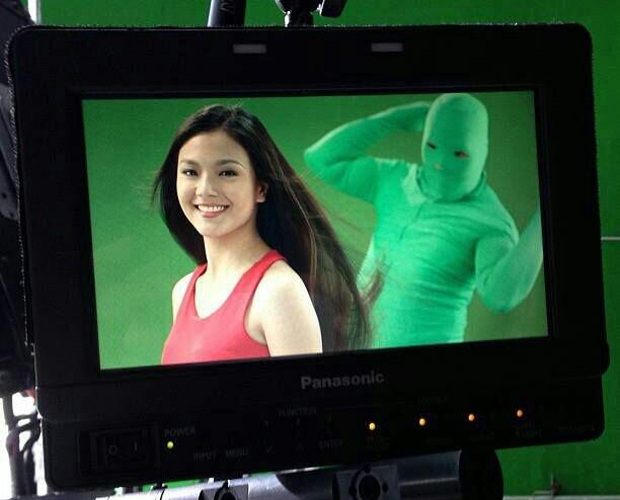 Picture this: First World Anarchists...
News media: Dealing with the public...
Great idea: The city of Bristol closed off a street in the downtown area for artist Luke Jerram's installation of a giant 300-foot slip-n-slide, made up of huge amounts of plastic sheeting, 300-400 bales of hay, water and dishwashing liquid. About 360 people got to slide down after being drawn from a pool of nearly 100,000 applicants.
Park and Slide Bristol [OFFICIAL VIDEO] from Cinematica Media on Vimeo.
NZ Herald app users click here for today's video.
Got a Sideswipe? Send your pictures, links and anecdotes to Ana at ana.samways@nzherald.co.nz