Former Gloriavale Christian Community members have revealed that hundreds have left since its early days, including several families in the past year or so.
On July 17, TV2 screened a documentary following the six-week courtship and marriage of one young couple, after leaders at the Lake Haupiri community opened the doors to a film crew.
Gloriavale - A World Apart followed Paul Valor and his courtship and marriage to Pearl Hope. However, after it aired, some ex-members came forward wanting to put what one described as "the other side to the story".
Read TV blogger Paul Casserly's review of the Gloriaville documentary here
That person, who was born at Gloriavale but left in recent years, said that since the last concert series two years ago, two extended families had left, along with eight of the young, single people.
"Also, a few others have left but then gone back because husbands, wives and children were still in there," the ex-member said.
The Greymouth Star agreed not to use the person's name, or any identifying details.
They said there were two sides to the story, including a hidden one not shown on tv, describing Gloriavale leaders as "professionals at putting on a show to the public".
"Chances are when you leave you will never get to see family-friends again."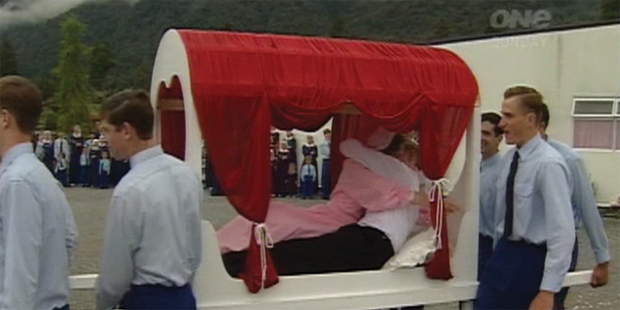 A couple kiss after getting married at Gloriavale. Photo / TVNZ file
They were taught a lot of good things there, and being a part of the biennial concerts was great fun.
But the "freedom I have found in Christ ... since leaving is something I would never exchange for community life".
Another former member, Phil Cooper, said he thought that since the early days, probably half as many had left as were still there. Phil is the son of Gloriavale leader Neville Cooper, who uses the name Hopeful Christian.
In 2009 Phil Cooper told his story in a best-selling book Sins of the Father.
"Two or three families have left this year," he told the Greymouth Star last week.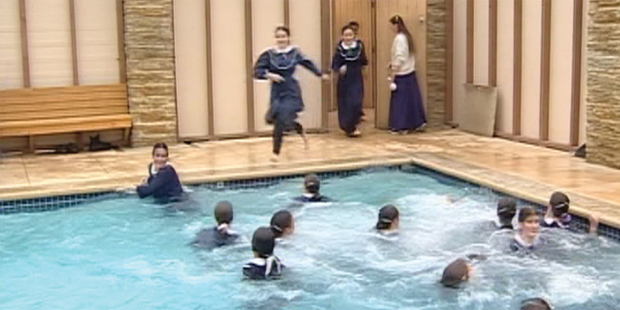 Children swim fully clothed at Gloriavale. Photo / TVNZ file
People leaving now were supported by the families already on the outside, many of them settling throughout Canterbury, he said.
Young people growing up at Gloriavale were cut off from the outside world. When people left, they could not keep in touch with those left inside the community, he said.
This had left people "devastated", Mr Cooper said, referring to the emotional pain of people not being able to see their own mother again.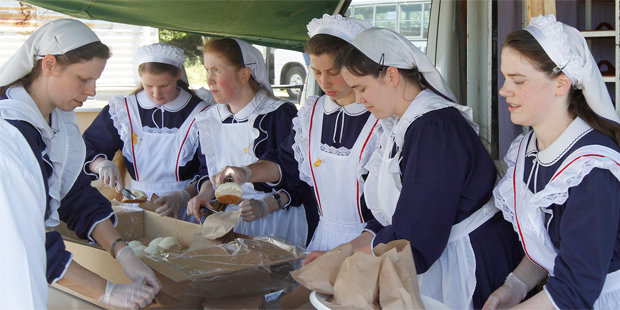 Food being prepared in Gloriavale. Photo / TVNZ file
Young people who had grown up at Gloriavale "don't know anything else".
"My kids have strong faith, they chose that. But (Gloriavale children) know nothing else."
Gloriavale Christian Community spokesman Peter Righteous said today they did not comment on people who had left.
"We haven't got time to be caught up in a lot of nonsense. We have a life we must live before the Lord. If people do not want to live an unselfish life of service to the Lord, it's up to them. They can do as they wish," Mr Righteous said.
The community began at Cust in North Canterbury in 1969 as the Springbank Christian Community, and shifted to Lake Haupiri, 70km east of Greymouth, in the 1990s, going under the new name of Gloriavale. It now numbers about 520.
Next trending article: Air NZ passengers still stranded in Hawaii