Kagi, a company regarded as Australasia's top versatile jewellery brand, is now on the market for sale.
LINK Business broker Martin Plom is selling the Kiwi business, which deploys slick social media and online marketing campaigns to achieve annual sales in the order of $1.5 million.
The company has reported gross profit of 53 per cent - forecasted now over 64 per cent - and net profit of $250,000 on earnings before interest, taxes, depreciation and amortisation (EBITDA).
Plom says this level of business is impressive, considering Kagi was started in 2006 by Kat Gee — a hugely talented designer then aged in her early twenties — who commenced operations using her kitchen table as a work bench.
"Today Kagi is linked by email and Facebook to 45,000 customers located right across Australia and New Zealand," says Plom.
"It has an inspirational back-story, as Kat's passion for manufacturing jeweller was inspired by the legacy of a string of pearls, preserved against the odds for her family to inherit."
Kat's grandmother hid the pearls in her undergarments during several years interned by the Japanese as a prisoner of war in Indonesia, during World War II.
"It seems that the romance of how the pearls were handed down to the next generation informed an incredible passion for jewellery in Kat.
"This has been combined with her entrepreneurial skill, a great head for business and the ability to assemble a team possessing passion for jewellery equal to her own."
He says Kat has chosen to pass the Kagi baton on to a new owner, in order to concentrate on raising her young family, which creates an exciting opportunity for a new owner.
Kagi has grown to supply hundreds of stockists across New Zealand and Australia. Kat's signature designs have a strong following among women both sides of the Tasman.
"The brand now has 80-100 loyal stockists and an exciting new design direction with a contemporary flavour," Plom says.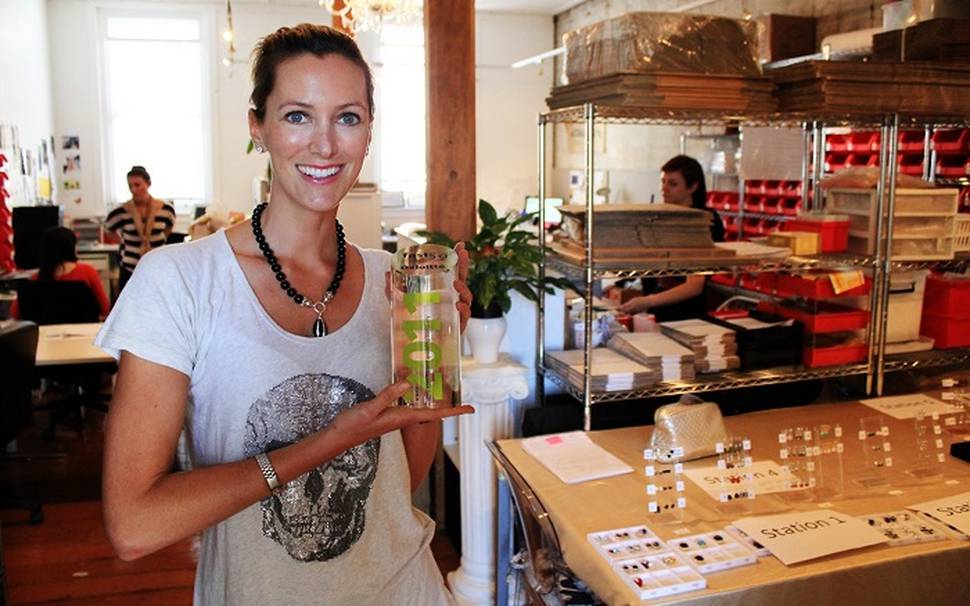 He adds that Kat has worked ahead — creating more than two-years'-worth of designs, which are now ready for the new owners.
"Today Kagi comprises several hundred jewellery designs, scores of fabulously loyal retail partners and tens of thousands of jewellery-loving customers located across Australia and New Zealand," he points out.
Plom says the Auckland-based team includes:
• a general/sales manager, managing more than 80 wholesale accounts as well as overseeing general business requirements;
• a supply-chain manager, managing offshore suppliers, margins, quality and delivery;
• a designer-marketer who designs jewellery, does marketing and manages the web channel and, a customer care/accounts administration contractor;
The company uses an external distribution company to enable the team to focus on what they do best — "designing, marketing and selling fabulous jewellery", says Plom.
"Kagi prides itself on being stocked in top locations, including at airports across New Zealand and some select Australia. The brand is registered to offer Flybys and supporting retailers include big names such as Ballantynes, Precious Metals, Silvermoon, H and J Smith and Smith and Caughey's.
Company assets include:
• the secret secret formula to achieve six layers of plating;
• streamlined business operation, with well tested and sophisticated commercial systems;
• profitable web channel;
• exceptional brand standards and in-depth customer analysis;
• stunning new contemporary displays and packaging;
• established and proven offshore supply chain, with 45-day-plus credit terms and signed supply contacts;
• more than 45,000 followers (across the web and Facebook);
• KAGI trademarked in NZ, AUS, Canada, USA, HK/China;
• all applicable domain names; and
• a back catalogue of moulds.
Plom says Kagi is known for affordable designer jewellery that is versatile and highly wearable.
"And Kat has also developed a fabulous new collection Kagi collection scheduled for a re-launch in August, which comprises a new fresh and contemporary approach for the brand."