88 HADFIELD ST, BEACH HAVEN
SIZE: Land 1039sq m, house 285sq m.
PRICE INDICATION: $1.8 million-$2.1 million.
INSPECT: Sat/Sun 2.30pm-3.30pm, Wed 5.30pm-6.30pm.
SCHOOL ZONES: Kauri Park Primary, Birkenhead College.
CONTACT: Julie Shand, 021 634 787, Harcourts.
AUCTION: November 2.
If the oasis at the top of the hill was once an ugly duckling, those days are well and truly gone.
Diana Goulding's house with the expansive sea views now has a resort feel, looking across the water all the way to Mt Albert one way and Hobsonville Point the other.
Every window, except for one in a bathroom, has sea views because, where there wasn't a window, Diana and her husband have added one.
They bought the house as a project three years ago.
Now weatherboard, it originally had monolithic cladding but the couple have rebuilt from top to bottom, including the roof.
Diana, a publicist who has worked on some big films and now specialises in concert promotions, says the house has been a labour of love.
They kept the 3m stud because they loved the volume and space of the home.
"We wanted to keep its form and because we were captivated by the position we could see the potential," Diana says.
"It's a new house -- it's a brand new house."
The work was done by master builder Brent Monrad, of Impact Reclad, and Sketch Architecture, which did the design, and has won awards for best reclad two years running, she says.
"We've done a huge amount of work. Everything's absolutely up to date with codes.
"We raised the roof, had to repitch the roof.
"All the framing throughout the whole house is brand new, so it's intensely framed, fully insulated and then there's a plywood that goes on top of that, then batten and then weatherboard."
The windows are double-glazed and there is 190sq m of wrap-around new decking.
American oak flooring has been laid, keeping the look natural for that seaside feel, plus the house has been rewired and has plenty of TV and data ports.
The contemporary home is warm, friendly, solid and sunny -- and has those panoramic views.
With no passing traffic, aside from tui and kereru, the house is also peaceful and quiet, Diana says.
The couple also created a stylish apartment for guests or teenagers that could also be used for Airbnb accommodation.
The main living area is open to the views and has curved lines, which the kitchen reflects.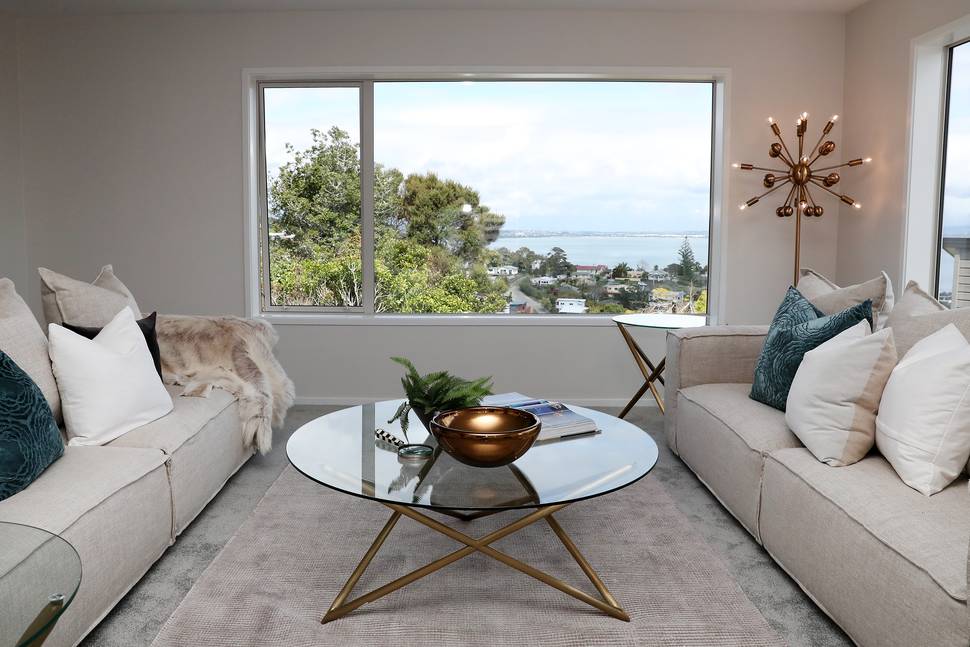 "What we love is the fact that the living area is so connected and it flows so beautifully. The bedrooms have their own privacy and their own little balcony kind of zones, there's lot's of places to tuck away, and it's just all day sun.
"And we love the ocean.
"It's sort of like being in a crow's nest in a way.
"Orcas come up and now, of course, it's so busy with ferries. There's a really good service from Beach Haven and we see the Hobsonville ferry, plus the sightseeing boats come up sometimes, too."
She and her husband were hands-on with the landscaping and Diana, whose family is from Fiji, has subtropical plantings as well as a native New Zealand fernery.
She loves the pieces they sourced, such as the bronze door handle on the front door and the lighting from Calder Interiors.
Diana has always been interested in American design, so has the living area open to the sun and sea with plenty of outdoor flow, which she says also fits the New Zealand design ethic.
She has enjoyed the creative aspects of the rebuild but says she and her husband are empty nesters now and their plans include having fun with their grandchildren out on their boat.