A rustic-style timber-clad high rise apartment block, designed for a small Mt Eden site, has won a design competition to showcase more intensive Auckland building styles but a councillor has called the winning entry "cheap and shoddy".
Auckland Mayor Len Brown this afternoon said S3 Architects' design for 11 Akepiro St, adjacent to the railway line and just off Dominion Rd, won the competition organised by the NZ Institute of Architects and developer Ockham Residential and supported by Auckland Council.
But councillor Mike Lee said such apartments were not big enough for families and its exterior was ugly and not appropriate.
"I can just see this getting mouldy. If we're going to have highrise, they need to make it durable," Lee said.
Stephen Smith, a director of S3 Architects, said the six-level building had 25 apartments, commercial tenancies on the ground floor and used an innovative cross-laminated timber structural system.
Read also:
• Top architects use their blocks
Ockham will now work with Smith and build the apartments to his design.
"This construction method allows for precise off-site prefabrication and efficient on-site assembly, which brings time and cost savings," Smith said. "New Zealand can be a world leader with this timber technology. I also wanted to demonstrate that with a bit more effort in design and construction, we can significantly reduce the energy use in our building."
Smith was pleased about his architects' enthusiastic response to the competition which drew more than 60 entries, and the high standard of entries.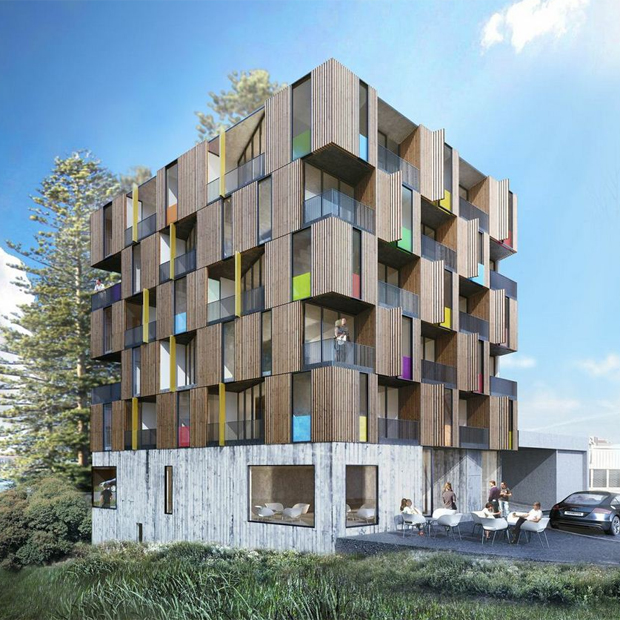 S3 Architects' winning design.
Leuschke Group Architects,Matthews & Matthews Architects, Waterfall Gunns Lowe Architects and Andrew Sexton Architecture were shortlisted to win.
Jury chairman Richard Goldie, a director of Peddle Thorp Architects, said the competition was a bold and timely initiative which had produced an exceptional response from architectural practices.
Richard Burton of anti-intensification lobby group Auckland 2040 said the council had only backed the competition because it was suffering a public backlash against the Unitary Plan. He is worried about widespread apartment development throughout suburban Auckland, particularly on sites which are inappropriate for intensification.
Excellent design proposals could be showcased, but it did not necessarily developers would build quality high-rises, Burton said.
"Auckland is replete with badly designed apartments and to suddenly say 'trust us, we're only going to get high quality design' flies in the face of Auckland's history," Burton said.
Lee said Auckland needed to be building bigger apartments so that families could live there, not smaller places.
"And building costs are so high, it's always going to be a problem," Lee said.