Real estate agent confident winning house will be sold within a fortnight after auction fails to draw bid
The winning house from the last season of The Block has failed to sell - despite the bidding opening below what it sold for on the show.
The house sale was opened by Barfoot & Thompson auctioneer Craig McNair yesterday at $1.1 million but no bids were made.
More than 50 people attended the auction at the Bruce Mason Centre for the Belmont house renovated by Auckland couple Alice and Caleb Pearson. No mention was made of the home's TV history.
The Pearsons did not attend the auction. Their son, Alek, was born four weeks ago.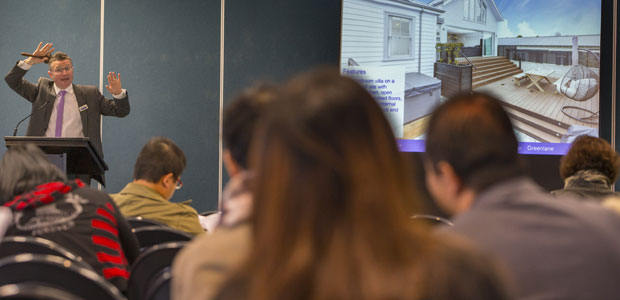 The auctioneer tries to drum up interest for the winning house from the last series of The Block
Last year the house was sold for $1.126 million in a televised auction in which two real estate agents battled it out to win the property for their clients.
Agent Sam Yeung tendered the winning bid for Shanghai-based couple Angela Shen and Jun Ye.
The couple moved into the house around Christmas but after six months returned to China.
The four-bedroom house was described in the listing as "thoughtfully designed and presented throughout" and "modern and fresh".
Barfoot & Thompson agent Alice Du says she's confident the house will sell soon whether or not its' television history is mentioned.
"I think the house would still sell itself no matter what the label," she said. "We do have interested parties who were not in a position to make a conditional offer today.
"It will be sold in the next two weeks."
Alice and Caleb Pearson made a $181,000 profit when the house sold last year and $80,000 prize money.
Filming for the next season of The Block begins soon in Pt Chevalier, Auckland.