Heavy discounting in some parts of Auckland but prices stay high in others, especially for 98 octane
Fierce discounting by fuel companies in parts of Auckland has seen a wild variation in prices — of up to 25c a litre of petrol — across the region.
The main winners found in a two-day Weekend Herald survey of 180 fuel stations were motorists filling up in Papatoetoe, Otara and Botany, followed by those at New Lynn and Henderson.
A price cut during the survey to 200.9c a litre of 91-octane petrol saw cars queuing six deep at two stations in East Tamaki Rd in Papatoetoe, before three other stations joined the frenzy by matching the price through Otara late on Thursday.
That compared with the region's highest price of 224.9c at two Caltex stations in Newmarket and Grafton.
However, the Grafton station was taking advantage of its proximity to the port to sell diesel to truckies for 132.9c a litre — the second-lowest level in Auckland.
Oil industry minnow Gull piled on more pressure early yesterday by cutting prices by a further 1c — to 199.9c — at its Otara outlet and two others, in East Tamaki and Botany Downs.
Lesser discounting was found around Kingsland, Sandringham, Balmoral and Mt Roskill, but there was little variation in most parts of the North Shore and better-heeled eastern suburbs.
Discounting usually occurs as a ripple effect around low-priced Gull outlets, but Mobil has begun muscling in on the Auckland market with some aggressive manoeuvring.
The survey took just over 600km of driving on Wednesday and Thursday, complicated when BP announced early on the second day that it had "led" 2c national price cuts across petrol and diesel.
That took its standard price for 91-octane petrol down to 221.9c a litre, and for diesel to 148.9c, sparking the new round of discounting further down the line.
Aviation security worker Mark Atkinson spoke for many other motorists when he said he objected to paying more than 221c a litre at Auckland Airport, so went to Papatoetoe "where the price is right" on his way home.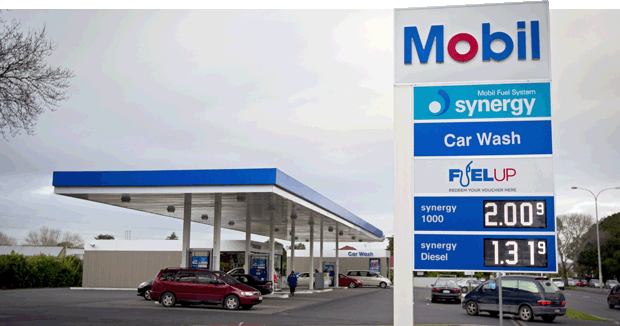 Mobil has begun muscling in on the Auckland market with some aggressive manoeuvring. Photo / Sarah Ivey
Z Energy spokeswoman Christine Langdon said the company was joining the fray in Papatoetoe by necessity rather than choice.
"There is some really aggressive discounting going on in some pockets of Auckland — it's not a question of can we afford to do it, but whether we can afford not to," she said.
"These prices are not sustainable across New Zealand."
But Gull chief Dave Bodger said his company was able to offer consistently low prices across its network despite being far smaller than most of its competitors who were singling out small parts of Auckland for special treatment.
Asked about Mobil's efforts to undercut him in suburbs such as New Lynn, Kelston and Albany, he said that company was selling petrol at the national level of 221.9c in areas such as Takapuna, where there were no Gull outlets.
Automobile Association spokesman Mark Stockdale said the Weekend Herald survey showed the 80 per cent of petrol users who bought 91-octane were enjoying healthy competition, but feared that was not the case at some stations where far steeper prices for higher grades were not advertised.
The survey found price difference of up to 23c between 91-octane and 95-octane petrol and of up to 38c between the lower grade and 98-octane.
Mr Stockdale said the difference for each grade should be no more than about 8c.