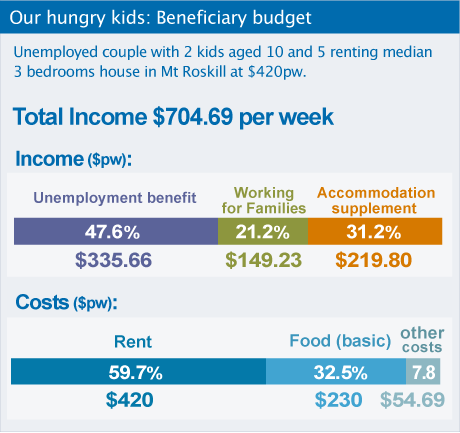 Poorer families are cutting out meat and vegetables to keep up repayments to finance companies, budgeters say.

Rising rents, power bills, petrol and other costs, as well as loan repayments, are forcing families to cut into their food budgets because they don't have enough left over to pay the bills if they buy what Otago University nutritionists recommend for a healthy, "balanced" diet.

A year ago the university calculated that a "basic" balanced diet, buying the cheapest items in every food category and preparing all food at home, cost $64 a week for men, $61 for women, $54 for a 10-year-old child and $36 for a 5-year-old in Auckland.

Food prices have risen by 7 per cent since then, lifting the total cost of a basic balanced diet for such a family to $230 a week.

Kim Sinclair of real estate firm Crockers said the median rent for a three-bedroom house in Auckland also rose by 7 per cent in the past year, from $454 to $486 a week.

Even in a low-income suburb such as Mt Roskill, the median three-bedroom market rent is $420 a week.

Allowing for the accommodation supplement, that would leave a family on the unemployment benefit with less than $55 a week to cover all other bills if it spent the recommended $230 on food.

Melissa Heta of Mt Roskill budgeting agency Te Manawanui Trust said her clients spent much less than that on food because they had borrowed money to pay previous bills.

"A lot of the ones we see are incurring debts, whether it's to Instant Finance or Aotea Finance or hampers and things like that," she said.

"So to cover servicing their debts they are cutting the essential priorities, which is food. In their priority list, food comes down the bottom of the list."

Te Manawanui budgeters try to change those priorities, even if it means allowing household items to be repossessed.

"It's always possible to start again when it comes to stuff, but not when it comes to your children's health," Ms Heta said.

She said the agency could help people consolidate their debts but that meant paying interest for years and many chose to go bankrupt instead through the one-year no-asset procedure, which is available for people with no assets other than a car worth less than $5000.

She also advises people to shop at Asian food stores instead of supermarkets.

"Try to avoid the supermarkets altogether," she said.
What you can do
Sponsor a hungry child for 50c a day.
(to help provide the basics they're missing out on.)
kidscan.org.nz
Donate to Salvation Army food banks.
salvationarmy.org.nz
Donate to Auckland City Mission winter appeal.
(you can text help to 305 to instantly donate $3.)
aucklandcitymission.org.nz
Use your business or community group to feed hungry kids in your local school or community.