On a hot Sunday afternoon, hundreds of people poured into Auckland's Sacred Heart Church in a united front against the Christchurch terror attacks.
Everyone who was there — Muslims, Asians, Europeans, Māori, and Pacific Islanders — put their differences aside to pay their respects.
It wasn't only open to Christians and Catholics — Muslims who worship directly across the road at Ponsonby Mosque were invited as special guests.
"Over the years there has been a very warm relationship between the two communities," Catholic Diocese of Auckland spokeswoman Lyndsay Freer said.
"The Islamic people, the Muslim people as well as we Christians are people of faith, even though it's a different kind of faith we share a common belief in God.
"Therefore, a common faith that we can share ... that's why we are standing together, as it were, in solidarity."
The pavement outside the mosque was overrun with flowers and handwritten messages of love, despair and calls for peace after New Zealand's worst massacre.
The death toll rose to 50 after police found another body at Al Noor Mosque, one of the two Christchurch mosques attacked on Friday. Dozens more were injured and as of tonight 34 people remained in Christchurch Hospital, 12 of whom, including a 4-year-old, were critical.
At Sacred Heart Church everyone stood together, wept together, prayed together and sang together for those who died.
Later in the day there were similar scenes of united grief as thousands of people in Wellington turned out at Basin Reserve for another vigil.
Natasha Hargreaves, 15, said she was hit "pretty hard" by news of the attacks.
"I'm here supporting the families. It's really important we love each other no matter what religion we are from."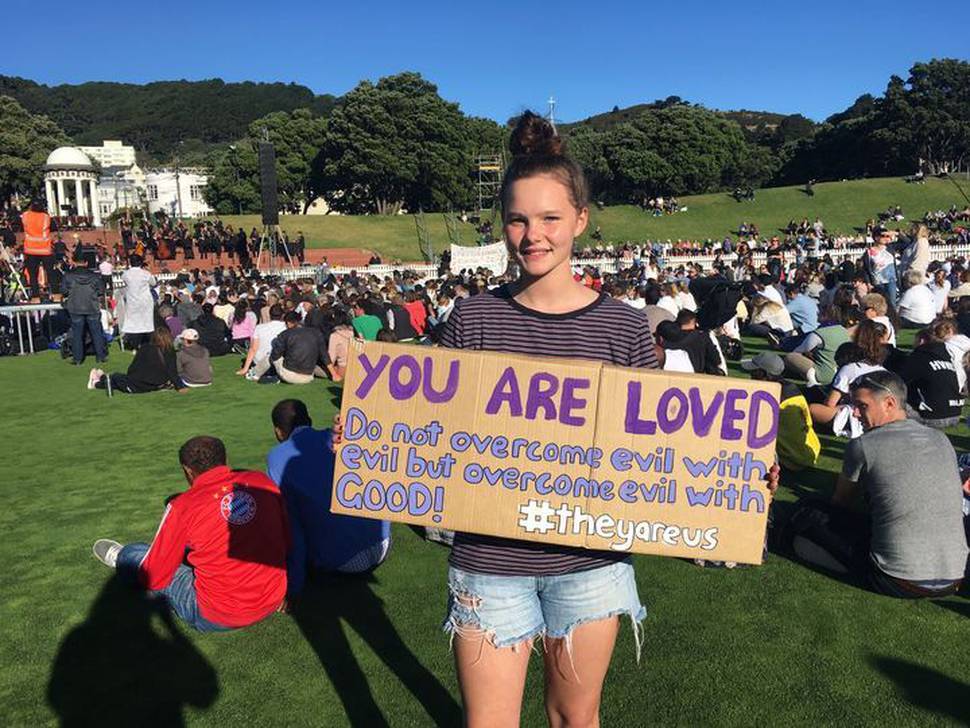 Many of those at the event wore white and donation buckets were filled with change which will be directly given to the victims.
People brought tea lights, wrote messages in books and left flowers.
"Hate will never win — Kia Kaha Christchurch," said the scoreboard at the reserve.
Ibrahim Omer, chairman of the Changemakers Refugee Forum, said he was a proud Muslim and a proud Kiwi. He came to New Zealand as a refugee 10 years ago and was "welcomed with open arms".
"I was so happy that I made that decision, and that's no different today."
Gayaal Iddamalgoda from the Migrant and Refugee Rights Campaign said he went to the vigil and resolved to tell those gathered "the truth as I see it".
"Why is our secret service busy surveying our innocent Muslim neighbours and not the extremists who sought to victimise them?
"I want answers, I want accountability, and I want something to change, but right now while I wait for those answers, I want to do something to cancel out the hateful, paranoid vision of these extremists and offer instead a vision of hope."
Governor-General Dame Patsy Reddy addressed the crowd, highlighting the brave emergency services in Christchurch for their efforts.
Earlier in the day Christchurch Hospital's head of surgery, Greg Robertson, said staff were "horrified, stunned and angered" following the shooting.
He said staff often coped well but it was when they went home that they started to really think about what had happened.
"It's a bit challenging for people ... we are struggling with it as much as anybody else," Robertson said.
"This is not something we expect to see in our environment ... we see gunshot wounds, but 40 to 50 in one day is not what we expect."
Families of the dead are now waiting for bodies to be returned so they can begin the burial process.
Prime Minister Jacinda Ardern said a small number would start being released and authorities hoped to have them all released by Wednesday.
Police Commissioner Mike Bush said police were working with pathologists and coroners to release the bodies as soon as they could.
"We have to be absolutely clear on the cause of death and confirm their identity before that can happen," he said. "But we are so aware of the cultural and religious needs. So we are doing that as quickly and as sensitively as possible."