Susan Burdett's son, once a police suspect, has been accused of murdering his mum by the lawyer acting for the serial rapist now on trial for the killing.
The 39-year-old accounts clerk was raped and killed in her Auckland home in 1992.
Yesterday, a third trial alleging serial rapist Malcolm Rewa murdered Burdett began in the High Court at Auckland.
In 1998, Rewa was convicted of Burdett's rape but two juries that year were unable to decide whether he was responsible for her death.
The now 65-year-old, who now requires a walking cane, has also been convicted of raping several women between 1987 and 1996.
Today, Rewa's lawyer Paul Chambers accused Burdett's son Dallas McKay of murdering his mother.
In March 1992, McKay was an aluminum fabricator living in Kamo near Whangārei, where he still lives today.
Chambers alleged McKay travelled to Auckland to kill Burdett and then back to Whangārei between 11pm and 7am.
McKay inherited a "large sum of money" - about $250,000 - from Burdett's life insurance policy after she altered her will, the court heard.
But McKay said he wasn't aware the will had been amended until after Burdett's death.
"You had ample opportunity to travel from Whangārei, get into [Burdett's] house, kill your mother, leave the house, and get back home," Chambers said during his cross-examination.
"So what are you accusing me of?" McKay replied.
"I thought the question was pretty clear," Chambers said.
"You're joking," said McKay.
"I'm telling you I did not, 'cause I'm not the one on trial here."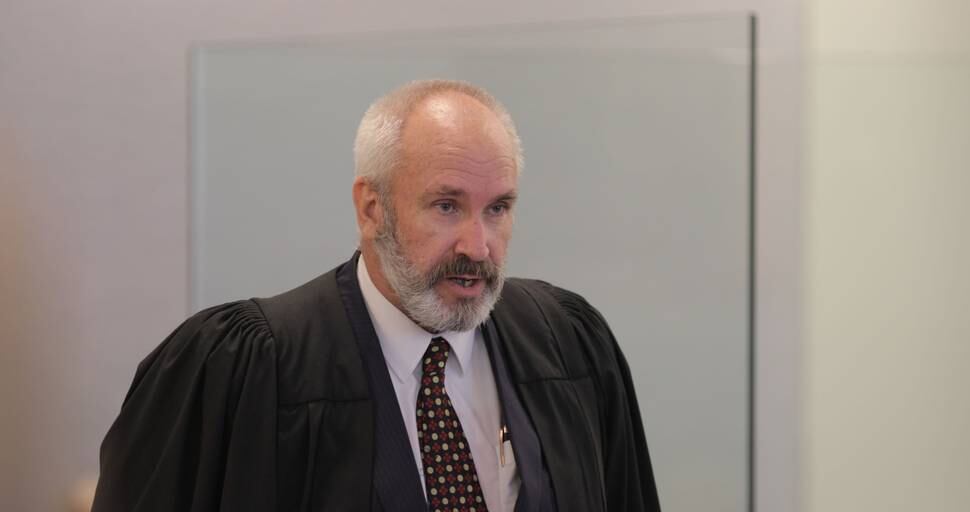 Chambers again made his accusation: "You murdered your mother."
"I don't think so, mate, you've got it completely wrong," McKay replied.
Crown prosecutor Gareth Kayes then bluntly asked McKay during his re-examination of the witness.
"Did you kill Susan Burdett?"
"No, I did not," McKay said.
Burdett's biological son earlier told the court today he first met his mother when he was a young man after being raised by his grandparents.
He remembered her love of tenpin bowling and the many trophies she had won.
"She wasn't too bad, but she wasn't as good as me," he said.
He then recalled Wednesday, March 25, 1992.
While at work he heard a news bulletin across the radio, the details of which increased throughout the day with each updated report.
"A 39-year-old woman living alone in Papatoetoe had been found bludgeoned to death," he remembered hearing.
"I thought nah, can't be, couldn't possibly be," he said, but admitting his concern about Burdett.
McKay rang his mother's work and became more agitated about her welfare.
Under cross-examination, McKay said he realised "pretty much straight away" that police were treating him as a suspect after learning of Burdett's death. Police further carried out a search of his home.
Taken through Burdett's house by police, he also noticed a camera was missing.
Kayes said yesterday a bank card and black camera were never found.
Other aspects of McKay's evidence were suppressed.
Kayes earlier alleged Rewa entered Burdett's home on March 23, raped her and murdered her.
Her body was found two days later by friend Steven Dawson.
It was an attack, Kayes alleged, which displayed a "striking resemblance" to Rewa's other sexual assaults.
Forensic evidence concluded Burdett had been hit across the head at least five times by a blunt instrument, Kayes told the court.
The weapon was the baseball bat Burdett kept as protection - she would have died within minutes, he added.
Today, the wooden bat was brought into the courtroom inside a clear case and displayed on a bench in front of former Detective Senior Sergeant Neil Grimstone.
He was giving evidence as the police officer in charge of the crime scene at the time, while fellow former detective Michelle Burke also testified earlier about Burdett's body.
Teina Pora was twice wrongly convicted for murdering Burdett on the back of a false confession.
He was arrested when just a 17-year-old and spent 22 years in prison before the Privy Council quashed his conviction in 2015.
He has since received an apology from the Government and $3.5 million in compensation.
A stay of proceedings for a murder prosecution against Rewa was applied by the Solicitor-General in 1998, but two years ago the Deputy Solicitor-General reversed the stay allowing the current trial.
Justice Geoffrey Venning also earlier dismissed an fresh application to stay the murder charge against Rewa, who is currently serving a preventive detention prison sentence.
A stay had never before been lifted in New Zealand's legal history.