The family of an Auckland woman, one of two killed in a high speed chase, say they want tougher penalties for fleeing drivers and more accountability put on police actions.
Connor Talaimanu, 29, and Sharina Storm Meuli, 25, were both killed in a crash on St Lukes Rd, Morningside, on October 23 last year.
The car's driver, Prushya Chaichumphon, was first spotted by police travelling at 133km/h in an 80km/h zone.
However, it quickly escalated to in excess of 160km/h as he drove dangerously across all four lanes of an Auckland motorway.
A report by the Independent Police Conduct Authority, released yesterday, revealed the officer pursuing the group drove at speeds of up to 200km/h during the 1 minute and 16 second pursuit and classified it as dangerous and unjustified.
It also stated that the officer should have faced a criminal investigation - but police say it was now too late to consider charges.
Chaichumphon was last week sentenced to three years' jail for two charges of reckless driving causing death and two charges of reckless driving causing injury.
Assistant Commissioner (Response and Operations) Tusha Penny said police did consider charges against its officer and sought legal advice.
"This was an absolute tragedy which could have been avoided had the fleeing driver chosen to stop when signalled by police," says Ms Penny.

"It is important to note that the IPCA finds the pursuit was justified, and that the officer complied with the Urgent Duty Driving policy.
"However we accept that the officer's speed was not justified, was excessive, and the pursuit should have been abandoned."

A Meuli relative today told the Herald they just wanted laws to start changing so other families didn't lose their family members as well.
However, police also needed to take responsibility for their involvement in the sequence of events.
"That's all we want. Tougher penalties for drivers who take innocent lives, and the law where police wouldn't pursue a chase with dangerous speeds and just take a number plate [instead].
"We lost two beautiful lives due to reckless, careless, dangerous driving, who both had amazing futures in front of them all because of one idiot's decision.
"Look we might not have lost our girl if the police didn't chase the car like they did but at the end of the day the driver made the decision to flee and now he must live it and we do too."
The family didn't wish their pain on anyone.
"We want to see a change so no other family has to feel the same pain."
Meuli was a "young, intelligent, headstrong woman".
"She had everything going for her, amazing job, loving family, great friends. She was dearly loved by her friends and family and well looked after by her job as she was an asset to her company and had been there for years.
"She made her way up through management roles very quickly. Sharina had a bright future in front of her."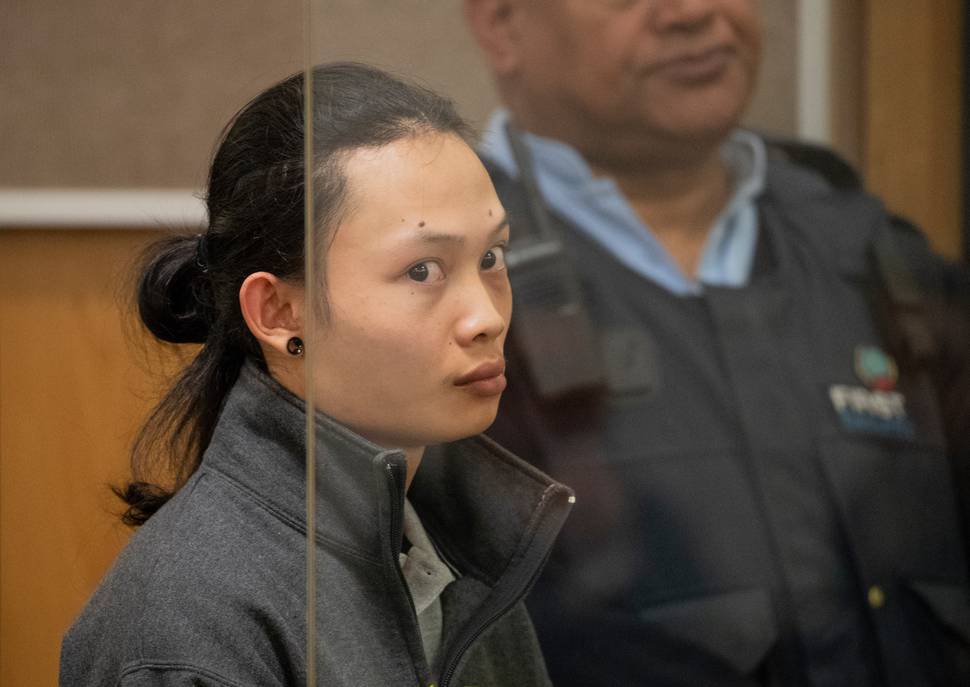 Meuli was "just a purely beautiful soul".
"So fun, loving, kind, giving and so hard working. Sharina lit up a room with her presence.
"She had sooo much to live for so much more to do and she had that all ripped away from her that night.
"Losing her has been terribly hard for all of us."
Talaimanu's father, Andrew, told Judge Nevin Dawson at Chaichumphon's sentencing that his son was "the very best of the best", as a young athlete who possessed a huge intellect and a strong sense of fairness.
There were no words to describe leaving him at the hospital after his death.
"I was screaming inside but outside I was still numb," Talaimanu said.
"I did not know what to feel or what to do next.
"No parent should ever have to feel the pain of losing a child - a pain I will now always feel.
His older sister Renee told the court her brother had applied to join the police shortly before his death.
"He was so excited to be a police officer. Becoming a police officer meant everything to him."