She died all alone in her cabin, in the middle of the sea.
Pamilar King was 75 years old, travelling by herself on the MV Claymore II, a 160ft passenger/cargo ship sailing from Pitcairn Island to Tauranga.
A crewman checked on her early that September morning, as he did every morning – asking what she wanted for breakfast, making sure she took her medication.
Pamilar wanted neither. She was later found unresponsive in her bed.
By the time the Claymore II docked in Tauranga on September 17, about two weeks after leaving the tiny remote island, Pamilar's body had been kept in the freezer for several days.
No one was waiting for her. No grieving family or friends, just the police. No death notice, or official funeral service.
Once the paperwork is done, her ashes will be buried in a memorial wall.
Just a plaque with her name on it in Pāpāmoa to commemorate her life and mark her final resting place.
There's nothing suspicious about the way Pamilar died.
But the answers to why a sick, elderly woman died alone on a long sea journey can be found in the way she lived her life.
***
Pamilar Rosina King was born on January 23, 1943 in Rotorua. She was the middle child of three.
Pam was just like any other kid, childhood friend Dorothy Skelton said. The 78-year-old paused as she thought back to those early years, so long ago.
"She was a bit of a daredevil," Dorothy added. Also "a bit tom-boyish".
She lived down the street from Pamilar and her family and went to the same school – St Michael's Catholic.
"We all grew up together, played tennis in the middle of the road and all that, you know, as kids; going up to the school."
Dorothy was closer to Pamilar's older sister. They were the same age and she was Dorothy's chief bridesmaid.
That older sister now lives on the Kapiti Coast.
She had to step up at age 16 and look after her two younger siblings and dad when their mother died young, aged 42.
"Chief cook, cleaner and bottle washer," the now 78-year-old laughed when I phoned her last week at home.
She said she had to grow up fast and quickly learn to cook when her mum died. From that point on, her life was very different to that of her two sisters.
She didn't want to be named in this story. She said she and Pamilar had been estranged "for quite some time".
They got on well as kids but grew distant as they got older. Different ages, different friends.
Pamilar was "harum-scarum" as a youngster.
"She was always more outgoing and maybe more daring than any of us," the sister said.
"We were sort of more placid. She was sort of always wanting to be on the go."
Which is why Pamilar's decision to leave home and join a convent when she was about 17 came as such a surprise.
The sister still doesn't know what enticed Pamilar into the convent but said it was big jump from someone who was "always on fire, always moving".
"From there on in I didn't really have a lot to do with her, or see her."
Pamilar was in Australia initially and then returned to New Zealand to continue working with the Catholic church. She was involved for about nine years altogether.
She then took up teaching and moved back to Australia.
It was hard to keep in touch with her, the sister said.
"She wasn't a person that just got a house and settled down. She was always more or less travelling."
That characteristic came up a lot during conversations with those who knew Pamilar. Her nomadic lifestyle had come to define her.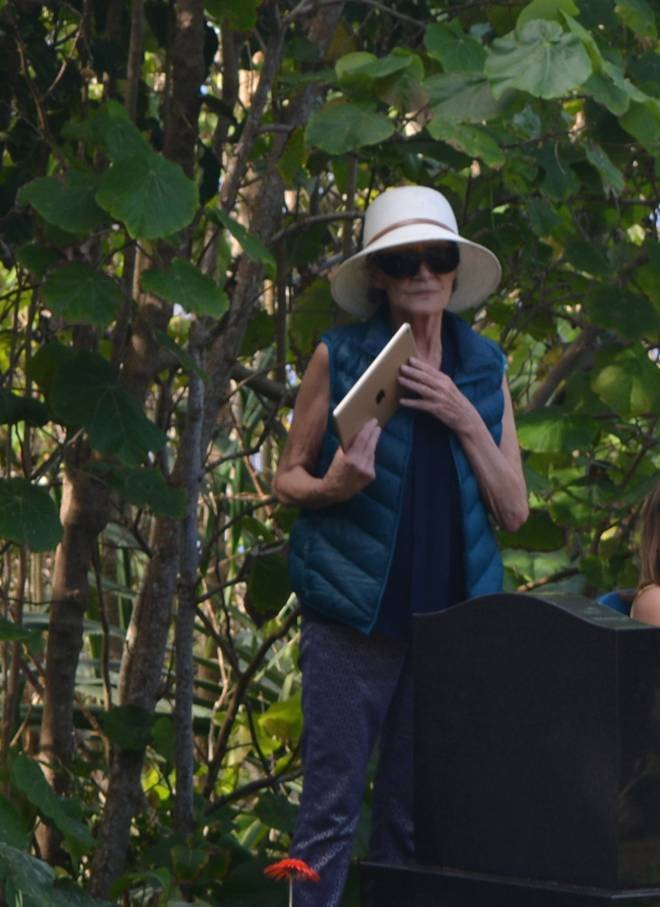 ***
She was transient, well-travelled. Of no fixed abode when she died.
Pamilar was known to "up sticks" and move on. She would sometimes stay with people for only a few days at a time.
"There's lots of gaps where we haven't really seen her because she's either in Turkey or she's in India or she's in China," her older sister said.
"She taught in China for about four years."
She was also in Peru at some stage. She went to Machu Picchu.
Pamilar's niece, Rosina Bagley, was able to add a few countries to that list.
The 54-year-old lives in Auckland. She is the daughter of the youngest of the three sisters, Judith, who died about 10 years ago.
Rosina said Pamilar was her "estranged aunt".
I asked her what she meant by that.
"Well just in that I can't tell you a lot about her recently because I didn't see her."
Most of her memories of Pamilar are childhood memories.
"I suppose she was always the exciting aunt, if you know what I mean, because she was single and living her lifestyle and she would be the aunt who would turn up and have gifts and then go off and you sort of wouldn't see her again."
Rosina remembers Pamilar returning to New Zealand after what she thought was her big OE.
"Because she'd been to many countries, including Russia and Germany; that inspired me I guess, in some way, to travel. She did bring back souvenirs from all her travels and back then that was kind of something."
Her aunt continued to travel a lot, she said, even when she was older.
"I don't think she could settle."
There was possibly a trip to England about five years ago. She also remembers Pamilar going to Turkey.
As for when Rosina last spoke to and saw Pamilar, that is less clear.
There could have been a brief phone call in the past five years, she said. A short visit in the past 10.
Around the time Judith was unwell, before she died, Pamilar returned to New Zealand.
"Pam had gone to live in Australia, where she'd been for as long as I could remember. But yes she did come back and she did look after my mother for some time. I recall her coming to the house; I don't know how long she stayed. Not that long."
***
There are still plenty of gaps when it comes to the years and months leading up to Pamilar's death.
No one I spoke to knew much about what she did for a living later in life. She was of course retirement age, but she sometimes spoke of having businesses and being self-employed.
A LinkedIn account for Pamilar says she is "self-employed at Kinzar Beauty Studio".
Her account summary lists skin and body treatments, Thai foot massage and years of experience in wellness industries and hotels. It says she formulates her own cosmetics.
Under the skills and endorsements section, it says "beauty/holistic therapist extraordinaire".
Pamilar was on the Kapiti Coast doing a refresher teaching course earlier this year, her older sister told me.
It was the first time in years they had seen each other. But they didn't spend much time together. The sister wasn't quite sure where Pamilar was staying.
I do know that for at least some of the time – on four separate occasions in April, May and June – Pamilar stayed at Paekakariki Holiday Park.
The holiday park's manager instantly remembered her when I read out the name.
"She was getting the cheaper accommodation," she said.
The manager said the park couldn't do long-term accommodation but did offer Pamilar a better rate for a cabin.
"Because we didn't think she was fantastic financially.
"I sort of kept thinking to myself, surely she's got relatives somewhere that would look after her."
Sometimes Pamilar would camp if there wasn't a cabin available, the manager said. Or she would sleep in her car.
She didn't know specifics about what Pamilar was doing at the time, but thought she was attending a polytechnic or something similar.
The manager said Pamilar kept to herself and seemed alright health wise.
"She was fine. Talkative enough and did look after herself."
Over the next couple of months, however, Pamilar would become noticeably unwell.
When she boarded the Claymore II in Tauranga at the start of August, she was short of breath and clearly very sick.
There was talk that she was living in her car while waiting for the ship to leave.
Days before departing, Pamilar made a call. The woman on the other end of the phone couldn't quite believe what she was hearing.
***
Nola Warren is one of about 50 people who live on Pitcairn Island, a small volcanic outcrop roughly halfway between New Zealand and Peru.
She was born on the island and has lived there most of her life.
The current population is mostly descended from mutineers of the Royal Navy vessel HMS Bounty and their Tahitian companions, who arrived in 1790.
Pitcairn is about 3.2km long and 1.6km wide. It is an isolated destination with no air strip.
Auckland, where its administrative headquarters are held, is more than 5000km away.
Pamilar had long talked and dreamed of travelling there. Her mother was born on Pitcairn.
About four days before leaving Tauranga, she phoned Nola to say she was coming.
It was something Nola had heard before.
"She called me in June of this year and she said to me, 'don't unveil your husband's grave until I get over'," the 77-year-old told me over the phone from Pitcairn.
"She said to me she's coming over in August, and I said to her 'you bloody liar'. I said 'you're not coming to Pitcairn'. I said 'you've told me that for the past 30-odd years'."
But this time it was happening. Pamilar's call from Tauranga confirmed it. She was waiting for the Claymore II to leave.
Nola checked the passenger list when it was sent out and sure enough, Pamilar was on it.
Her late husband, Reynold Warren, was Pamilar's cousin. He died on October 30 last year, aged 87.
Reynold's father and Pamilar's mother were brother and sister.
Nola had met Pamilar in person only a handful of times in New Zealand. She said Pamilar probably rang her about once every three months.
"Each time she calls me she's in different places in New Zealand."
Once she called from Waikanae, the time before that she was in Cambridge and the time before that, Hamilton.
Coming to Pitcairn for the unveiling was all Pamilar kept talking about, Nola said.
"I said to her, well, we people don't do unveilings when our people pass away. But she insisted; she wanted to."
So it was organised.
***
When Pamilar reached Pitcairn Island after about two weeks at sea, she was in a bad way.
"When I saw her when she first arrived, I looked at her and thought, well, she wasn't really that well," Nola said.
During Pamilar's time on the island – about 17 days – she would see the Pitcairn doctor several times and be prescribed medication.
It was revealed she had recently spent time in Hutt Hospital with pneumonia.
Nola was under the impression that Pamilar drove herself from Wellington to Tauranga and was maybe living in her car while waiting for the ship.
She said Pamilar's condition did not improve as the days progressed. She deteriorated.
Most of her time was spent sitting up in bed "and gasping for air".
She saw a bit of the island, but if she moved around too much she would quickly get tired and short of breath.
Nola tried to get Pamilar to eat more. She said she looked anorexic. She had no energy.
"Her face has got no colour to it. It's almost as white as a sheet."
Pamilar did make it to the unveiling. Everyone on the island was there.
A photo was taken of her. She's wearing dark glasses and a brimmed white hat. Her arms look thin in her sleeveless vest jacket.
Nola said Pamilar rushed back to bed after the unveiling.
"I actually honestly thought that I may have to bury her next to him in the Pitcairn Island cemetery."
She said Pamilar's trip to the island must have been one of her last wishes, possibly her final wish.
"She knew she was dying; she was really unwell. And I felt that because she said to me 'If I hadn't come this time, I wouldn't have been able to come over'".
Nola said it was a "once in a lifetime trip" for Pamilar.
"I don't think she could afford to come out any time before."
One day on Pitcairn, Pamilar opened up. The heartfelt exchange caught Nola by surprise.
"She said to me 'Hey Nola, you know what, probably at times the two of us just argue between ourselves, but that don't mean a thing'. She said 'I do love you very much and you love me. I know we love each other'."
Nola wasn't quite sure what caused Pamilar to say that. It made her feel like she had travelled all the way over to Pitcairn just to see her.
When Pamilar's stay on the island came to an end, she told Nola she enjoyed herself and that she had a good time.
"It must have been a dream in her mind," Nola said.
And then Pamilar got back on the Claymore II and headed for home. She didn't make it.
***
Somewhere on the Pacific Ocean between Pitcairn and New Zealand, Pamilar drew her last breath.
The news was sent back to Pitcairn and the island's doctor informed Nola.
"He said to me, 'she passed away this morning; she was found in her bed'."
It didn't come as a surprise, Nola said.
When Pamilar's older sister found out, it didn't come as a shock to her either.
It was still sad news to receive.
"Well it is with anybody, isn't it? We all think we're bullet proof."
The older sister couldn't travel up to Tauranga after Pamilar's death. And with the youngest sister also dead and Pamilar having never married or had any children, there was no immediate family at the dock to receive her.
Police removed the body from the ship. The coroner's office was notified and Pamilar was formally declared dead at a local medical centre. She was taken to Legacy Funerals in Pyes Pa.
There was no official service but Legacy provided Pamilar "with the care and respect required".
A small farewell was carried out by a funeral director.
Pamilar was cremated and as per her sister's request, her ashes will be interred in a memorial wall at Legacy Gardens in Pāpāmoa.
The person who came to identify her was childhood friend Dorothy Skelton, who hadn't seen or heard from Pamilar for about six years.
"She hadn't changed," Dorothy said.
She said she didn't mind going to identify Pamilar's body, but it was upsetting.
"Because you have memories of, you know, when you were kids."
The older sister had phoned Dorothy.
She told her the news and that Pamilar had been unwell.
"And she wondered why on earth she went all the way over there."
Dorothy had no idea about Pamilar's trip to Pitcairn.
"But that's the sort of person she was. She'd probably made up her mind she was going and that was it."
Pamilar's niece Rosina also didn't know about the trip.
She found out her aunt Pamilar had died when she was called by the police.
"She was travelling at the time and I guess she was doing what she loved," Rosina said.
There was something fitting about that. And in the end, Pamilar did get to see Pitcairn Island – the birthplace of her mother.
"It was something she always wanted to do."