Foul play is not suspected in a fire that completely gutted three businesses in Waipu, including the town's only pharmacy.
Also falling victim to the flames were a cafe, a herbal medicine store, electric vehicle charger station and an ATM.
Ten fire crews rushed to The Centre in central Waipu about 1.30am yesterday after a fire got hold at the adjacent Waipu Cafe and Deli, Waipu Pharmacy and Harkers Herbal.
The blaze disconnected power to nearly 300 businesses and households.
Northpower lines' crew switched off power to 501 customers immediately after the fire but was able to restore electricity to 204 households and businesses 10 minutes later.
Power was fully restored at 10.16am yesterday.
Due to an asbestos risk, residents in the area were asked to stay indoors and keep their windows closed.
The threat was lifted when the power supply came back on at 10.16am.
Locals out and about yesterday morning were in a state of shock and said the loss of all three businesses, particularly the pharmacy, would be hard felt as a lot of senior citizens relied on it for their medicines.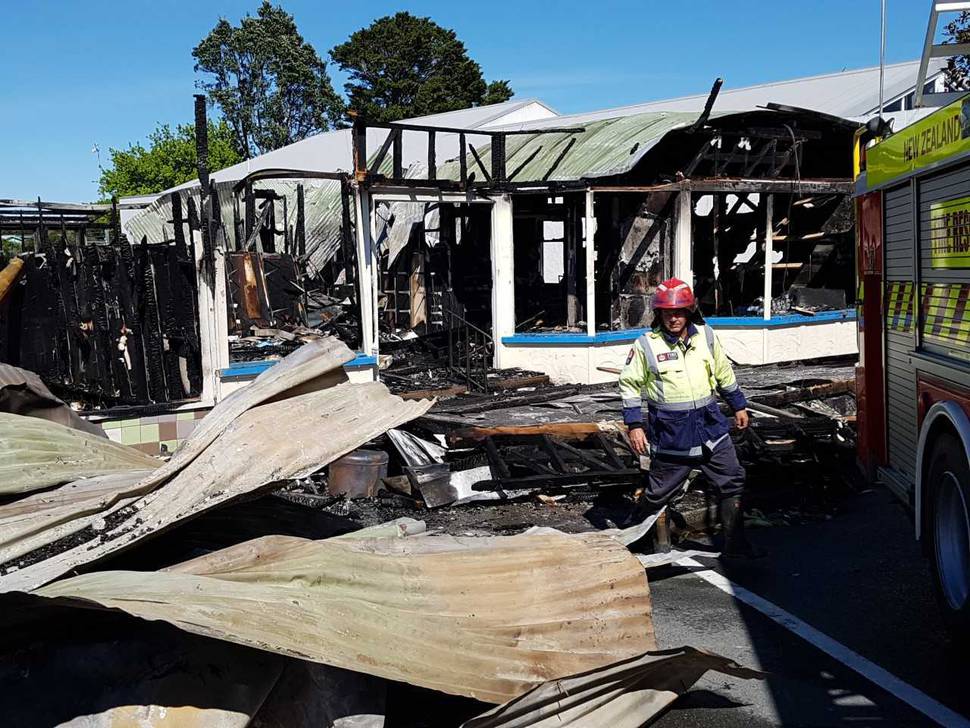 The road between Nova Scotia Dr and St Marys Rd on which The Centre is located was closed and the area around the affected building cordoned off by firefighters.
Firefighters left the scene just after midday yesterday.
The petrol station opposite the razed businesses and Hammer Hardware only metres along the road were closed because of the power cut.
Fire investigator Craig Bain said nothing suggested foul play was involved.
''So far, it's looking like an accidental fire,'' he said from the scene yesterday afternoon.
"Harkers Herbal supplies products to 1200 pharmacies throughout New Zealand so it's a huge blow. The chemist and cafe are also a huge loss to the community."
Pharmacy co-owner Jacqui Rogers has made arrangements for customers to go to Unichem Orrs Pharmacy in Ruakaka over the next few days while arrangements were being made to open a temporary pharmacy in Waipu.
"We still have our records so we just need a computer and printer and a place to temporarily operate from. We may be able to organise deliveries from Ruakaka Pharmacy over the next few days," she said.
Rogers was notified of the fire by her co-owner about 3.30am and said, hopefully, local builders were in a position to rebuild it sooner rather than later.
The pharmacy building was being leased.
Unichem Orrs Ruakaka Pharmacy owner Warren Greene said his business would help Rogers and her staff.
"We're going to co-ordinate a plan and see what we need to do to get people's medicines to them. We'll also be working with the Northland District Health Board," he said.
Bream Bay Whangarei District Councillor Phil Halse was at the scene and said the fire was a huge loss to a thriving little community. He hoped the affected businesses were up and running quickly.
"There are a huge number of people coming through Waipu as it's the entrance way into Whangarei. Our heart goes out to those affected."
Waipu local Carol Erp is gutted her favourite cafe, which she said did the best seafood chowder, was burnt to the ground.
She moved to Waipu from Auckland about three years ago and said the fire would have a massive impact on the affected businesses and locals.
"All the retirees in the new subdivision, we all go to the pharmacy and now we have to go to Ruakaka. Some people can't drive so it's going to be really hard for a lot of us, particularly the elderly."
She lives 500m away from Hammer Hardware and said a friend alerted her to the fire.
"This town is like Sleepy Hollow in winter but come October, it's teeming with people and that's when businesses can make enough money to survive through winter.''
Another local said, business-wise, the fire could not have happened at a worse time with summer and Labour Weekend just round the corner.