A Hamilton high school principal's emotive speech has left her students divided as rumblings of unrest continue to simmer.
Fire alarms have been kicked off the wall and set off and abusive graffiti towards Virginia Crawford has been popping up around the school after her controversial speech to students last week when she told them they were likely to end up rape victims, illiterate, committing suicide or have a gambling or drug addiction if they continued to wag school.
The speech was secretly recorded by a student and uploaded to YouTube, where it quickly went viral.
Students today staged a mass walk out with at least 100 students, along with several parents, gathering outside the school at 10am.
Student Cody Barron, 16, said the speech had since divided the school, with people either supporting her or upset at what she said.
"It's definitely divided the school. Everyone's split apart. Some people are setting off fire alarms, costing the school like $3500."
He said it had only happened once - on Friday - but he expected it to happen again.
"There's also been a lot of tagging. Targeting Ms Crawford."
The graffiti read: "F*** you, Mrs Crawford", he said.
He wanted Crawford to apologise.
Parents Jo Scott and Justine Kettle also attended the protest and also called for Crawford to issue an apology.
Scott, who has a son in Year 11 at the school, said she was proud of the kids taking a stand for what they believed in.
"I think good on the kids for standing up to her."
She had lost faith in Crawford.
"Do I support the principal? Nah. I might have last week but not any more. How can you support someone who's just called all our kids losers?"
Another student, who couldn't be named for legal reasons, said a lot of pupils were there to stand up for themselves as many "had been through rough times".
"We're not the best school, yeah, but at the end of the day you can't say those things to people ... the rape comments, we don't want you. Personally, I've wagged in the past and it has affected me ... but I've changed."
Eruera Macdonald is a Year 12 student and said he understood what Crawford was trying to say, but didn't like the way she said it.
"To be honest it is kinda true in some way, not sure about the raping part, but it is true in a way ... I'm a bit sensitive to what she said but I can actually understand her message that she was trying to spread.
"Like, students should actually go to their classes and stop wasting their time."
Fellow Year 13 student Carlos Tuimavave was also frustrated by the protest and believed the students had misinterpreted Crawford's speech.
He said she had to use emotive language to get her message across.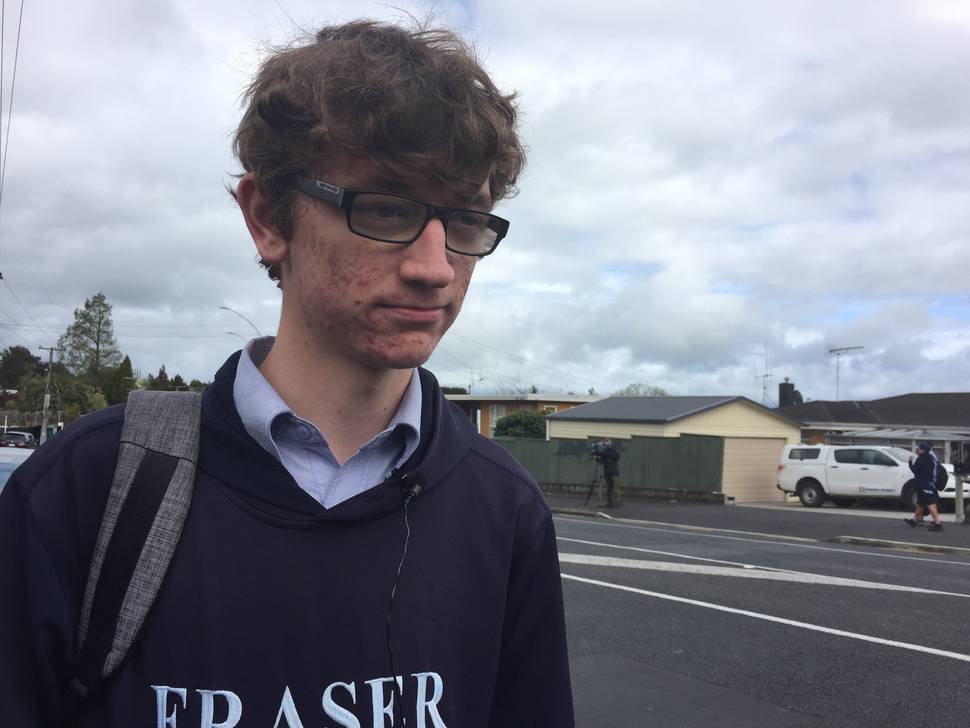 "I support Ms Crawford ... most of these kids here are juniors. What they didn't understand about Mrs [Crawford's] speech was the message she was sending. She could have used better context within her speech with the use of consequences and stuff ... but if she said something like, 'you wag and you're gonna get a detention', no one would care. No one would listen.
"I feel like she had to go to the extreme to be able to get our attention for us to listen."
Lauese Faaosofia, 17, became vocal when listening to protesters explain why they were upset.
He told the Herald he was embarrassed by the protest as it made the school look bad.
"These guys are making our school look bad, smoking, what the hell? Our school is good, it's the people, as you can see, wagging. She was trying to give us a message not to wag. These kids here, Year 9, they don't even know what they're here for."
When approached at the school office, Crawford declined to make any comment, referring the Herald to Board of Trustees chairman Jeff Green.
Green released a statement saying the student-led protest only lasted for period two and students were back in class for period 3, "so we consider the school to be operating as usual," he said.